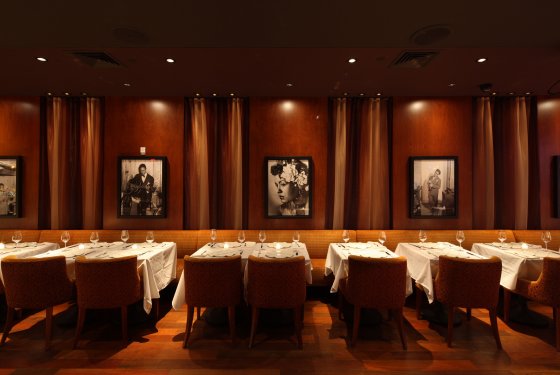 New York Eater reports that the Stylish Harlem restaurant The Cecil will shut its doors at the end of the month, but it won't be the end of the line for the food. Grub Street reports that owners Richard Parsons and chef Alexander Smalls will keep chef J.J. Johnson at the jazz bar and restaurant next door, Minton's. Minton's will then be revamped in January and serve Cecil favorites like oxtail dumplings and gumbo. The resulting restaurant will be a blend of the two spots. "It'll still be me cooking at Minton's," Johnson tells Grub Street. "We're focusing on what we do best, and where we can do that the best."
The Cecil first opened in 2013, around the same time as Minton's. The Minton's space has a lot of history. For decades, it house Minton's Playhouse, a club that hosted some of the greatest jazz musicians over the years. But its food never gained the same traction as The Cecil's Afro-Asian-American cuisine, which won restaurant of the year awards and has spent a long time on the Eater 38. "Over the last month, the conversation has been: 'What if we took the great cooking style of the Cecil, and paired it with the amazing jazz inside the Minton's room, so everybody could get the ultimate Harlem experience?'" Johnson says. Moving forward, The Cecil's space will be used for events like weddings. The new Cecil-Minton hybrid in the Minton's space will open on January 6.
Related Articles
---
VIDEO
---
"We re-imagine, recreate, and redeem cultural omissions and misrepresentations of Blackness, for the culture. ...." This post is made in partnership with British Pathé.