---
Harlem's Independence Day salute on Sunday, July 4th Fireworks will be set off from multiple locations, meaning there will be Instagram-worthy vistas of the display from multiple spots in Harlem.

Of course Macy's beloved annual fireworks show returns to illuminate the East River, starting at approximately 9:20 p.m., ET, (the Jersey City and Statue of Liberty displays start at about 9:30 p.m.). As usual, there will be plenty of public viewing areas, but we've handcrafted a few of our favorite spots to ooh, ahh and take photos in Harlem when the spectacle begins.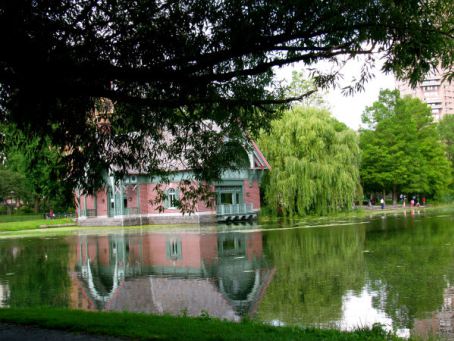 Harlem Meer
Harlem's beautiful Harlem Meer in Central Park, designed by Olmsted and Vaux who named this man-made water body "the Meer" — Dutch for "lake." Families flock to this park for catch-and-release fishing, skating and swimming at Lasker Rink and Pool. The Harlem Meer is also a thriving wildlife habitat and home to fish, turtles, and waterfowl. Grab a chair and a blanket before families start flocking to "the Meer" for this perfect place to see the works.
Harlem Meer, East Side from 106th to 110th Street at 5th Avenue, Harlem, NY, 212.870.3070, tinyurl.com/z863myp
Grants Tomb
Grants Tomb was built-in honor of Ulysses S. Grant, 18th President of the United States, and his wife Julia who occupy the most substantial monument in Riverside Park, designed by John Duncan and finished in 1892. Surrounding Grant's Tomb, you'll see popular local public folk art and a playground. It's great for families, kids of all ages to kick back on the steps or lounge on the grass to see the fireworks.
Grant's Tomb, West 122nd Street and Riverside Drive, Harlem, NY, 212.870.3070, tinyurl.com/jjc4fmo
Riverbank Park
Another one of the most beautiful parks in NYC (not just Harlem), is the Riverbank Park, a scenic waterfront public park on the Upper West Side of Harlem in New York. The park shoreline is right along side the Hudson River (where there are incredible views of the George Washington Bridge), making it another one of the best places in Harlem to see the fireworks – oh, get there early.
Riverbank Park
, 679 Riverside Drive, (
b/t 144th and 145th Streets), Harlem, NY 212.694.3600, nysparks.com/parks/93/details.aspx
TV
All else fails, you can stay home and watch the July 4th celebration live on NBC (8 p.m. E.T.) and hosted by Tamron Hall and Willie Geist, the nation's 240
th
 birthday celebration will also
include a 25-minute pyrotechnic rich fireworks show
 choreographed to a score performed by original "Dreamgirls" star Jennifer Holliday and the U.S. Air Force Band. On top of all that, you can watch a skywriting display that's expected to be highlighted by the spelling out of "U.S.A." across the famed New York City sky scape – 
watch a live stream by clicking here
. 
An Apartment Rooftop
Your place, your friend's, your parents, wherever! If you have access to one, this is probably your best bet. All the space you could want! And no one but your friends and family around to judge you for drinking a box of
Harlem Brewing Beer
and half a dozen hot dogs all by yourself. Any other suggestions? Did we leave something out?
Photo credit: 1) Via Wikipedia West Harlem Pier, Harlem New York. 2) Sharon Cuff. 3) Wikipedia. 4) Yelp.
---