---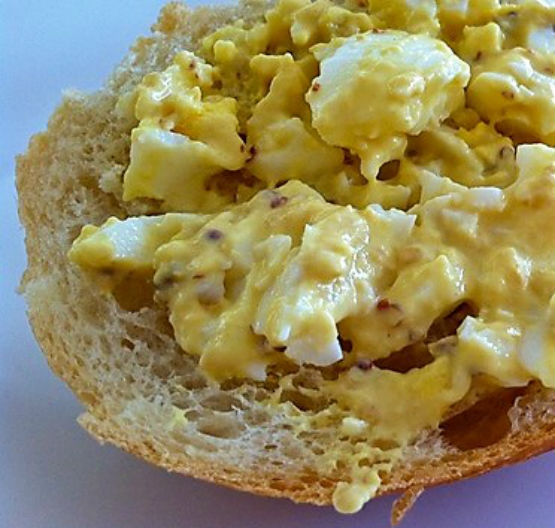 Win at lunch with this sophisticated egg salad from Down To Earth Markets, delicious in a romaine lettuce leaf wrap or crowning a slice of baguette recipe.
Caesar Egg Salad
Serves: 4 – 6
Course: Vegetarian/Vegan Entrees
Diet: Vegetarian
Season(s): Spring, Summer, Fall
Ingredients
6 eggs, hard boiled, cooled & peeled 2 teaspoons fresh lemon juice 1 tablespoon extra virgin olive oil 1 anchovy filet 1/2 garlic clove, peeled 1/2 teaspoon salt 1/4 teaspoon dried mustard 1/4 teaspoon lemon zest 1 teaspoon capers 1 tablespoon Parmesan cheese, finely grated salt and pepper to taste 1 baguette or head of romaine lettuce
Instructions
Cut the hard boiled eggs in half, remove the yolks and rough chop the whites. Grate or finely chop the yolks. Set aside in a medium mixing bowl.
Using a mortar and pestle or a chef's knife mash the anchovy, garlic, salt, mustard, lemon zest and capers until you make a paste. Stir in the lemon juice and then drizzle in the olive oil while stirring to mix thoroughly. Add the Parmesan.
Mix the dressing into the eggs, stirring until the yolks are incorporated into the dressing and the whites are well coated. Adjust the salt and add black pepper to taste.
Serve the egg salad on baguette as a sandwich or in romaine leaf wraps.
If any of you readers decide to make this dish let us know how it goes.
Related Articles
---