---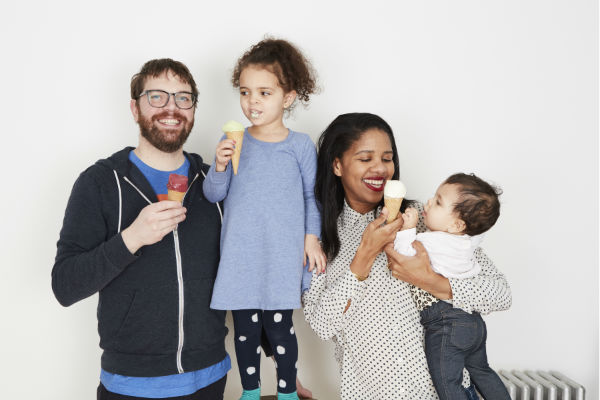 Sugar Hill Creamery is planning to open its second location this weekend at 3629 Broadway (at 150th) in Hamilton Heights. Saturday's soft open will include a neighborhood party at 2 pm EST.
At the new shop, husband-and-wife team Nick Larsen and Petrushka Bazin Larsen will be scooping a dozen flavors of their handmade, creatively-named ice creams, along with ice cream hot chocolate (topped with torched marshmallow fluff and chocolate shavings), ice cream sandwiches, sundaes, floats, brownies and locally-roasted coffee.
After opening their first shop in Sugar Hill, 184 Lenox Avenue, in Harlem, New York in 2017, the duo long wanted to serve more of Harlem!  The new space also allows them to expand their e-commerce capabilities with nationwide shipping that launched last month, www.goldbelly.com/sugarhillcreamery.
What's next: Bourbon Pecan Ice Cream Pie for Thanksgiving, and seasonal holiday flavors as well.
The opening line-up of ice creams includes Blueberry Cheesecake, Salted Caramel Crunch, A$AP Rocky Road, Birthday Cake, Guava Quesito, and Apple Cider among others.
Sugar Hill Creamery delivers via Seamless/GrubHub, UberEats, Postmates, and DoorDash as well as nationwide via Goldbelly.
Here's the interview with Nick Larsen and Petrushka Bazin Larsen:
Harlem World Magazine: Who has been an inspiration in both of your lives?
Sugar Hill Creamery: Nick says I am his inspiration but I'm not going to flatter myself and believe it. He has always been inspired by standup comedy. He actually came to New York to be a standup comic. He sometimes talks about how he used to watch Eddie Murphy when he was younger growing up on a farm in Iowa. Many of our ice cream flavors are inspired by hip hop and Harlem.
I find inspiration in anyone who has done something hard but has achieved their goal, especially when the odds were against them.
That includes so many people. I especially love listening to stories of how people built things, companies, and communities via podcasts.
HW: What's your fave place in Harlem (outside of your store)?
SHC: Nick's favorite place is Marcus Garvey Park because of the courts, places to barbecue, baseball field, pool, the playground, and the outdoor theater, you've got it all. We used to spend a lot of time there before COVID and before we opened the second store.
Now that we are further uptown every day, I have really been taken by the walking paths on Riverside drive and the outdoor area right off the Hudson River. Being able to see the George Washington Bridge unobstructed by anything is pretty amazing.
HW: Depending on who you speak to word has it that husband and wife working together can be tough. What has been the secret to working together as man and wife? And take care of the kid while you both are working?
SHC: Believe it or not working together has brought us closer together. Do not be fooled though, we definitely have disagreements and sometimes, dare I say, shouting matches. Some parts of operating our business together have brought out parts of our marriage that need attention. But, because we have so much on the line with the business, we've probably attended to those things more than we might have if we were both working in separate environments. You really can't run away so you might as well deal with them.
Pre-COVID, caring for our kids kept our hands full but it was manageable because we had the hours of them being school to get work done, uninterrupted. We could visit them at school for special programs and occasions with ease and that felt great.
Now, midstream through COVID, caring for them while operating both stores and our nationwide shipping program, we are wearing ourselves a bit thin. We are together all the time because they are in a remote learning environment and we still somehow have to get everything done. Some days, we just look at each other completely exhausted. But, we know this time won't last long in more ways than one so we just keep pushing.
HW: Where did you learn how to make your handmade artisanal ice creams?
SHC: My friend Doug Hernandez taught me in the kitchen at Oceana. We met in 2012 when I worked at Bouley as a Captain and he worked there as the Pastry Chef. I also went to the French Culinary Institute in 2010, which provided me with a solid foundation. In 2018, I attended Penn State's Ice Cream Short Course, which offered a crash course in understanding large scale production.
I had originally wanted to open a restaurant but the cost of getting one open and not having held positions in a kitchen presented some barriers. Opening an ice cream shop is a less expensive option that still gives me opportunities to be creative with food.
HW: When small businesses are struggling, laying off staff, closing businesses, yet Sugar Hill Creamery opened a second location at 3629 Broadway (at 150th) in Hamilton Heights. What's the secret to that success?
SHC: Haha! Timing is everything. We started on this project two years ago and we were supposed to be open last summer but couldn't in-part because of COVID. We were able to get the PPP relief money and we also took an SBA 7a loan and a loan from a family member to purchase equipment and pay for construction. Finally, we run a pretty lean mom and pop operation where you will inevitably see mom (me) and pop (Nick) working at one of the locations almost every day. We have seven additional employees on our payroll who work between locations as well. If COVID did anything, it reminded us that you can never go wrong with living below your means and also operating a business in the same way. Create reserves of money in your personal and professional life so that you can weather the storms that will come.
HW: There seems to be a love affair going on, between your family, the community, and the ice cream you make. Why did you come to Harlem to live and open Sugar Hill Creamery?
SHC: We love Harlem. When Nick moved to New York from the Midwest in 2005, he first lived in the Heights. I came to New York in 2000 for college. After graduating in 2004, I moved to Harlem. At the time, I was working as a Teaching Artist for Studio Museum in Harlem and as an administrator for an organization that was located on Columbia's campus. I always loved living uptown because of how comfortable I felt here. When Nick and I met, he moved to Harlem and we've been here ever since.
We opened Sugar Hill Creamery after Nick lost his job. He was the general manager of Telepan, which ended up closing. We were expecting our second child and I was working at Brooklyn Children's Museum at the time. We looked at his unemployment with a glass-half-full perspective. He being unemployed for a bit would be a welcomed parental leave and it forced us to be more intentional about the life we wanted to live. We happened to be in DC for Memorial Day in 2016 when we ate ice cream at Union Market with some of my friends from high school, and that's when we had our aha. We realized that we couldn't do this at home in Harlem – walk to a spot for small-batch, hand-made ice cream after a meal with friends. And, that's what started us on this journey.
How has the business been during the COVID crisis? What has been some of your challenges during this trying time?
SHC: COVID has been a blessing and a curse. In March, we weren't sure how everything was going to pan out. We weren't sure if people would come for ice cream when sheltering-in-place began. Two decisions we made in 2017 when we opened saved us – our walk-up window at the Lenox Avenue location and being registered to deliver on Seamless, UberEats, and Doordash from the beginning. People would visit our window for ice cream on their walks to get fresh air and many people started ordering more ice cream, especially our brownie sundaes on the food delivery platforms. We also launched a weekly ice cream subscription service where we delivered ice cream pints to those who had signed up for the service. When COVID hit, we knew we had to pull every lever to get our ice cream to people since we weren't sure if they would be able to come to us. Doing all of this with our trio of kids hasn't been easy though, but we're making it work.
HW: How will the second store be different from the first store?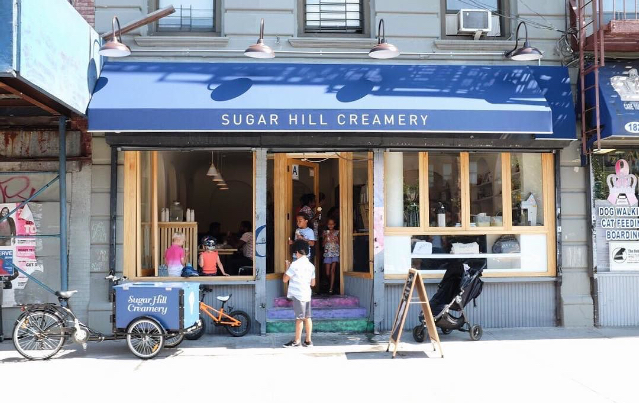 SHC: Our Hamilton Heights location will offer 12-flavors instead of the 10 that we offer at the location on Lenox Avenue. Once we're able to bring more people in the store, we look forward to offering a menu of cocktails that incorporate ice cream for more of an adult vibe. We are unable to serve beer, wine, and spirits at the first location because of the terms of our lease. This location has also allowed us to expand our operation so that we can ship our ice cream nationwide on Goldbelly, deliver our ice cream to addresses in Washington Heights thanks to Seamless/GrubHub, Uber Eats, and Doordash, and offer our weekly ice cream subscription program to more households. This location is as much about us being closer to our namesake, the neighborhood of Sugar Hill, as it is about being able to share our ice cream with those living outside of Harlem whether it's a few blocks or a few states.
HW: We love the A$AP Rocky Road, named after Harlem music artist A$AP Rocky. Some staff wanted to know when we can come by to taste the Harlem World Magazine Mango or a Harlem World Sourbet Swirl? (joke)
SHC: HA! Listen, we love to do collaborations so you all don't need to joke about that. Let's talk! I creates all of our flavors. I created an ASAP Mob series that we've rolled out over the years. There's Yam's Day – a sweet potato flavor that includes marshmallow fluff. It's currently available in the case and honors ASAP Yams, one of the ASAP Mob Founders. Then, there's a flavor we call Jet Lag that nods to ASAP Ferg's song by the same name. It's a ginger ice cream with peanut brittle and chocolate covered pretzels. Nick was thinking about things you might eat on a plane and put them together to create this ice cream. Finally, there's A$AP Rocky Road, which is our spin on a rocky road flavor. It's a chocolate flavor that includes hazelnut, oreo cookies, and marshmallow fluff. I think he's working on a Dipset ice cream flavor series, too.
Since we opened in 2017, we've tried to thoughtfully incorporate ourselves, our passions, our cultures, and our love of Harlem into all that we do. These flavors reflect one of the many ways we try to do that.
HW: You have kids, how do you strike a balance between work and "me/we time" or do you?
SHC: Can you ask us this question after COVID has passed? It's really hard, especially now. When the kids were going to school and daycare, we could take some time during the day for lunch together or go out for an evening either together or with our friends. We're not doing much of that these days. All five of us are together all the time. Our new self-care plan, now that the second shop is open, is that one of us gets to stay and close while the other takes the kids home to feed them and get them ready for the next day. The parent that closes gets to travel home alone and at their own pace without anyone asking them for anything or whining about how their sibling did something annoying. Maybe they stop at a restaurant for an outdoor cocktail on the way. It's not a great plan, but it's all we can swing at the moment. We're trying to hold it together during this unbelievable time.
HW: BONUS: As a mixed-race family, any thoughts regarding the protests and the Black Lives Matter movement?
SHC: It goes without saying that we are here for all of it. We are seeing these uprisings because, since the dawn of this country's discovery by European colonizers, BIPOC has been oppressed and disenfranchised in service of monetary gain for their colonizers and their descendants. BIPOC are tired.
As a white man from Iowa married to a Black woman from DC and New York, I have had to analyze his agency, power, and privilege in the world often. Harlem isn't going to bow down to you just because you're White and in some ways, he has experienced what most BIPOC experience in dominant White spaces, but he's not running from it. Living in Harlem and building a business here has been an amazing way for us to dive deep into race politics, systemic oppression, and institutionalized racism. As far as we are concerned, the Black Lives Movement and the uprisings are necessary and come as no surprise when you consider this country's history.
HW: Thank you.
Try some ice cream at the new shop www.sugarhillcreamery.com @sugarhillcream
Check out more of our Interviews here.
Photo credit: Nick Larsen and Petrushka Bazin Larsen and kids. 2) Sugar Hill cream Shop.
---