---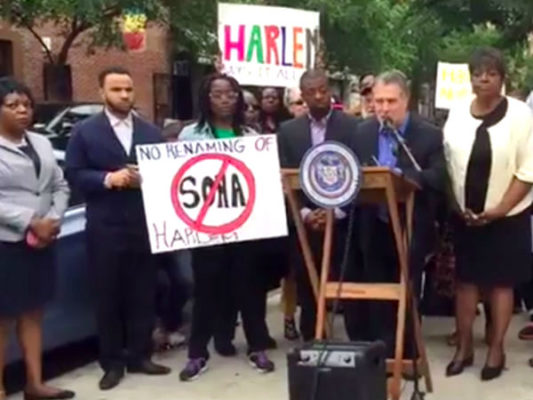 This is the power of persistent community outrage. Keller Williams, the big New York City real-estate firm accused of rebranding South Harlem as "SoHa" (in the tradition of more affluent NYC neighborhoods like SoHo, Tribeca, DUMBO, etc.).
The goal was to attract an, ahem, *different kind* of prospective homeowner to the neighborhood, has reportedly agreed to retire the term after massive backlash from neighbors and politicians.
A spokesperson for Keller Williams told NY1 this week that the firm's so-called "SoHa Team" — who "chose this name because they have lived and worked in this part of Harlem and the Upper West Side for nearly a decade" — will be changing their name to something less offensive.
"The team has a passion for the people, the history, and the culture of the neighborhood they also call home," the spokesperson told NY1 in a statement. "With respect to the neighborhood and people of Harlem, they will change their team name at Keller Williams NYC."
A source has reached out to Keller Williams for confirmation. (And to ask why the term "SoHa" still appears on the firm's Facebook page and street signage.)
We've also reached out to newly elected State Sen. Brian Benjamin, who represents Harlem in Albany and went so far as to propose a bill banning SoHa last month, to see whether he plans to continue the campaign now that Keller Williams has reportedly backed down. We'll update this post if/when we hear back.
"How dare someone try to rob our culture and try to act as if we were not here, and create a new name and a new reality — as if the clock started when other people showed up?" Benjamin said at an anti-SoHa rally in May.
Related articles
Related Articles
---