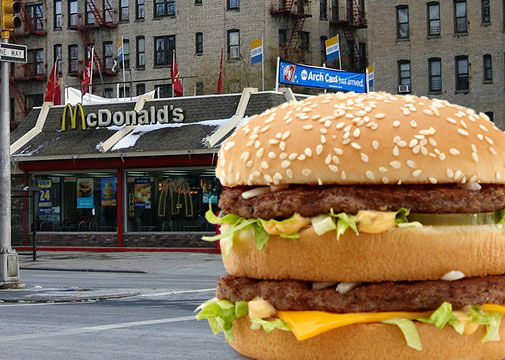 Brand channel reports that McDonald's, which has a number of stores in Harlem, has ambitious plans for U.S. growth this year, with high hopes for the fresh beef Quarter Pounder launching mid-year.
The expansion of Mobile Order & Pay and McDelivery (with UberEATS), in addition to upgrading more stores with its "Experience of the Future" array of digital features and personalized customer journey.
But first, starting today, it's bringing back its Dollar Menu as the $1 $2 $3 Dollar Menu, updating its value meal to include $1 options (such as the Cheeseburger or McChicken); $2 items (including Bacon McDouble, Sausage McGriddles); and, for $3, a tier of items including Classic Chicken Sandwich or Happy Meal.
After an 11-year run, McDonald's discontinued its original Dollar Menu in 2013, relaunching it as the Dollar Menu & More that November. Also in 2013, Wendy's realigned its value menu while a year later, Taco Bell debuted its $1 Dollar Cravings Menu. Burger King has a Value Menu, while Dairy Queen, KFC and Carl's Jr./Hardee's all offer $5 meal deals.
"As a result of it being one price point, it was fairly limited in terms of what you could put on it," McDonald's USA President Chris Kempczinski told USA Today last year. "We've always known customers love the idea of value at McDonald's. That's never changed. What's evolved is they want more choice."
Related Articles
---