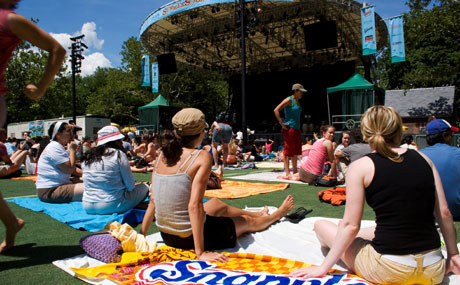 Heat related illness is serious in Harlem, but it can be prevented. Prolonged exposure to the heat and direct sunlight at a concert at summerstage or relaxing at Mount Morris Park can be very harmful, and in some cases, fatal.
Heat can also aggravate or worsen certain health conditions such as heart and lung disease, and respiratory illnesses such as asthma or allergies. Know the warning signs of heat-related illness, and call 911 if you are in distress. Talk to your doctor if you are concerned about staying safe during extreme heat.
Stay safe:
The elderly, very young, or anyone with pre-existing medical conditions may be vulnerable to the extreme heat. Check on neighbors and offer assistance to those in need.

Stay out of the sun if possible. If you must be outside find shade to cool off, or an air-conditioned building.

Wear sunscreen to protect yourself from the sun while outdoors. Be sure to apply about two heaping tablespoons of sunscreen to exposed areas of the body before going outside.
Avoid strenuous activity, especially during peak hours of the day when the sun is strongest from 11AM to 4PM.
Stay hydrated by drinking water even if you are not thirsty. Avoid beverages containing alcohol and/or caffeine.

Wear lightweight, thin fabrics, light-colored clothing, and hats to protect yourself from the sun and to help keep cool.

Harlem has opened cooling centers around the community, including at senior centers, NYCHA facilities, and parks. Call 311 to find a center near you.
Know the warning signs:
Feeling faint or weak
Hot, dry skin or clammy skin
Difficulty breathing
Confusion, disorientation, dizziness
Nausea and vomiting
HHC is here to make sure you stay healthy and feeling good. Find an HHC healthcare center in Harlem.
Related Articles
---