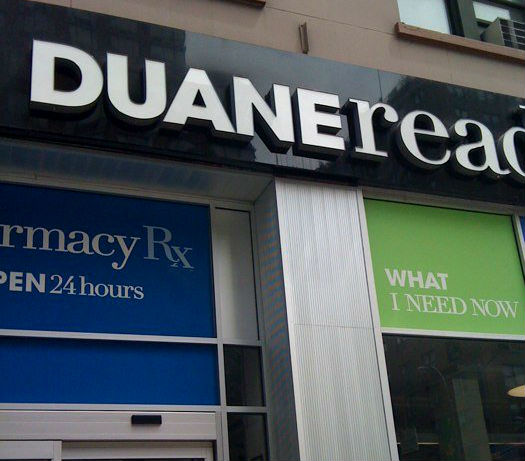 The NYC Health Department today is announcing a collaboration with Walgreens to offer 1,000 vouchers for flu shots at 11 Walgreens and Duane Reade pharmacies located in areas with high rates of people without health insurance and low flu vaccination rates – an initiative made possible by the Mayor's Office of Strategic Partnerships. The flu vouchers are available on a first come, first served basis while supplies last, and will allow uninsured and underinsured individuals to receive the flu vaccine at no cost. The vaccine is subject to availability, and age, state and health related restrictions may apply. The vouchers are available for New Yorkers 7 years of age and older who do not have health insurance. This voucher is being offered at 11 Walgreens and Duane Reade locations in the five boroughs (full list of locations is below). Locations can also be found by calling 311. New Yorkers can redeem the voucher by visiting any of the locations.
As the city and the country continue to see elevated influenza activity, the Health Department is reminding all New Yorkers to get their annual flu shot so they are protected against the influenza virus and its severe symptoms and complications. A flu shot, administered even after influenza season has arrived, can still provide protection and mitigate the symptoms and complications should one contract the virus. Preliminary data from the Centers for Disease Control and Prevention (CDC) indicates that the vaccine can prevent about 59 percent of influenza cases in young children (ages six months to eight years), and overall, it can prevent about one-third of cases. Fatal influenza cases are more much more likely to occur among children who have not been vaccinated. The vaccine remains readily available. New Yorkers should call their provider to see if they have vaccine or check with their local pharmacy. To find other locations for a vaccine, New Yorkers can call 311, visit nyc.gov/flu for the Flu Vaccine Locator or text "flu" to 877877.
"Our surveillance has shown that influenza activity remains elevated throughout the city, and expanding access to this potentially life-saving vaccine is one more step we can take to ensure New Yorkers remain healthy," said Health Commissioner Dr. Mary T. Bassett. "I thank our partners at Walgreens for working with us on this vital issue. The flu shot remains the safest and most effective way to protect yourself and your neighbors from the influenza virus. Flu season is not over, and I urge New Yorkers to get vaccinated as soon as possible."
"We're proud to be working with the New York City Department of Health on this initiative," said Tony Riso, regional healthcare director, Walgreens. "By providing access to flu shots at no cost for those who are eligible, we can help protect the health and wellbeing of our community members and prevent the further spread of influenza this season."
"When the private sector partners with government, we can work together to tackle the most stubborn challenges we face as a city – including influenza," said Gabrielle Fialkoff, Senior Advisor to the Mayor and Director of the Office of Strategic Partnerships. "The partnership with Walgreens will not only provide critical healthcare to the most vulnerable New Yorkers, it will also keep our city healthy and safe during a particularly dangerous flu season. We are so grateful to welcome them as partners."
This season, the Health Department has confirmed four pediatric deaths in New York City. Every year, more New Yorkers die from influenza and pneumonia than from any other infection. In 2015, 2,096 New Yorkers died from influenza and pneumonia, which is a common complication of influenza. About 85 percent of influenza-related deaths are among people aged 65 years and older in New York City. For the 2016-17 influenza season, there were 106 influenza-associated pediatric deaths nationally, including six influenza-associated pediatric deaths in New York City.
Walgreens/Duane Reade Flu Shot Voucher Locations in Harlem:
Duane Reade: 617 W. 181st St., Frnt. 5, New York, NY 10033-4937
Duane Reade: 568 W. 125th St., New York, NY 10027-3407
Earlier this season, the Health Department and Department of Consumer Affairs (DCA) reminded New Yorkers that they can limit the spread of influenza by seeking care from a medical professional and staying home from work if they are sick. Thanks to NYC's Paid Sick Leave Law, New Yorkers have the right to stay home and care for themselves or their family, regardless of immigration status.
Employers and employees can visit nyc.gov/PaidSickLeave or call 311 (212-NEW-YORK outside New York City) for more information; the required Notice of Employee Rights; one-page overviews for employers and employees; FAQs; DCA's paid sick leave training presentation; and the complaint form. DCA also developed tools to help employers keep track of employees' hours worked and sick leave used as well as model forms for verification of authorized sick time used, intention to use sick time and request to make up missed work as an alternative to using sick time.
---
---
In October, the Health Department launched a citywide awareness campaign, "I Got My Flu Shot…Not the Flu," reminding New Yorkers that the flu vaccine is the best protection against influenza and its terrible symptoms.
While annual flu vaccination is recommended for all people aged 6 months and older, it is especially recommended for those at risk of developing influenza-related complications. Those at risk include: children under 5, pregnant women, people with chronic medical conditions, such as diabetes, heart or lung disease, and those over 65 years of age. Health care workers and people who live or work with people at high risk of influenza complications also need a flu vaccine to avoid infecting others.
The flu vaccine can help prevent the pain and misery of influenza. It has been shown to reduce the risk of hospitalizations among several high-risk groups, including people with diabetes, chronic lung disease and those over 50 years of age and to reduce pediatric influenza-related deaths. Pregnant women have a four-fold higher risk of being hospitalized if they get influenza. A flu vaccine can protect them and their infant by passing on protective antibodies to their infants until they can get their own vaccine at six months.
Tips to Prevent the Spread of Influenza
Cover your nose and mouth with a tissue when you cough or sneeze. Throw the tissue in the trash after you use it.
Wash your hands with soap and water or use an alcohol-based hand sanitizer.
If you or your child is sick with influenza, limit contact with others as much as possible to keep from infecting them and seek care. There are antiviral drugs that a health care worker can prescribe that can treat influenza, reducing the time that you are ill and preventing some of the more serious complications of this infection.
If your child is at high risk for influenza complications, you should speak to your medical provider about antiviral medication if they develop influenza-like symptoms.
If a child has a condition like asthma, call a doctor if they show influenza-like symptoms.
The Centers for Disease Control and Prevention recommends that you stay home for at least 24 hours after your fever is gone except to get medical care or for other necessities.
Contact your doctor or seek medical care if you develop flu-like symptoms and are at risk of complications to determine if antiviral treatment is indicated. If you develop severe symptoms, such as trouble breathing, obtain medical care right away.
Click here for other NYC locations.
Related Articles
---