By Lil Nickelson
Executive Chef/Owner Marcus Samuelsson of Red Rooster Harlem and Streetbird Rotisserie (pictured above with his wife model Maya Haile) came up with the idea for a festival to celebrate and showcase the diversity of Harlem's food, culture and spirit.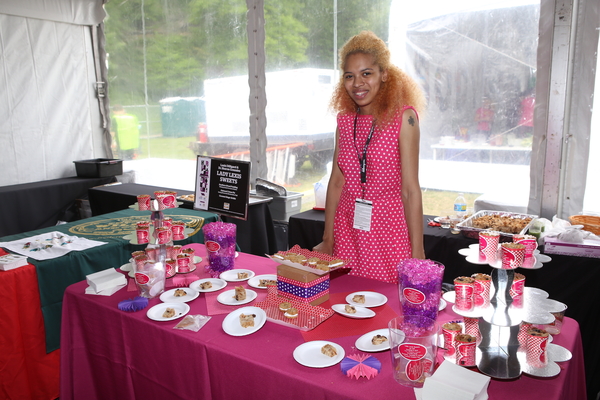 He reached out to a friend, the king of celebrity chef events (plus so much more), Herb Karlitz, the President of Karlitz & Company to co found and help him put the festival together just right.  Additional ambassadors were brought on board and with great fanfare former President Bill Clinton along with Mayor Bill de Blasio held a press conference last year to let the world know about the 1st annual Harlem EatUp Festival.  Two non-profit groups, Citymeals-on-Wheels and Harlem Park to Park would receive a portion of the festival's proceeds.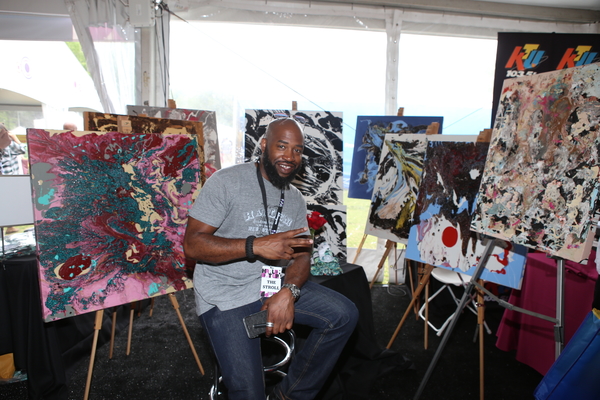 Local Harlem eateries, bars, bakeries, musicians, artists, retail businesses and cultural institutions were joined by celebrity chefs from across America to celebrate great food at various venues throughout Harlem that really showcased Harlem hospitality at its best for four days starting Thursday, May 14th through Sunday, May 17th, 2015.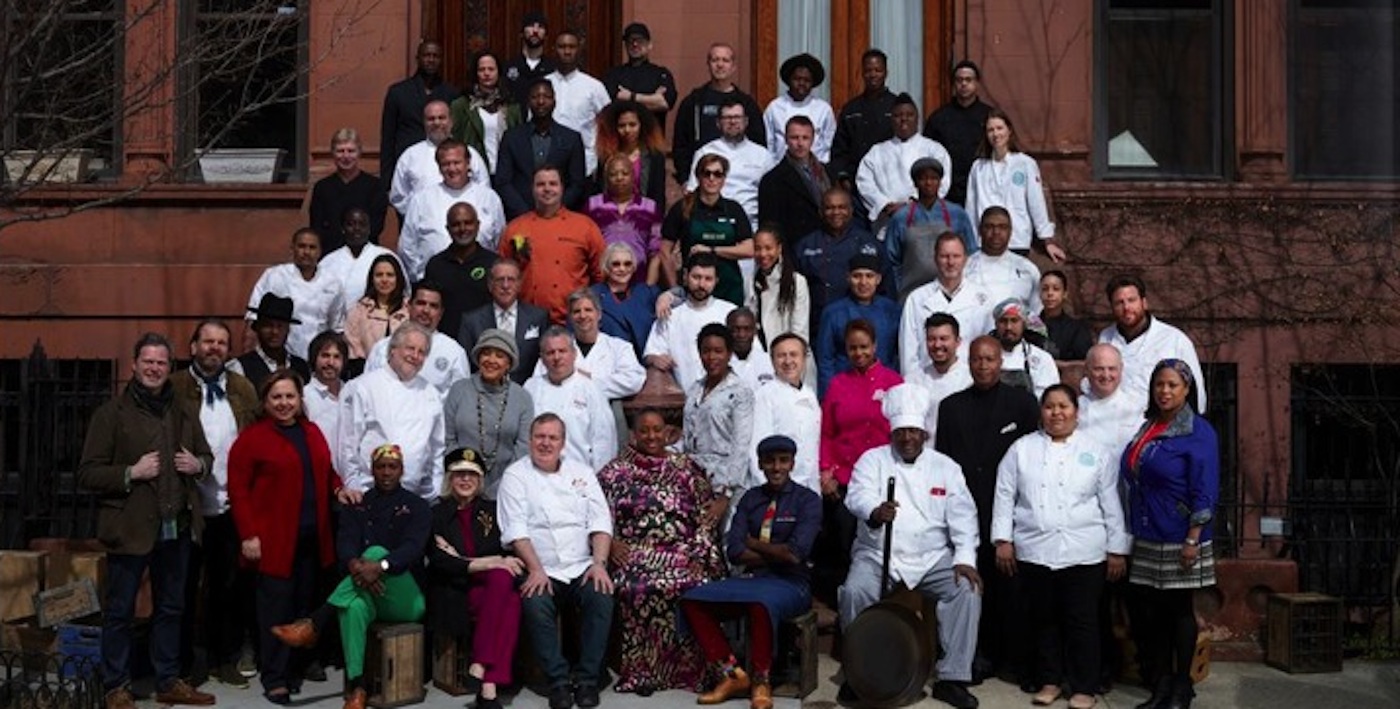 Great dining experiences connected to the festival took place on Thursday and Friday evenings at various locations from Harlem restaurants to the National Dance Institute to El Museo del Barrio.  Celebrity culinary and pastry chefs paired with select restaurant chefs to push the envelope of great eats.  The list of celebrity chefs that participated in the festival was vast; too many to list them all.  They definitely enhanced the experience and added something special to the festival's flavor.  I hope that they went back to their respectively home bases with an added appreciation and fondness for Harlem and will come back to visit us the next chance they get.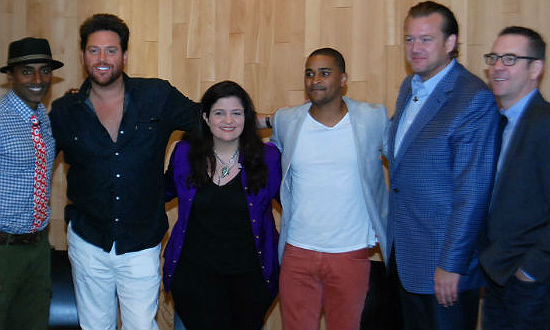 Bordeaux Wine Council was the official wine of the festival and they were joined by smaller beverage companies as well as VOSS Artesian water supplied beverages for the entire festival.  Jazz music was prominently featured throughout these events.
---
---
Panel discussions covering topics like a day in the life of a chef, how to open a restaurant, culinary masters then and now, how to serve the community and a look inside the artistic process were held at the Studio Museum of Harlem all day Saturday.  I sat through the first three of the five talks and I learned some things that expanded my knowledge about some of the panel discussion members.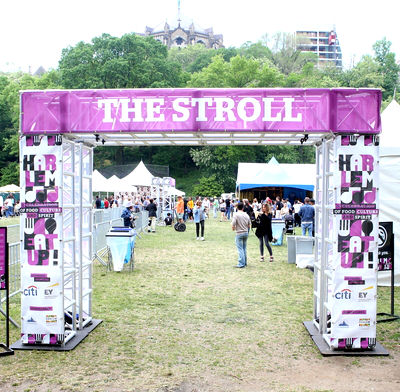 For example, I first became exposed to celebrity French chef Daniel Boulud many years ago when he introduced some of his signature dishes at the Institute of Culinary Education (back then it was called Peter Kump's Cooking School and I worked there as the Night Manager of the facility).  When I asked him about his impressions of Harlem I was amazed when he vividly recounted bringing visiting family and friends from France up to Harlem to attend our lively worship services filled with gospel music and the word as it is preached by Harlem pastors.  I grew up in the neighborhood where the Mark IV Club was located that he took his guests to listen to jazz music or eating at the all you can eat buffet at Charles' Pan Fried Chicken.  I was blown away because he came alive when he recounted his many trips and experiences uptown.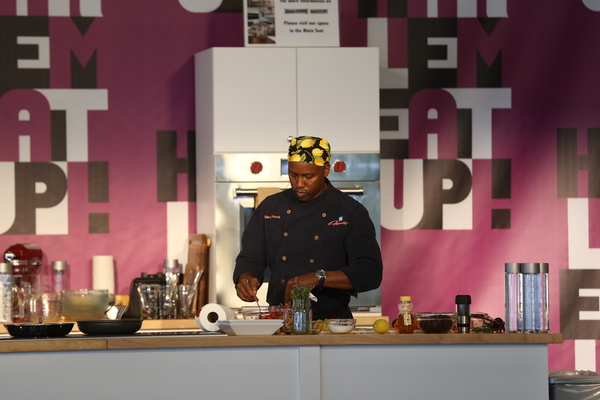 Another point brought out by numerous chefs at the talks was that they didn't get where they are today because they were a "star" from their first culinary or restaurant owning experience.  For some like Executive Chef/Owner Alexander Smalls it wasn't even their first career choice; he was an opera singer.  However, it was their passion for food, preparation at their craft and sheer perseverance that moved them forward to their achievements.  More importantly they continue to work at their craft, not for the accolades, but just because it's what gets them up in the morning.
After the talks Halichea Edwards, an Executive Chef from Cincinnati, OH spoke with Chef Daniel Boulud.  She had come to NYC to visit friends for the weekend, heard about the festival and came to the talks.  He pulled out his cell phone and graciously arranged for her to stagerie (pronounced "stazhje" and is a French word for apprentice or trainee) the next day at Café Boulud, one of his Dinex Group's eight (8) restaurants / bars in NYC.  After leaving the museum I took her with me over to the Stroll at Morningside Park to show her some Harlem hospitality.  We had a great afternoon tasting, sipping and talking with others we met during our stroll.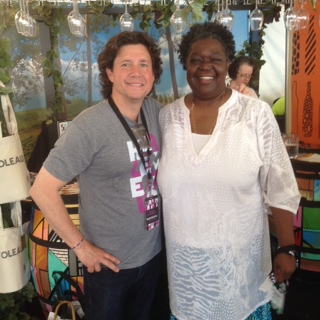 I contacted Chef Edwards to inquire about her day at Café Boulud.  She told me that she had a fabulous experience working with Sous Chef John and his team that Sunday.  The host initially thought that she was a health inspector, but once that was cleared up the Sous Chef gave her a chef's jacket and apron.  She mainly helped Chef Sue at the pasta station.  However, during the course of the day she helped prep and set up for service at each station along the line from grilling to garde manger (station for cold dishes like salads).  After service they sat her at the bar and served her a four course meal.
When asked what she took away from her day at Café Boulud she said once she settled in that she was in NYC working on a restaurant line she felt confident about her skills as a chef; they showed her how they do things and she could easily replicate it afterwards.  When asked what she learned she stated how to be more artistic in her plating techniques, they use long tweezers instead of tongs to grasp meats and how they can gauge meat temperatures (rare, medium and well) simply by touch.  All in all she said her day was like a dream come true; she couldn't have planned a better culinary experience.
On Sunday I returned for the last day of the festival, the second day at Morningside Park.  I even got the chance to speak with Mr. Karlitz, who I had recognized by his name tag the previous day at the museum and said New York City Wine & Food Festival to him to let him know I was familiar with his firm's work.  Today he was dressed casual in a festival t shirt and I approached him by offer my congratulations for his contributions to furthering Harlem's true spirit.  Mr. Karlitz handed someone in the crowd his cell phone to take this picture of us together.  He also thanked me for all of my support and enthusiasm; imagine that.  For a first time event it was a rousing success and I predict that it will just get better year after year after year.
Bravo!!!!
Photo  credits: 1) Marcus & his wife s by Derrick Salters. 2)

Lady Lexis Sweets by Udo Salters. 

3)

Artist Derrick Adams s by Derrick Salters. 4) 

Harlem Chefs s by Udo Salters. 5) Harlem Talks Chefs Life Panel by Rudy Collins. 6 ) Harlem Talks Masters Panel s by Udo Salters

. 6) 

The Stroll Sign s by Derrick Salters. 7) Chef Marvin Woods by Herb Karlitz. 8 ) Herb Karlitz s by Udo Salters

.
Related Articles
VIDEO
---
Harlem Cultural Archives is a donor and foundation-supported Historical Society, Its mission is to create, maintain and grow a remotely accessible, online, interactive repository of audio-visual materials documenting Harlem's remarkable and varied multicultural legacies, including its storied past as well as its continuing contributions to the City and State of New York, the nation, and the world.
Support Harlem Cultural Archives
and
click here to get more Harlem History
, Thank you.