---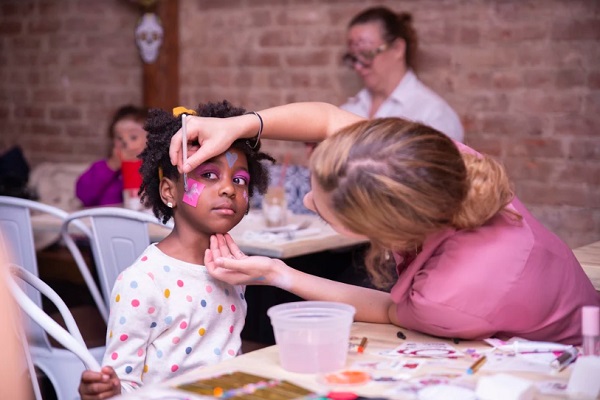 Story by Yolande Brener and photographs by Maribel Acosta
Nutritionist and cookbook author, Lyn-Genet Recitas
, has a vision–not only to provide healthy comfort food for all tastes from vegan to omnivore–but also to create a tradition of community events.
I met with her before her Saturday, November 2nd, 2019, Dia de los Muertos celebration to discuss her plan to make Hamilton Heights a destination spot.
Yolande Brener: Why is Dia de los Muertos important?
Lyn-Genet Recitas: Day of the Dead
is such a healthy way for people to understand the cycle of life, and to honor and remember those that have passed with love and nourishment from their community.
YB: Can you describe your plan to make Dia de los Muertos an annual parade?
LGR: I would love to make our neighborhood a focal point for the entire city and hopefully soon the entire country and World. We have so many visitors coming this time of year who would love to be part of our community and share a cultural experience such as this. Hamilton Heights definitely knows how to throw a good party.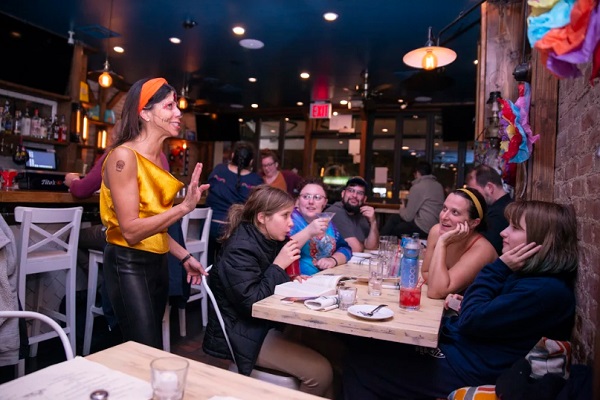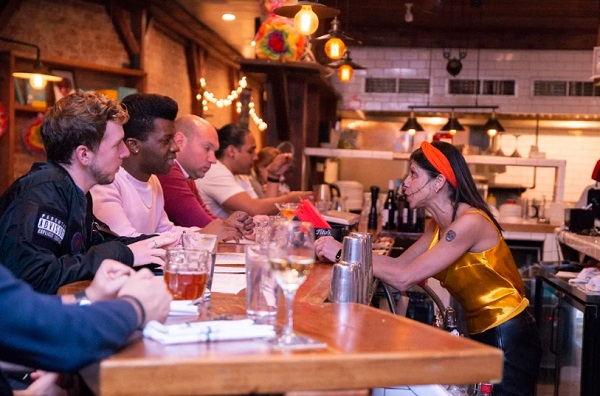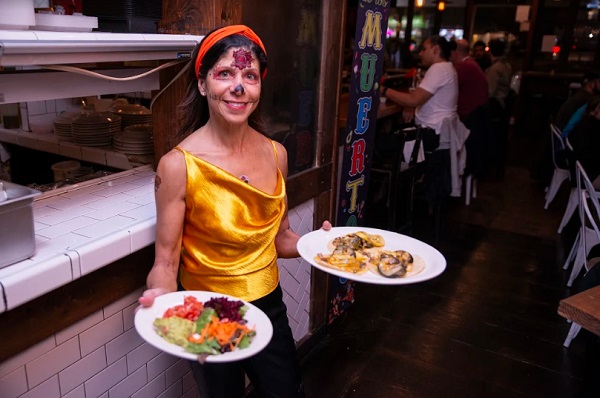 YB: How long have you lived in Harlem, and why did you choose Hamilton Heights for your restaurant, Lyn-Genet's Kitchen?
LGR: I moved to Harlem in 2001. I started a nonprofit called Harlem4kids in 2005 when my son was born – it is a multi-cultural and educational non-profit. We started working with uptown families including those in Hamilton Heights and Washington Heights. I always thought of it is a very family-oriented neighborhood and that is definitely something that I love. I found out about a year and a half ago that the president of City College, Vince [Boudreaux], and many of his staff follow my diet so that was definitely interesting to me and I started doing some work with City College. The space opened up and it was just what I wanted. It was definitely a feeling of warmth with a great place to throw parties in the back, which is something I'm all about.
YB: Do you believe in the healing power of healthy food?
LGR: There's no such thing as a healthy food there's just what's healthy for YOU. That being said, there are foods that are generally lower inflammatory and those are all the foods that are on my menu!
We have worked with tens of thousands of clients over the years and we have a very large population of people with diabetes, autoimmune disease, IBS, chrohns, colitis, cancer, chronic pain, to name just a few. Chronic low-grade inflammation is the basis for every disease, premature aging, and weight gain. When you identify the foods that cause inflammation and remove them your body does what it always wants to do, which is to heal.
YB: How has the community responded to Lyn-Genet's Kitchen?
LGR: The response from the neighborhood has been amazing. The whole community has been looking for a place that feels like home that serves healthy food and that caters to everyone. From vegan and vegetarian food to a good burger or baby food or a kids menu; gluten-free, you name it, we have something for everyone. We also have a population that doesn't drink so we specialize in nonalcoholic drinks. I want my restaurant to feel like it's their living room where they don't have to clean up after a good party.
Lyn-Genet's Day of the Dead celebration started at 5.30 pm with face painting for children, and she told me the party would go on all night. When I arrived at around 12:15 am, Lyn-Genet and her husband gave me a warm welcome. She gave me Day of the Dead stickers, and tacos with hummus, avocado, salsa, grated carrots, and beets. Bartender Shea served me a fresh ginger mocktail. Then Lyn-Genet pulled me onto the floor to dance to Beyoncé's "Love on Top
," with DJ Ricardo.
I look forward to watching the evolution of Lyn-Genet's plan to make Hamilton Heights a destination spot for Day of the Dead, and to her upcoming monthly get-togethers for locals working in the arts, starting on December 27th, 2019. Whenever you go, you're sure to receive a warm welcome and to leave feeling nourished, but somehow a bit lighter.
Check out the video from the event:
Lyn-Genet's Kitchen, 3473 Broadway, New York, NY 10031, https://lyngenetskitchen.com, 646.590.0554
Read more articles by Yolande Brener here.
Yolande Brener, is an English writer living in Harlem, NY. She is the author of Holy Candy, a book about faith, love, and change. She is a seeker and lover of the arts as she talks about on her Yolande Brener blog. She's published work in New York Press, nerve.com, Anthem Journal, and Harlem World Magazine. Awards from The Swan Sister, her anthology, Beyond Belief, the British Film Institute, the Arts Council of Great Britain, the NYC Parks Department Poems in the Park, and Writer's Digest e-Book Awards in the Life Stories. www.yolandebrener.com.  
Photo credit: 1-4) Maribel Acosta of Bel Captures Photography. 5) Google video.
---