---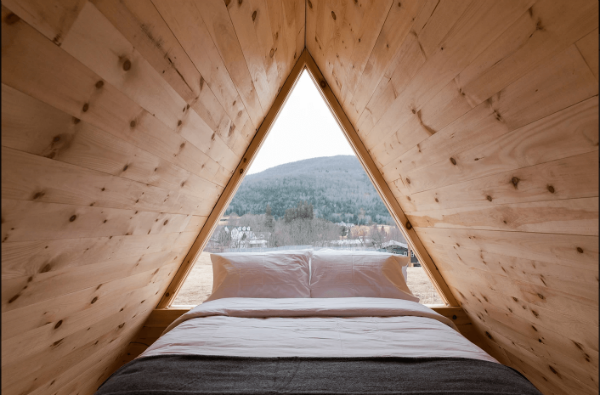 When you're working from home, it's pretty easy to let a regular routine or work schedule fall by the wayside. One of the most common temptations most people end up with is trying to work in bed.
While working in bed can be fun, and at times even more productive than working from a regular desk, it's a poor ergonomic choice and can lead to lower back pain pretty easily. Most experts recommend you continue working from a desk that's optimized for your personal comfort and giving yourself a strong sense of routine to maintain a high level of motivation at work.
If you're trying to make the most out of a work-from-home situation, then it's important to focus on the ways in which you can optimize your set-up for the most amount of rest each night. Whether you need to organize your room so that you've found a 'work space' that can actually work for you each night, or you simply need a hybrid mattress that's going to allow you to sit comfortably on your bed each morning, here's what you need to know:
Using A Hybrid Mattress To Support Your Sleep
When you invest in a hybrid mattress to help your sleep schedule, working in bed becomes easier too. If you've made working in bed a habit, and you actually find it helps you more than it hurts you, then it's really important to try and get your position, back support, and accessories right.
A hybrid mattress combines the benefits of traditional innerspring with foam in order to help you accomplish a bed that's a lot more inviting and comforting for your personal wellbeing. A hybrid mattress is especially useful for sleepers who need a little more support in their sleep, without wanting to compromise on the comfort foam mattresses tend to have.
Features you should look out for from the best hybrid mattresses include cooling capability, warranties and materials used in your product, as well as firmness, which can vary depending on the type of hybrid mattress you're using. Remember that most of the best mattress companies understand comfort is subjective, and should allow you to trial their period for a period of at least three months so that you're able to gauge whether or not you're resting better.
How To Avoid Back Injury And Pain When Working In Bed
If you enjoy working in bed, it's important to take the necessary precautions to help you avoid back injury. Here are a couple of key tricks to keep in mind:
Posture: When you're sitting down on an uneven surface for extended amounts of time, you're going to be curving your back, thereby putting it under an unnecessary amount of strain. Poor posture while working in bed can result in pain and even musculoskeletal disease, which is why it's essential you have enough support on your bed to sit up straight and well-supported.
Get out of bed before you get back in: A key factor to note when you're trying to avoid back injury is to try and get out of bed and out of your PJs before you start your day. Working in bed is a habit that tends to stem from a resistance to leave the bed when you wake up, and breaking this cycle by washing your face, changing your clothes, and making yourself that first cup of coffee is going to make all the difference when it comes to keeping yourself safe.
Create a rest routine: If you are going to be working in bed, whether it's on a hybrid mattress or not, you'll need to ensure you're incorporating plenty of breaks that involve you getting out of bed and moving around your room for a little while. This is going to ensure your muscles are getting stretched out, and keep you feeling better when it comes to your work routine overall.
Separating Work And Home Life
When you're working from home, it can be easy for the boundaries between your office and your personal space to dissolve. If you find yourself answering emails as you're tucking yourself in for the night, or slacking off in the middle of office hours, you'll know that striking that balance has become a challenge for you.
One way to master a good night's sleep is trying to separate your spaces as much as possible. While we all spend a little time working in bed, it's a good idea to have a totally different 'office space' that you can relegate to a corner of your room, allowing you to stay focused and in 'work mode' when you need to be.
Designing your bedroom so that your 'office corner' has a good work desk that's kept at eye level, an ergonomic chair, and any other stationery and tools you need to get the job done is vital as you move forward with your rest.
How To Optimize Your Sleep Set-Up
Keeping your sleep set up as snug and comfortable as possible can also make a significant difference to the overall quality of your focus at work, as well as your rest. If you've already invested in a hybrid mattress that's supportive, there are other ways you can supplement your comfort while you're sleeping.
This includes considering investing in a weighted blanket, a plush blanket, or even a shag rug that is inviting and warm enough to convince you to wake up and get out of bed in the mornings. Coming up with a routine that's comforting to you, and investing in the right tools for your sleep will help you achieve a balanced lifestyle that ultimately gets you closer to accomplishing what you need for the day.
While working in bed from time to time is inevitable if you're working from home, there are plenty of ways you can ensure you're still being productive during this time. With these simple tips and tricks, you can expect to work the way you want, without causing yourself any damage in the long term.
---