---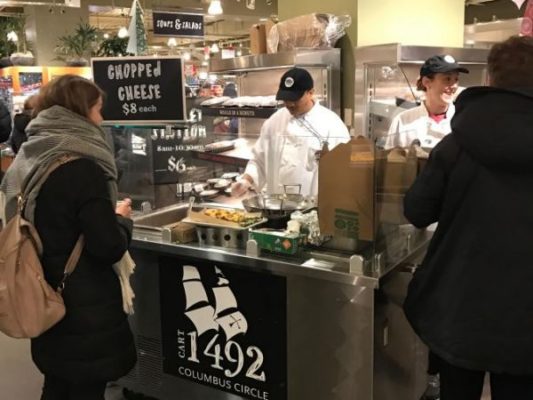 The chopped cheese sandwich, an icon of Harlem, New York, is now being sold at the Whole Foods location in Columbus Circle, at the southwestern corner of Central Park, our source has confirmed.
For $8 each. At a Christopher Columbus-themed food cart.
A woman passing by the sandwich cart Monday afternoon stopped to look at it, confused. "Is it just chopped cheese?" she asked.
Answer: No, it is not just chopped cheese. It's a delicious mashup of ground beef, peppers and onion, chopped up all together with a metal spatula on a big flat griddle, covered with slices of cheese and squished together in a hero. For best results, this all goes down behind a bodega counter in Harlem and the Bronx.
Read the sandwich's profile posted last month on Harlem World Magazine here. And here's its mini-doc:
The guy stationed behind the Christopher Columbus cart at Whole Foods, an immigrant from Bangladesh named Khalid, said Monday that this was his first time making chopped cheese.
And the two leaders of the "prepared foods" team at the Columbus Circle Whole Foods, a man and woman who did not give their names, told our
source
 they got the idea for the chopped cheese cart from the episode of Anthony Bourdain's "Parts Unknown" TV series in which he tours the Bronx.
It was intended as a "homage to a lot of our team members who are from the Bronx," one of the team leaders said. Both said they did not intend the food cart be appropriative, and that the Christopher Columbus theme was just a coincidence (since the Whole Foods is located in Columbus Circle).
"Hopefully it spreads to other boroughs," one team leader said.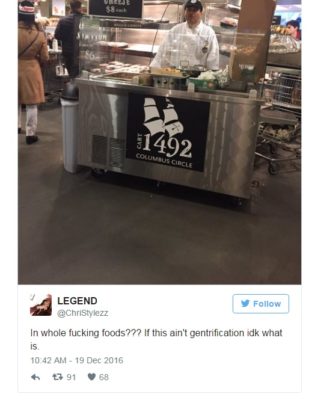 Professional party host and Twitter personality Christylezz was the first to spot the cart Monday morning. "If this ain't gentrification idk what is," he tweeted.
"We should be protesting," one of his Twitter followers replied. "Hood 0 Gentrification 734," another said.
Related Articles
---