---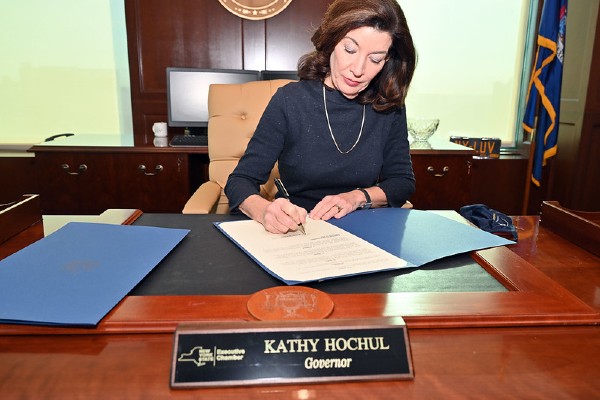 In her first State-of-the-State address, New York State Governor Kathy Hochul demonstrated a commitment to the environment and fighting climate change.
Though largely came up short in addressing the disproportionate impacts of climate change, air pollution, toxic chemicals, and other environmental hazards on low-income communities and communities of color.
Overall, we'd like to see additional funds committed to the exciting initiatives we've highlighted, the inclusion of key initiatives that have been overlooked, and a greater focus on addressing the environmental disparities faced by low-income communities and communities of color.
We appreciate the Governor's inclusion of the following initiatives that WE ACT has been advocating for:
Zero greenhouse gas emissions in new construction by 2027, which builds on our Gas Free NYC coalition's law and can be achieved by passing New York State Senator Brian Kavanagh and New York State Assemblymember Emily Gallagher's All-Electric Buildings Act (S6843A/A8431). However, 2027 is too slow to act, so we would like to see the target date moved up to 2024.
One million electrified homes and up to 1 million electrification-ready homes by 2030. As part of the Better Buildings NY coalition and the Building Electrification Equity Platform coalition, we had called for at least 2 million energy-efficient, all-electric homes by 2030, at least half of which should be affordable housing in and for disadvantaged communities.
A commitment to all-electric school buses by 2035, which expands to the state level our New York City Clean Bus coalition's law requiring all-electric school buses in New York City by 2035.
Developing a statewide Extreme Heat Action Plan, which reflects much of the work we have been doing here in New York City. We would like to see it include additional funding for and easier access to the Low Income Home Energy Assistance Program.
Funding for the Second Avenue Subway into East Harlem, though we will continue our campaign to ensure that this infrastructure investment includes our community-driven recommendations to address environmental, economic, and social challenges in the neighborhood.
Increasing funding for the Environmental Bond Act from $3 to $4 billion, which will help create green jobs and ensure clean water and clean air for all New Yorkers.
Energy efficiency, electrification, and air quality improvements for public schools through the $59 million Clean Green Schools initiative, prioritizing environmental justice communities.
Expanding the community air monitoring program, focused on hyper-local pollution in environmental justice communities.
Reducing toxics such as PFAS and Phthalates in packaging, building on legislation we helped pass with our JustGreen Partnership to eliminate PFAS from food packaging in New York State.
A comprehensive, five-year housing plan that will expand affordable housing as well as upgrade and address maintenance issues, including weatherization.
Implementing congestion pricing.
We also applaud the Governor for including the following initiatives in the budget:
Phasing out peaker plants in New York City to reduce the use of fossil fuels and generation of toxic emissions, particularly in environmental justice communities.
A $500 million investment in offshore wind to provide additional renewable power for the state.
Expanding solar energy and imposing prevailing wage requirements for solar projects greater than 1 megawatt.
Doubling efforts to develop and increase energy storage, which will advance the use of renewable energy.
Reducing air pollution from trucks and other vehicles.
Improving parks and other green spaces.
Investing $1 billion for affordable broadband access.
However, a number of the initiatives included, along with others that were not included, are cause for concern:
There is a massive investment in green hydrogen, which is a costly and unproven false solution that will only distract from and prolong our transition away from fossil fuels.
There was no support for public power, such as funding to scale up the New York Power Authority, the nation's largest state-owned public utility, which would help accelerate the production of renewable energy in a democratic manner.
In general, the funding to address climate change and electrify homes falls far short of the $15 billion advocates are asking for.
There was no mention of addressing childhood lead poisoning, an issue for which New York State has some of the highest rates in the country.
There was no broad mention of eliminating toxic chemicals, such as PFAS, from our products, foods, and waterways.
No mention of utility debt relief or a plan to address the energy burden for low-income households across the state.
The agenda lacks sufficient emphasis on environmental justice and providing equitable investments and solutions that will benefit New Yorkers who are disproportionately impacted by environmental issues.
You can download the 2022 State of the State Agenda here.
And you can download WE ACT's 2022 Policy Agenda here.
We look forward to working with Governor Hochul, state legislators, and their staff on these issues, and we also look forward to reviewing the details of the Executive Budget.
---