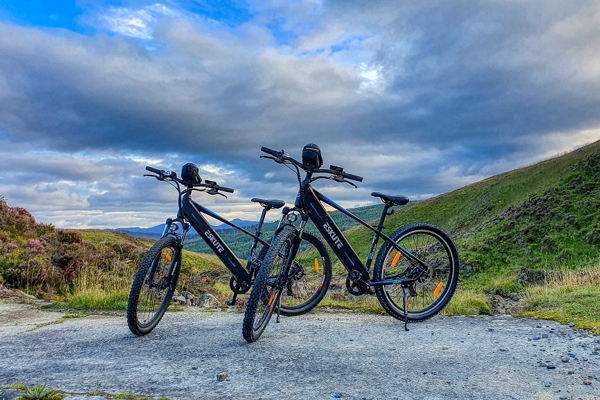 Mountain biking is a great use of your time. You can greatly boost your fitness and enjoy the great outdoors.
Though many hobbies and pastimes sometimes have a shelf life, mountain biking should never be one of them. It's an activity that can be enjoyed indefinitely, especially if you continue exploring all the different facets of what it offers.
Moreover, mountain biking is becoming more popular in the US, with sales spiking and trails enjoying more usage. It can be easier to maintain your enthusiasm for something if others are doing the same, so now could be the perfect time to reevaluate your relationship with the sport.
Most sports are multifaceted, and mountain biking is no exception. There's plenty to explore here, and we've listed some of the more important options below.
Get Insured First
Insurance and fun aren't two ideas that typically coincide. However, these measures can lay a sturdy foundation for your future enjoyment of mountain biking.
Insurance will take a lot of worries off your mind, freeing up room in your mind and soul to enjoy everything about mountain biking. After all, mountain bikes can be hefty investments, and the activity itself can be quite rigorous, so there may always be that fear of something going wrong.
The mountain bike insurance you can get covers a lot. You'd be protected against theft, crash damage, and any injuries you might sustain. Damages sustained during transit can also be part of the policy. You can also opt-in and out of certain measures, so if some areas concern you more than others, that can be accounted for. Claims won't affect your homeowner's or renter's policy premiums either.
A safety net is always a good idea. Speedy reimbursements mean that even if something bad does happen on your mountain biking escapade, quick solutions can be implemented, ensuring the damper on the experience doesn't last for long. You'd be back in the saddle in no time.
Go Electric
The electric mountain bike could play a big role in the future of the sport. There's a lot to enjoy about these versions.
You can travel faster while exerting less effort with an e-mountain bike. That also means you could potentially cover greater distances on your journeys, seeing and experiencing more. It's possible to vary the degree of assistance you receive, too. Therefore, you can ride in a more traditional sense, then if you start to get tired, then begin depending on the electric mountain bike's capabilities more.
Moreover, the e-mountain bike is also covered by the insurance listed above. There can be some apprehension around electric versions of things, as they can come with additional costs and perhaps performance flaws. The electric mountain bike is exempt from these generalizations.
The most important benefit of the electric mountain bike is accessibility. If you have health conditions that might mean you struggle more on a bicycle, you can still enjoy the pastime this way. Even if you're just a beginner heading out on adventures with your more experienced friends, the e-bike will ensure you keep up with them perfectly well.
Visit Another Country
As mentioned in the heading above, mountain biking can take you worldwide. It's worth jumping on that opportunity if you can.
While there can be fascinating places to explore at home, like The White Line in Arizona, there are other popular mountain bike trails abroad too. Bolivia's Yungas Road, Ireland's Cliffs of Moher, and Italy's Viva Ferrata are just some locations where stunning scenery and once-in-a-lifetime experiences can be heard.
Of course, vacations can be about more than just mountain biking too. The hobby can be part of the adventure, and you can spend some of your time doing other holiday-worthy things; visiting restaurants, beaches, and other things. Travel does broaden the mind, and the world of mountain biking can introduce you to a new lease on life.
Try Downhill Mountain Biking Parks
All great exercise can lead you to feel a bit sore sometimes. Still, it shouldn't be entirely off putting, as there are other ways to enjoy mountain biking that aren't quite taxing.
For example, downhill mountain biking parks can be enjoyed immensely. As you can guess, you're mostly just controlling your descent in this context, so you don't have to push and trudge your way up various terrains. There can be a rush of adrenaline as you wind your way down the mountainsides, especially if you're exerting a smaller amount of effort.
Mountain biking parks are typically located at ski resorts, which means you usually have to ride gondolas or lifts up to the summit of each mountain. So, don't worry about walking all the way back up again. Enthusiasts often recommend that mountain bikers should try the experience at some stage, and it's easy to see why. There can be a more immediate sense of fun here.
Of course, the potential to meet people at ski resorts is greater, too, as these areas will be populated. While serene lone mountain biking trails have their place, it's also nice to mix with other active people and be surrounded by a community spirit. Ultimately, it can put a new twist on your mountain biking adventures.
Teach Somebody Else
Your hobbies don't have to just be about you. That notion can easily apply to mountain biking, and you can share the joy you experience with others and use your experiences as a gift for others as well.
After all, some people will turn to a blog for inspiration on new hobbies they should take up. However, introducing a new pastime can resonate more if a friend or family member reveals that new world. Why not take on that role yourself?
Even should a day come when you believe you've nearly taken your enjoyment of mountain biking as far as it can go, witnessing someone experience it all for the first time can help you stay in touch with your 'wide-eyed rookie' part of yourself. Their enjoyment can be yours too.
Teaching somebody new skills and watching them thrive can also be great fun. You may even feel proud of the person who's recently taken up mountain biking. There can also be a sense of legacy, as you'll be doing your part to preserve the fun of mountain biking for years to come. Positive word of mouth can do a lot for a sport!
Mountain Bike Alone
Of course, the fulfilment you get out of mountain biking with others can largely depend on your mood and personality time. If you prefer your 'me time', that's equally as valid as someone who wishes to spread their joy unto others.
Mountain biking can be a highly enjoyable solo activity. It comes with numerous advantages. You can choose where to go and pace the speed of your journey. You don't have to worry about the safety of others travelling with you. Solo mountain biking can be a therapeutic and perhaps even enlightening experience.
You should not listen to music during your mountain biking to be fully aware of your surroundings. Still, there can be plenty of wonderful things to listen out for. Depending on where you are, you may be able to pause in your biking and listen to the ambience of nature around you. The wind through the trees, rushing streams, and birdsong can all add to the experience and sense of escapism.
Related Articles