---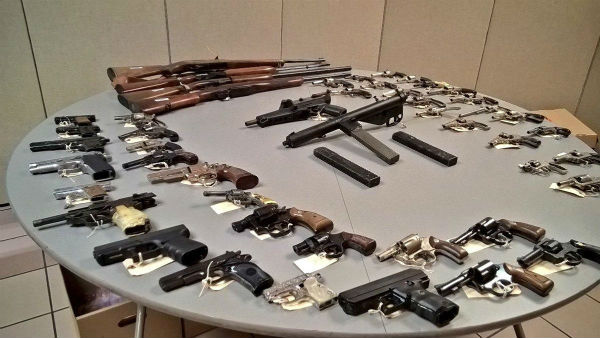 Four members of a gun trafficking ring that has smuggled at least 86 firearms into New York City from Virginia were indicted Monday, according to the Manhattan District Attorney's Office.
Between March and November Clive Dixon, of Virginia Beach, sold an undercover NYPD officer 86 firearms in 15 different transactions, most taking place in East Harlem's Clinton Houses the Forest Houses in the Bronx, according to a press release from the DA's office. One of the gun sales occurred in the vicinity of the Port Authority Bus Terminal, the DA's office said. During each transaction Dixon, 28, would meet the undercover officer in a vehicle and sell 4-9 guns for $1,000 a piece, according to the DA's office.
Dixon has been charged with more than 150 counts of criminal weapons possession and sale of varying degrees, according to the DA's office.
"The fact that one defendant could so readily obtain more than one-hundred guns speaks volumes about the scope of the illegal firearm trafficking problem in this country," NYPD Commissioner James O'Neill said in a statement.
The three Virginia men who supplied Dixon with weapons — Emmanuel Dentmond, 22, Antonio Williams, 27, and Teal Arnold Holt Jr., 27 — have also been indicted and charged with criminal weapons possession and sale charges. Dixon would buy weapons in Virginia from the three men who purchased the weapons from local firearms dealers through straw purchasers, the DA's office said.
All four defendants are also charge with fourth-degree conspiracy, according to the DA's office.
"These defendants are charged with driving up the Iron Pipeline to peddle deadly firearms in New York City on 15 separate occasions in just eight months," said Manhattan District Attorney Cyrus Vance in a statement. "Virginia is the top source state for firearms trafficked into New York. As this indictment makes clear, our state's otherwise-sensible gun laws do not meaningfully deter large-scale firearms traffickers from purchasing guns in states with weaker laws and selling them in New York."
Photo by Shutterstock and from source.
---