---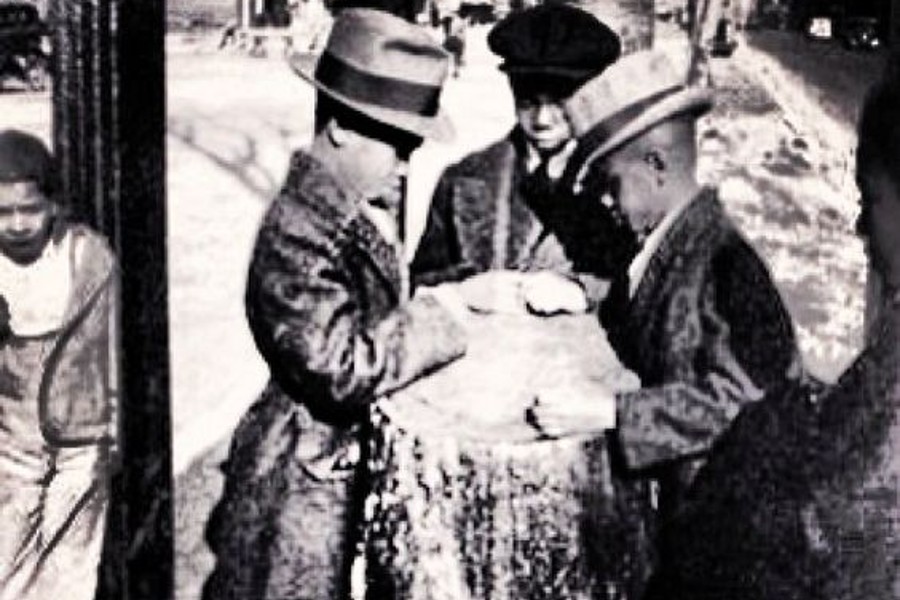 A very rare photograph looking north along Adam Clayton Powell Blvd., (7th Avenue) of Harlem.
With kids surrounding The Tree Of Hopestump at its original location on the boulevard looking north at 7th Avenue and 131st Street in Harlem, New York in 1937.
During the Harlem Renaissance aspiring performers such as Ethel Waters, Fletcher Henderson, and Eubie Blake visited the Stump to rub it for Good Luck before a performance at The Hoofers Club and the nearby Lafayette Theatre which was right across the street.
Around the time that the Apollo Theater first opened in 1934, the City of New York widened Seventh Avenue and the trees that had once lined the Boulevard of Dreams had to be removed. One of the trees doomed to this fate was the famous Harlem landmark, The Tree of Hope.
When the tree was cut down in 1934 during the expansion of 7th Avenue, it was cut into logs and sold as souvenirs. The tree was cut up as firewood and pieces were also sold as good-luck souvenirs. Ralph Cooper Sr. bought a piece of the tree that measured eighteen inches across and sat about a foot high. He took it back to the Apollo and had it sitting in his dressing room. Just before the first Amateur Night at the Apollo show began, he asked one of the stagehands to sand and shellac the log and to mount it on an iconic column. The column pedestal was placed on stage right, just outside the curtain so the audience could see it.
In 1941, Bill 'Bojangles' Robinson joined New York Mayor Fiorello H. LaGuardia in a formal ceremony to rededicate the stump of the original tree.
The tree's home is still at the world-famous Apollo Theatre, where a piece is still touched by performers for good luck on the stage right before their performance.
Get more Harlem history here.
Latest Posts
Related Articles
---