---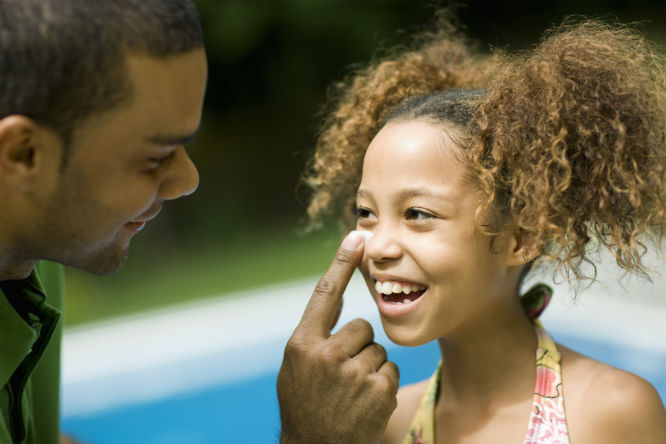 By Dr. Navarra Rodriguez
Skin of every color, tone and shade needs protection from the sun every day, no matter where you are.
You don't need to be at the beach, pool, or playground to get too much sun – it's possible to get too much from simply standing at a bus stop. Just a few serious sunburns can increase your risk for skin cancer. So see your doctor once a year for a skin checkup.
In the meantime, here's what you can do to help minimize the damage caused by too much sun:
Apply sunscreen. Use sunscreen with an SPF of 15 or higher when spending time It should also block the sun's harmful ultraviolet (UV) rays. Don't forget to apply it on your ears, noses, lips, tops of feet and head if your hair is very short. And reapply after swimming or sweating.
Seek shade. It's important to rest under an umbrella or shady tree. Indoor activities are best during midday hours when the sun is the strongest.
Get a hat. A hat with a wide brim can protect your face, ears and neck. Make sure to put sunscreen on those body parts even if your hat provides coverage to those areas.
Wear sunglasses. For the most protection, look for sunglasses that wrap around and block most of the sun's harmful UV rays.
Drink fluids. Stay hydrated, especially when there's a heat index of 90 degrees or higher. Your body could overheat, which can escalate to heatstroke, a serious condition.
Remind your friends and family to use these options to prevent sunburn, too! For more tips on sun safety, visit CDC.gov.
Dr. Navarra Rodriguez is Chief Medical Informatics Officer/Internal Medicine of AdvantageCare Physicians, one of New York's largest physician led multi-specialty practices serving half a million patients in 36 locations throughout New York City and Long Island.
Related Articles
---