---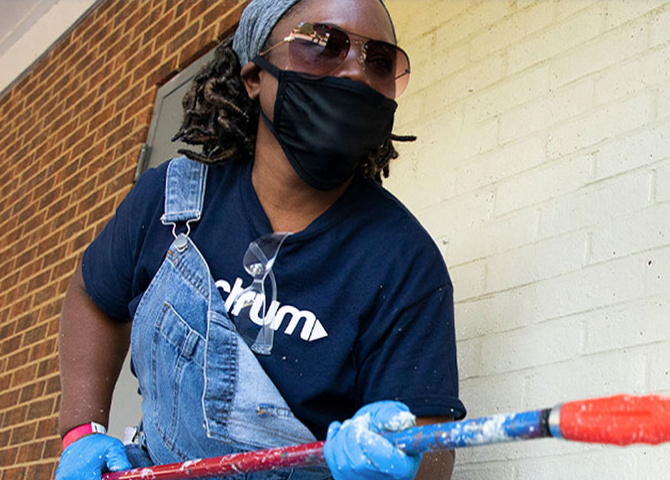 Spectrum today announced a donation of $5,000 to Safe Horizon through the company's national community philanthropic program, Spectrum Employee Community Grants.
The grant will go towards the support of Safe Horizon's core mission – moving victims from crisis to confidence – through a range of services it provides, including legal clinics, advocacy services, shelters and much more.
Safe Horizon was selected by Spectrum based on the volunteer work of company employee James Hendricks, who has been a member of the organization's board of directors since 2016.
He is group vice president of human resources for Spectrum Reach in Manhattan and nominated Safe Horizon for the grant.
"Through Spectrum Employee Community Grants, we're proud to provide support to vital community organizations with which our local employees are already volunteering their time and talent," said Rahman Khan, vice president of community impact for Spectrum. "Together, we're building stronger communities where our customers and employees live and work across America."
Established in 1978, Safe Horizon has grown into the nation's leading victim assistance organization touching the lives of over 250,000 survivors each year.
They operate a network of programs across New York City communities and systems.
Through Safe Horizon's services, they strive to meet the needs of survivors in the moment by connecting them with concrete supports and wraparound case management that includes counseling, food, childcare and financial assistance.
"We are so grateful to Spectrum, and to our board member James Hendricks, for their generous support of Safe Horizon," said Liz Roberts, CEO of Safe Horizon. "Over the past two years of the pandemic, when ongoing access to services like ours has been critical for survivors, Safe Horizon's staff has gone beyond the call to keep our doors open, 24/7. This award makes it possible for us to continue our commitment to survivors with on-site and remote services, helping them begin the path to healing."
Spectrum Employee Community Grants has provided funding to more than 315 local nonprofits in 31 states throughout the company's service area since its inception in July 2019.
The grant to Safe Horizons is part of the company's $1-million 2021 programming commitment.
Recipients deliver critical social services, helping underserved residents meet basic needs, including food, shelter, clothing, job training and neighborhood safety.
Each awardee is nominated by one of the company's 96,000 U.S. employees who has volunteered with the organization for at least one year.
Spectrum sponsors several philanthropic programs in addition to Spectrum Employee Community Grants, including Spectrum Digital Education, which supports local nonprofits engaged in digital literacy through grants and in-kind resources; Spectrum Scholars, a scholarship for under-represented college juniors in financial need; and the Spectrum Community Investment Loan Fund, which supports small and minority-owned businesses whose goods and services help meet core needs in financially underserved communities within the company's footprint. More information about Charter's philanthropic initiatives is available here.
Spectrum
Spectrum is a suite of advanced communications services offered by Charter Communications, Inc., a leading broadband connectivity company and cable operator serving more than 32 million customers in 41 states.
Over an advanced communications network, the company offers a full range of state-of-the-art residential and business services including Spectrum Internet®, TV, Mobile and Voice.
For small and medium-sized companies, Spectrum Business® delivers the same suite of broadband products and services coupled with special features and applications to enhance productivity, while for larger businesses and government entities, Spectrum Enterprise provides highly customized, fiber-based solutions. Spectrum Reach® delivers tailored advertising and production for the modern media landscape.
The company also distributes award-winning news coverage, sports and high-quality original programming to its customers through Spectrum Networks and Spectrum Originals.
More information about Charter can be found at corporate.charter.com.
Photo credit: Spectrum.
---