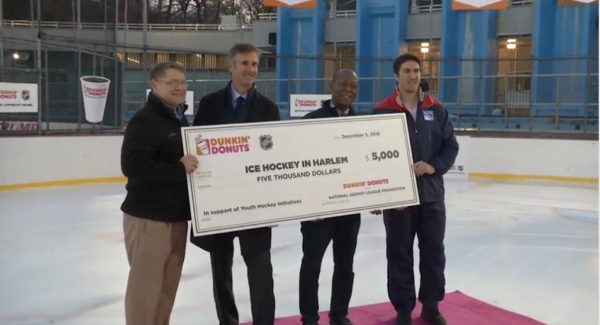 The National Hockey League Foundation reported that New York Rangers defenseman Ryan McDonagh was at Lasker Rink in Central Park on Monday providing instruction to youth hockey players, including members of Ice Hockey in Harlem.
In addition to mentor, the Rangers captain added a new title to his glowing resume: spokesperson for Dunkin' Donuts, formally announced as the official U.S. coffee, donut and breakfast sandwich of the NHL.
The partnership is Dunkin' Donuts' first with a national sports league and will be featured at several NHL events, including the 2017 Bridgestone NHL Winter Classic between the Chicago Blackhawks and St. Louis Blues on Jan. 2, and the Centennial Classic between the Toronto Maple Leafs and Detroit Red Wings on New Year's Day.
It's another responsibility McDonagh, who joins Boston Bruins forward David Backes as spokespersons, will carry on his broad shoulders but like his role with the Rangers is one that suits him perfectly.
"Ryan McDonagh is a huge part of our overall commitment and support for hockey both at the NHL level and at different levels around the country," Dunkin' Donuts VP of field marketing Tom Manchester said. "Ryan embodies a lot of the values that we want our brand to be portrayed with hockey fans across the country: hard work, integrity, leadership. Ryan really has all those qualities. Ryan's a terrific spokesperson. We're really happy to be partnering with him."
He has been happy since taking advantage of an extended summer to re-energize and refocus on his quest to win the Stanley Cup for the first time.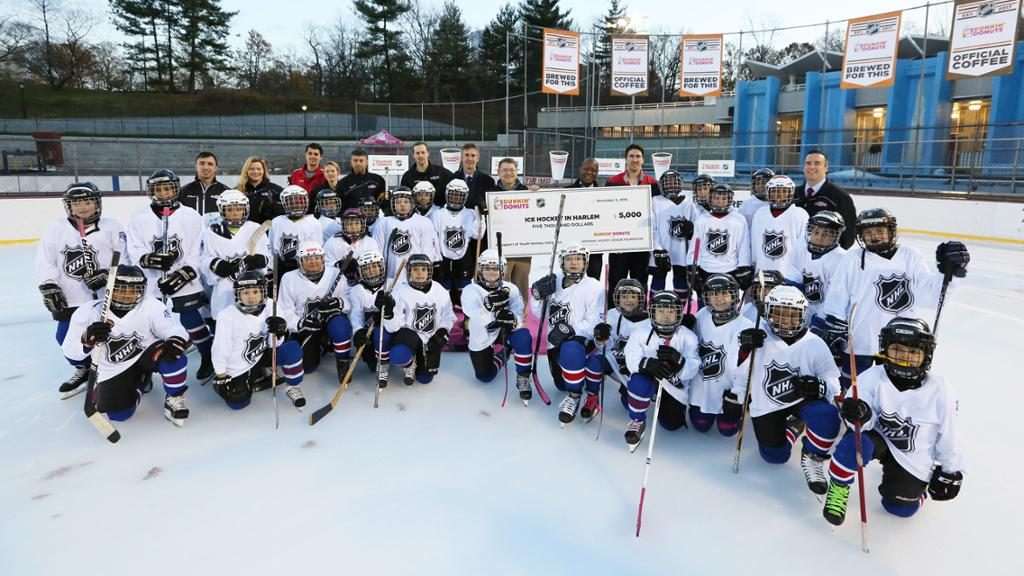 Gone were injuries that plagued him in each of the two previous seasons: a broken foot he played through in Game 7 of the 2015 Eastern Conference Final against the Tampa Bay Lightning, a concussion early last season and a hand injury sustained late that affected him during a five-game loss to the Pittsburgh Penguins in the first round.
McDonagh stepped up his training regimen and played for Team USA at the World Cup Hockey 2016 in the best shape of his life.
"Certainly [with] the World Cup in the beginning of the season, you really had to amp up your training," McDonagh said Monday. "For me that's huge. Part of my strength is my skating ability. Being able to work out a little bit extra this summer really helped. Just having that pace and intensity right from the start because of the World Cup has definitely carried into the regular season."
He's eight-game point streak from Oct. 17-Nov. 1 made him the first Rangers defenseman to accomplish the feat since Brian Leetch's nine-game streak from Jan. 3-31, 1996. He leads the Rangers in average ice time (23:51), and is tied for first with Skjei and center Derek Stepan with 13 assists entering their game against the New York Islanders at Barclays Center on Tuesday (7 p.m. ET; SN1, SNO, MSG+, MSG 2, NHL.TV).
McDonagh has led the Rangers in ice time in 24 of 26 games this season with New York 23-3-3 in its past 29 games since Oct. 16, 2014 when he's skated at least 25 minutes. And despite a 3-4-1 slide before a 4-2 win against the Carolina Hurricanes last Saturday, the Rangers (17-8-1) have maintained first place in the Metropolitan Division even without injured forwards Mika Zibanejad (broken fibula) and Pavel Buchnevich (back).
---
"Those are obviously two significant guys for us, certainly early on here having to handle some adversity," McDonagh said. "It's certainly been a challenge at times but for the most part we've had different people stepping up every night. You look at guys like Rick Nash, Derek Stepan up front, some leaders there with a lot of experience, and [who] know how to bring their game to another level and bring the guys around them to another level.
"We're going to need that for sure [Tuesday] night against a team that really plays well at home."
Related Articles