---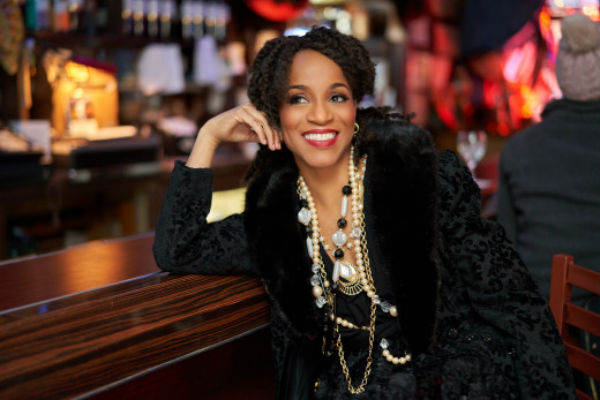 By Robert Walker
Nadhege Ptah is the actress and filmmaker who is poised to become one of "Hollywood's" newest "A" listers. With a new TV series currently being shopped for her award-winning film short, 'Paris Blues In Harlem', and her acclaimed work on the film 'DoDo TiTi', Nadhege is focused on acting and storytelling with projects that are rooted in truth.
'Paris Blues In Harlem', which was written and directed by Nadhege, co-stars the late, Charles Weldon, and features several notable actors from stage and screen with Tony Award-winning actress, Tonya Pinkins, and actress Michelle Baldwin.
In the popular song by Nina Simone, "Young, Gifted, and Black" Simone shares a story that reflects the journey of life that resonates with Nadhege, who is based in the urban vibrancy of Harlem, New York, and is of Caribbean/Afro-American heritage, as a wife, and mother, a writer, and filmmaker.
A journey by those she richly weaves into her stories with colorful characters as an actress she hopes touches all of us in some way.
"[To be] Young, gifted and black, We must begin to tell our young, There's a world waiting for you. This is a quest that's just begun."
Those lyrics from Simone's song describes the dynamics of humanity Nadhege shares as an actress and filmmaker.
I spoke with Nadhege recently about her film career and current work as an actress and writer.
Q&A with Nadhege
Nadhege, I want to thank you for taking this time to chat with us in a follow-up article after we featured you last year on The Danny Tisdale Show as you were touring the country with your film short, 'Paris Blues In Harlem'.
Robert Walker: So, we are just passing the mid-way point of the year for 2020, and what a year it has been, full of unexpected circumstances with a worldwide pandemic and COVID-19. First off, how are you and your family doing?
NP: We are very grateful that we are healthy in mind, body, and spirit.
RW: As we come to terms with this year, how have you processed this time period as a visual artist, an actress, and a writer. Has this given you more fuel to create and what have been your main goals for this year?
NP: Initially I didn't quite understand what was happening. I don't watch the news so when a major event is brought to my attention it's fragmented. I just arrived from vacation in Guadalupe on March 11 and the world started to shut down. The next day a domino effect of literally every entity shut down. I was still in a serene space to even think about panicking. So I was forced to pay attention, catch up, and be a co-anchor at home to maintain balance with the abrupt changes. Creatively the fire has intensified to do it NOW the next second is not promised. The main goal is to complete all creative endeavors that began in 2019 and do my best with the challenges of 2020.
RW: I know that you were very close to the two men who were the subject matters behind your award-winning film short, 'Paris Blues In Harlem'. We lost the real-life club owner and founder of the Paris Blues nightclub in Harlem, Sam Hargress, Jr. this year, and then, of course, Sam's alter-ego in the character of "Pop-Pop", as portrayed by the late Charles Weldon in his last screen performance – your film – whom we lost at the end of 2018 as you all were about to premiere the film in New York. What did these two gentlemen mean to you Nadhege and how did they impact your life as an actress/filmmaker artist, and personally?
NP: Wow. It's such an overwhelming question. The wound is still fresh in dealing with two significant individuals who impacted their community because of their humanitarian spirits and what they meant to people left a huge void. I saw the leadership, humanity, and sacrifice they endured and as a result, they were positive father like figures to me. I want to scratch and bring to the surface universal stories that are progressive, different and rooted in truth.
RW: You have been making quite a name for yourself, particularly in the New York/ Northeast area, your home base, as a writer and director with film shorts, 'Paris Blues In Harlem' – which you are now developing for a TV series, and you won in various festivals for Best Short Film Narrative and nominated for best Direction; and also your film 'Do Do TiTi' won you best actress and several nominations for directing and cinematography before that. You also received accolades for directing a staged/film presentation for the legendary, Nana Camille Yarbrough. You also want our readers to know about your passion as an actress, something that tends to get lost because of your directing and filmmaking. When did the acting bug first take hold of you? When did you know that acting would be one your passion pursuits professionally?
NP: Actually I began artistically as a dancer. So, I was trained in modern and ballet and wanted to be a dancer first but also had interests in acting and loved musical theater. I wasn't allowed to be involved in the dance ensemble and acting company in high school because of time commitment and schedules conflicted. So, I decided to stick with dance. However, my path altered with family expectations to pursue a "realistic" career. So, I continued dancing in college with the modern dance ensemble but not as major. After a major crossroads in graduate school once I completed my master's degree in psychology I enrolled in an acting school and the journey as a professional actor began. I believed the bug has always been there since I was young because it came naturally, but the seasoned to do it opened up as a young adult to explore other creative passions.
RW: Who were some of the actors you liked as a child growing up, and who are some of your favorite actors out there now?
NP: So many to name like Ruby Dee, Ossie Davis, Diane Caroll, Alfre Woodard, Phylicia Rashad, Angela Bassett, Denzel Washington, Samuel Jackson, Lynn Whitfield, James Earl Jones, Viola Davis, Morgan Freeman, Billie Dee-Williams… my goodness let me stop here…
When I think of those actors and actresses I'm reminded of the poem by Nina Simone, To Be Young, Gifted and Black:
To be young, gifted and black,
Oh what a lovely precious dream
To be young, gifted and black,
Open your heart to what I mean
In the whole world, you know
There are billion boys and girls
Who are young, gifted and black,
And that's a fact!
Young, gifted and black
We must begin to tell our young
There's a world waiting for you
This is a quest that's just begun
When you feel really low
Yeah, there's a great truth you should know
When you're young, gifted and black
Your soul's intact
Young, gifted and black
How I long to know the truth
There are times when I look back
And I am haunted by my youth
Oh but my joy of today
Is that we can all be proud to say
To be young, gifted and black
Is where it's at
RW: If there is one actor, and one actress, on the scene today (or of old), that you could cast yourself opposite in a co-starring role, who would that be, and why?
NP: I'm going to name a legend we don't see but have paved the way. There are a plethora of folks from my generation and others I would love to do a scene with but, in the immediate future, I would love to co-star with Sidney Poitier.
RW: As an actress, is there a director whose work you have admired, that you would like to work with?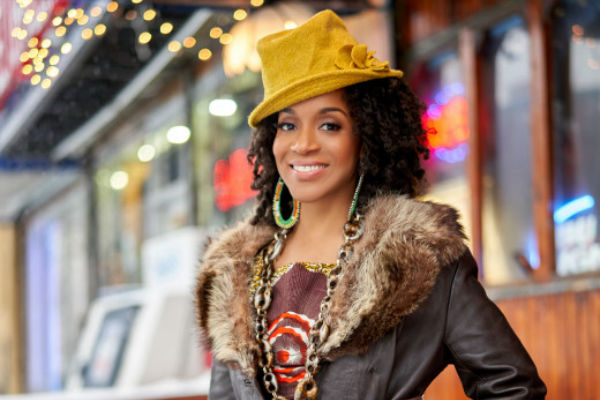 NP: Spike Lee, Julie Dash, Steven Spielberg, Ava Duvernay, Ryan Coolger. I can go on and on with this also…LOL.
RW: I have heard from many professional actors over the years that there is no better training for an actor than the theater. Has that been your way of thinking, and why do you think that is so. What is it about stage performances that make one such a skilled actor?
NP: My goodness, the stamina, and level of concentration that is needed to perform and master the skills of making a mistake look natural because in live performances anything can happen. It's moment to moment. It's mastering the art of being in the now. It's a serious discipline that is built when you come from a theater training and it's so rewarding. I remembered I was in a Shakespeare play and the theater was freezing because the heating system broke. Our costumes were paper thin. Can you imagine in the winter performing in an icebox theater and focusing on not trembling while doing your lines and be in the moment with your intentions, actions, and emotions? I mastered that skill for several performances pretending to be warm while my hands and feet were frozen and numb…LOL.
RW: It seems the trend today is that if you have a couple of hit movies, or win some awards acting, that you can work a deal to have your own production company. Would that be a goal of yours for your film company, MAAT Films, since you write and direct? And, what types of stories are you interested in exploring as an actress/filmmaker with your own film distribution deal?
NP: Manifesting An Artistic Truth Films equals MAAT which was built as a necessity to carve my own path for me upon returning on a hiatus. I didn't want to depend on allowing an agent to drive the career wheel solely. The roadblocks as a black actress is beyond a triathlon to overcome. The roles and good stories are minutes. I love good and unique stories…that excites and fuels me. So how long do I have on this planet to wait for that exciting part of the Hollywood machine of recycling? I'm interested in progressive stories that dig deep into the core of a human soul and highlighting other aspects of the black culture we don't see. I want to scratch and bring to the surface universal stories that are progressive, different, and rooted in truth.
RW: How can readers stay in touch with you?
NP: They can go to Facebook at Facebook, Instagram, Twitter, and go to my website www.nadhegeptah.com.
RW: We wish you continued success with your filmmaking and acting Nadhege, and look forward to following up with you again in 2021 to see the great accomplishments at that point.
Read more Robert's World here.
Robert Walker is an award-winning writer. As a freelance Public Relations Consultant, Robert's clients included the NBA's only licensed female designer of women's sports apparel, Deborah Williams of Her Game 2; The Sickle Cell Anemia Disease Association of America; Gospel Artist, 2009 NAACP Image Award nominee, Omega Bugembe Okello; famed Dancer and Actress, Trina Parks, Filmmaker, Nicole Franklin, Jazz Singer, Freda Payne and actresses, and Dr. Tommie Tonea Stewart, to name a few. He is a recipient of the Silver Award at the World Fest Film Festival, he worked with Tony-nominated award-winning actress. Today, he works as a film writer/producer, along with colleague and author, Olivier Stephenson, telling the remarkable untold stories of pioneering women of color who have impacted our nation's popular culture. https://about.me/robertprguy
Photo and videos credit: 1-5) Robert Walker.
---