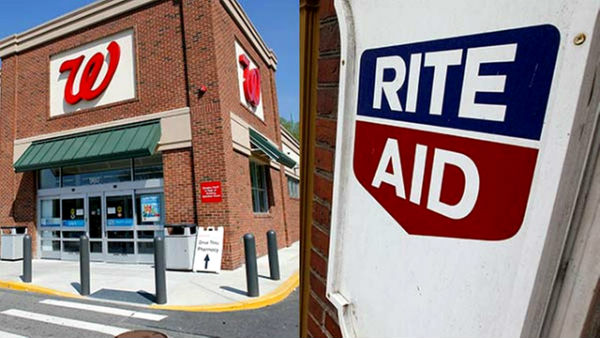 With three Rite Aid and three Walgreens stores in Harlem, it's interesting that a few months ago, the shareholders of #3 U.S. drugstore chain Rite Aid approved the company's proposed acquisition by the parent company of the #1 chain, Walgreens Boots Alliance. Now reports indicate that the Federal Trade Commission may give the merger its blessing, as long as certain conditions are met.
The New York Post reported today that signs point to approval so far, and it could be announced sometime next week. Like with many retail mergers, in areas where both chains are common and they compete heavily, the company would either close some stores or divest them, selling them to a competitor –– probably an existing regional chain, not #2 drugstore CVS.
In some areas where the two chains compete, they may end up closing a large number of stores. One estimate is that up to 3,000 stores would either be sold or closed if the merger goes through.
While consumer choice is one factor in this proposed merger, another factor is the pharmacies' ability to negotiate with pharmacy benefit managers, the companies that negotiate which drugs your insurance company will pay for, and how much it will pay. A larger and stronger Walgreens would weaken the ability of PBMs to negotiate with pharmacies.
Walgreens doesn't own a chain of shoe stores, by the way: Boots is the U.K. pharmacy chain that the company acquired in 2014. Walgreens and Duane Reade customers might be familiar with that name from the company's Boots No7 in-house cosmetics brand.
Signs point toward FTC approving Walgreens-Rite Aid merger [New York Post]
Related Articles