---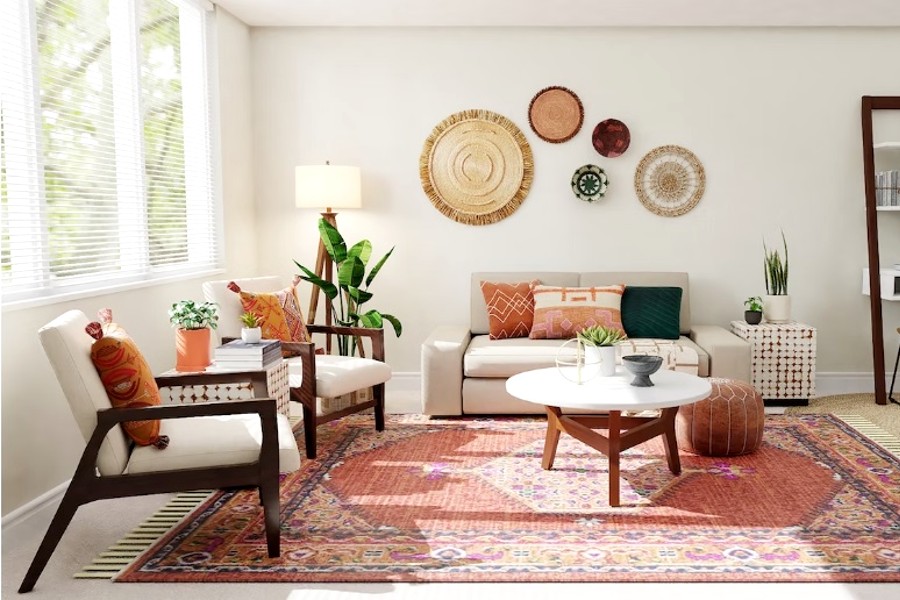 Reinvigorate your home with the unique, creative process of custom screen printing.
Through this modern method, you can give life to a variety of items in and around your house – from textiles to walls, furniture pieces to accessories – expressing yourself as never before.
With printed designs that make an impactful statement about who you are, there's no better way to explore endless possibilities for creating unforgettable interiors!
Screen Printing: What is it?
It's the creation of unique designs with minimal environmental impact.
A light-sensitive emulsion coats the mesh screen, which is exposed to a design or pattern that hardens on those areas not present in the image. Following this process, only the stencil remains when washed and applied with ink onto its surface.
Gesturing towards sustainability while offering personal touch capabilities, it's no wonder this method has become such a popular go-to for decorating homes around the world!
It's an exciting and innovative way to add unique flair and customization to home décor. From wood to metal and everything in between.
Transforming Furniture
Bring an extra touch of individuality and flair to your home furniture with custom prints.
With the wide variety of designs available, you can find something that speaks directly to your personality- from bold floral patterns and funky geometric shapes all the way through to subtle touches or pops of color on furniture such as chairs, tables, or dressers.

This versatile technique allows you complete creative freedom! Transform your living space today with custom-printed pieces that are sure to make heads turn.
Customizing Textiles
It's time to breathe some new life into your existing pieces by adding a personalized touch to your home textiles. Create a unique space with custom throw pillows, duvet covers, curtains, or tablecloths that reflect who you are.
Unleash all of the creative ideas in your mind through this versatile technique – experiment with colors, patterns, and textures for personalized designs like nothing else.
There's no limit to what can be achieved!
Adding Artwork
Enjoying a unique, custom piece of art in your home no longer requires expensive purchasing or commissioning. With the process of custom printing, homeowners now have an incredible opportunity to bring their creativity and personality into their living space.
Whether it's transforming a favorite photo onto canvas or displaying original artwork throughout one's house – the possibilities are endless.
This new method adds that special touch needed to turn any room from average interior design into personalized works of artistry, creating an atmosphere with true character and individuality which will be enjoyed for years to come.
Embracing Sustainability
Instead of discarding old pieces of furniture or textiles, your belongings can be updated using this innovative technique that allows for creative expression while reducing environmental impact through the use of reliable inks.
This also keeps old furniture around – which is often tossed into a landfill.
Screen prints offer an exceptional combination: sustainability without sacrificing style!
Breaking the Rules
One of the most exciting things about screen printing is the ability to break the rules! It offers limitless possibilities – create wall décor, display favorite song lyrics for all to see, or add a humorous touch on your doorstep by designing an amusing saying onto your welcome mat.
Unleash your imagination today, forget about mass-produced items, and give life to those unique ideas of yours that have been waiting patiently in line.
Expressing Individuality
Printed décor grants you the freedom to transform your living space into an authentic expression of yourself. It's a unique way to add a personal touch, as each item is tailored according to one's individual taste and style.
Whether it be by designing eye-catching pillows or creating stunning backsplashes for any room in the house, custom printing helps bring ideas from imagination onto tangible materials – making your home become even more inviting with every addition that reflects one's personality.
Conclusion
Break free from the mundanity of mass-produced décor and express your individuality.
Custom print designs are a sustainable solution to add one's own personal stamp on everyday items in your home. Don't accept dull decorations when you have the opportunity to creatively enhance all elements of your living space into something that speaks volumes about who you truly are. Tap into this flexible form of self-expression today and make use of its power to let personality shine through each corner within your residence.
Related Articles
---