---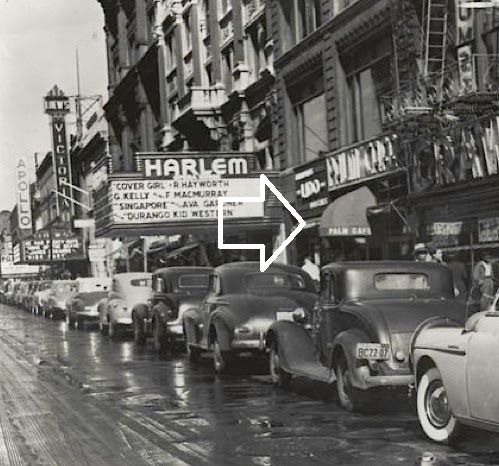 The Palm Cafe at 209 West 125th Street. The palm was a one of the most well known jazz establishment in Harlem. The above photo from 1949 (click to enlarge) shows the semi-circular awning of the café (see arrow) and one can barely make out "Palm Cafe" printed at its circumference. There's neon signage above the said awning but its hard to make out from the angle of the photo peering north-west along 125th Street between Adam Clayton Powell/7th Avenue and Frederick Douglas Blvd.,/8th Avenue.
The Palm Cafe was great, the foxtrot footwork of Bill "Bojangles" Robinson outside, Diahann Carroll is pictured here during a 1953 radio interview with Leigh Kamman at the Palm Cafe in Harlem.
The Harlem minister Rev. Robert Royal managed there, Dorothy Kilgallen, Harry Belafonte, Art Carney, Sidney Poitier, Langston Hughes, Jimi Hendrix, Millie Jackson visited, was amongst the many notables that had their start at this famous club.
Currently the shop space that the Palm Cafe occupied is now a Sprint store. The next building over sits on the location where the Harlem Opera House used to stand (you can see some of it in the top photo). Does anyone know when the Palm actually closed? Archival photo courtesy of
NYPL
.
Related articles
Related Articles
---