---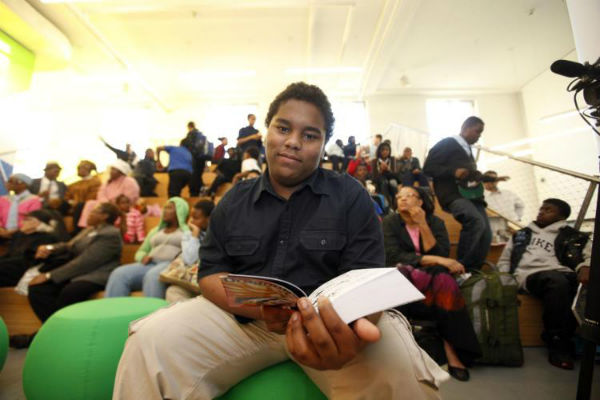 The pediatric emergency department of NYC Health + Hospitals/Harlem and a number of community-focused partners have launched the first annual holiday book drive for pediatric emergency department patients. Through the physician resident-led Harlem Reads—a project intended to promote reading in children seeking emergency care—the book drive aims to collect enough books to provide pediatric emergency department patients with a book to take home from every visit in 2018.
The pediatric emergency department records nearly 18,000 visits each year.
The emergency department residents are partnering with Harlem Haberdashery, Take Care of Harlem, The Girlfriends Movement, 103.9 FM, the CouncilHim Foundation, and Project Sunshine, as well as with The Fund for NYC Health + Hospitals—a health system division that seeks philanthropic support and creates alliances to drive the health system's strategic priorities—and a host of community and staff members.
NYC Health + Hospitals' mission to serve all New Yorkers inspired the residents to launch Harlem Reads, which is leading to secondary benefits.
"Giving a book to a child or parent provides staff with an additional opportunity to interact in a child-friendly way," said Dr. Alexie Puran, director of Pediatric Emergency Medicine and program director of Harlem Reads. "It extends a courtesy that is not obviously medical, which can be crucial in allaying anxiety and fear for the children or parent from being in the emergency room. It also helps establish additional rapport that enhances communication throughout their visit and helps show that we truly care beyond the medical reason for the visit."
At this week's event, children's book authors Reverend Dr. LaKeesha Walrond and Sally Cook shared their talents by reading to local school children as part of the program's launch. Sponsors, administrative and clinical leadership, medical residents, and community members also participated. Each child in attendance received a literary starter kit, complete with a prescription for reading and a bag of books, including signed copies of Rev. Dr. Walrond's and Ms. Cook's books. The children were left with vibrant memories.
Harlem Reads aims to help create a reading culture as a strategy to improve language development and learning, with the result of closing the academic gap and increasing opportunities for Harlem's children. Through the project, the distribution of age-appropriate books to children is intended to increase the likelihood of reading at home, thereby improving language development, communication skills, and the parent-child relationship.
"I am overwhelmed by the support that has been shown by hospital staff and the community-at-large," said Eboné M. Carrington, chief executive officer of the hospital. "The Village of Harlem reads! As a daughter of this community, I remember how books influenced my thoughts, writings, plans, and actions. Knowledge is powerful! As CEO of an important community hospital, I work tirelessly to be transparent in my communications and to provide the necessary tools to help this community to live their healthiest lives. This radical journey starts with our most precious resources – our children."
Launched a year ago, Harlem Reads is now benefiting from a grant from The Fund for NYC Health + Hospitals to purchase books. In a very short time, the holiday book drive has already received 1,800 books from donors, including over 1,100 books donated by Harlem Haberdashery, Take Care of Harlem, and The Girlfriends Movement.
The book drive will continue throughout the year. Donations of new books and monetary donations are always appreciated. To receive further information or make a donation, please contact Dr. Alexie Puran at 212-939-1889 or alexie.puran@nychhc.org.
For more information, visit www.nychealthandhospitals.org 
For more information, visit www.nychealthandhospitals.org/Harlem or call (212) 939-1000.
Related Articles
---