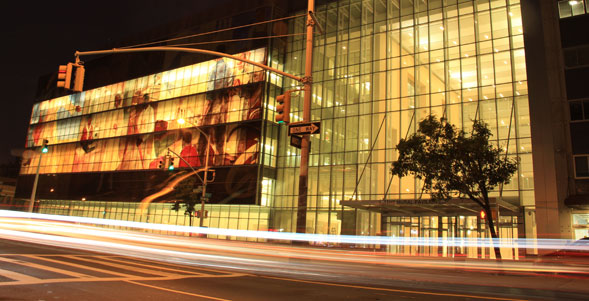 NYC Health + Hospitals (which Harlem Hospital is a member, above) has received national recognition awards for 10 of its hospitals for implementing specific quality improvement measures related to the treatment of patients suffering from heart failure, cardiac arrest, and stroke, it was announced today. The awards from the American Heart Association and the American Stroke Association recognize the consistent application of best-practice, research-based standards of care, which reduce recovery time, disability, and mortality rates for stroke patients, and reduce hospital readmissions for heart failure patients.
Eight hospitals received the highest award for excellence in stroke care, and six received high honors for excellence in heart failure care; three received awards for excelling in both. Two hospitals improved their performance from silver status last year to gold status this year, and seven hospitals earned new recognitions this year. The full list of awards for the public health system is below.
"Across NYC Health + Hospitals, staff continue to push the mark each year to meet the guidelines set by the American Heart Association and the American Stroke Association," said Machelle Allen, MD, chief medical officer of NYC Health + Hospitals. "Our patients should be reassured to know that, when they come to NYC Health + Hospitals, the care they will receive is nationally recognized for its high quality."
According to the American Heart Association, about 5.7 million adults in the United States suffer from heart failure, with the number expected to rise to eight million by 2030. Statistics show that each year about 870,000 new cases are diagnosed and about 50 percent of those diagnosed will die within five years. However, many heart failure patients can lead a full, enjoyable life when their condition is managed with proper medications or devices and with healthy lifestyle changes.
The awards recognize success in meeting or exceeding standards established by the American Heart Association and the American Stroke Association through their "Get with the Guidelines" (GWTG) program. To earn recognition in stroke care, the standards include aggressive use of medications such as clot-busting and anti-clotting drugs, blood thinners, and cholesterol-reducing drugs; preventive action for deep vein thrombosis; and smoking cessation counseling. To earn the award for excellence in heat failure care, standards include the proper use of medications and aggressive risk-reduction therapies; provision of educational materials to patients on managing heart failure and overall health; and scheduling of follow-up visits. To earn recognition for resuscitation, the standards include adopting protocols for patient safety, medical emergency team response, effective and timely resuscitation, and post-resuscitation care.
Most of the awards received by NYC Health + Hospitals also featured add-on "Elite" and/or "Plus" recognition, noting that additional rigorous criteria had also been met—criteria such as, for stroke, "time to intravenous thrombolytic therapy – 60 min."
The following public hospitals were recognized by the American Stroke Association and the American Heart Association:
Related Articles