---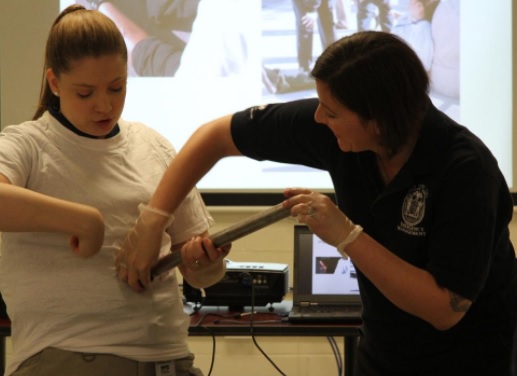 Preparing first responders for mass casualty events is an arduous undertaking. It is difficult to re-create the chaotic moments filled with dozens of injuries and casualties. While this is no small feat, emergency managers strive to create these 'real-life' scenarios with precision and accuracy. Some call it a skill; others see it as an art. Enter moulage.
Moulage is the art of re-creating traumatic injuries for emergency response training. Moulage trainers use various makeup techniques, prosthetics, paints and latex wounds to create the injuries responders are asked to identify during an exercise.
"Moulage is a practical emergency management tool used during exercises to help simulate realism. It is important that we train our team with the knowledge and skills necessary to utilize moulage techniques to create mock injuries such as burns, lacerations and bruises," said Elizabeth Haza Sáinz, Interagency Exercise Program Manager at the New York City Emergency Management Department. "The more realistic the injuries, the more realistic an exercise scenario will be for first responders."
"We used to use triage tags that told the first responders what was wrong with the volunteer victim," said Paula Carlson, Director of Exercises at New York City Emergency Management. "Now, with moulage, the first responders have to actually assess a patient and respond accordingly. Instead of seeing injuries written on tags, moulage allows them to see the wound and notice the symptoms. It gives the responders a more realistic training opportunity."
Recently, Haza Sáinz and Carlson hosted a moulage training for New York City Emergency Management staffers and members of local Community Emergency Response Teams (CERTs). This training created a pool of emergency managers knowledgeable in applying moulage for disaster simulation drills. Haza Sáinz and Carlson focused on helping the group learn how to manage volunteers and create moulage injuries such as burns.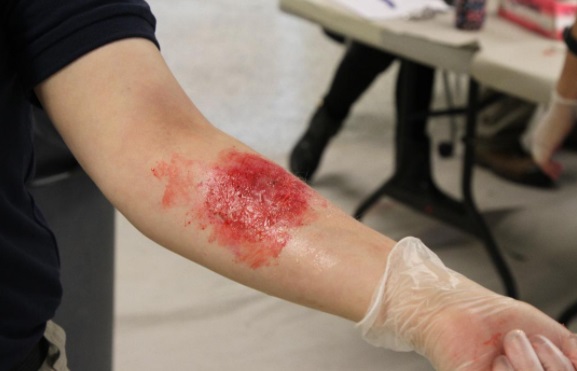 "The point of this training is to get participants to understand the important work they're doing in assisting first responders. Particularly, in cases of burns, it is important that first responders triage and treat patients in a timely fashion," Carlson said. "When moulage is incorporated into disaster simulation drills, it goes a long way in helping them identify injuries and respond accordingly."
In a recent fact sheet released by the World Health Organization, burns contribute to an estimated 180,000 deaths per year. For first responders, it is essential that they identify, triage, and treat burns in a timely fashion. This can help victims avoid severe injury. Severe burns can lead to infections, loss of limbs, loss of vision, and long-term physiological effects. If they are not quickly treated, severe burns can also lead to death.
During the moulage training, participants learned to re-create burn injuries. First, participants used cotton balls to dab a thin layer of liquid latex and applied a small portion to skin. After the latex had almost dried, trainees lightly massaged the latex with either their fingers or a sponge to create the appearance of burning or blistering flesh. It usually takes under 3 minutes for the latex to become dry. Thirdly, the participants blended red moulage paint to cover the dried latex. Finally, the participants used petroleum jelly to cover the simulated wound. For additional effect, participants could apply an optional liquid that would simulate a burning flesh odor or sprinkle charcoal or dirt on top of the petroleum jelly layer.
"Moulage is a useful skill for training first responders and emergency personnel during exercises. It was a lot of fun to work with different materials and supplies to simulate injuries," said Elizabeth Angeles, Strategy & Program Development Project Manager at New York City Emergency Management, and an exercise participant. "The goal is to create realism, which was not always easy, but with a little practice, can assist in training first responders for their critical role."
"As a CERT member and an EMT, the moulage training is a perfect way to instruct students how to distinguish the severity of an injury," said Janet Perry. "It can be done with realism, and in a controlled environment, so that in a real-life situation first responders will know how to triage properly and confidently."
Before an exercise, staff performing the moulage are given fictional background and injury information on each volunteer victim to accurately depict their specific injuries. First responders participating in the drill, however, are not privy to the background and injury information and must use their training to identify injuries and other possible hazards.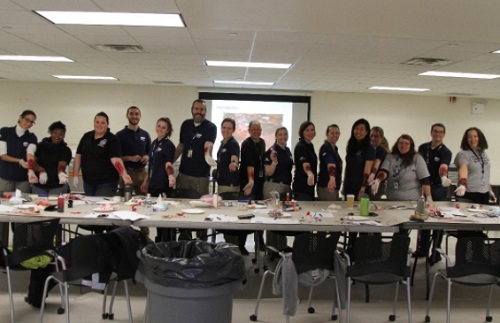 "The value of this level of realism in training can't be overstated. Attention to small details that make a burn, laceration, or impalement look real in an exercise may pay dividends in the real world," said Jonathan Rotta, Interagency After-Action Report Coordinator at NYC Emergency Management and exercise participant. "From a creative perspective, the act of applying moulage was itself fascinating – one can't deny the inherent element of fun in the macabre artistry involved."
Photo credit: 1) Program Manager Elizabeth Haza Sáinz (left) and Director of Exercises Paula Carlson demonstrate how to recreate impalements. 2) Elizabeth Haza Sáinz shows a burn injury she recreated. 3) Team members.
No related posts found...
---