---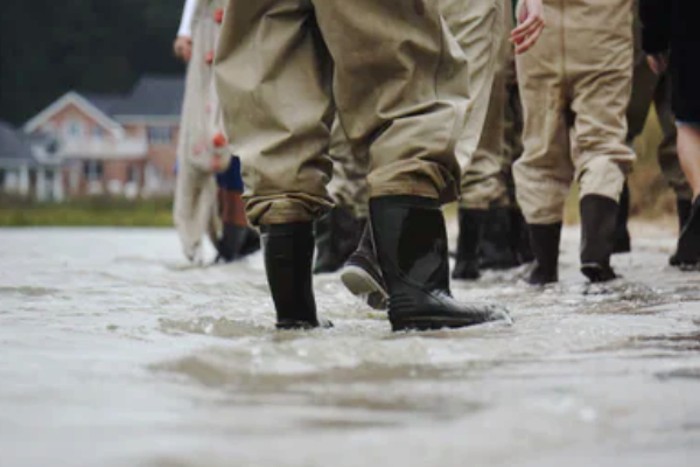 The New York City Emergency Management Department conducted its first simultaneous full-scale exercise of the Interim Flood Protection Measures (IFPM) program on Tuesday, May 17, 2022. The exercises were conducted at three IFPM sites in Manhattan, Queens, and Staten Island.
NYC Emergency Management officials were on-hand to visit the Rockaway, Queens site, which is the largest and most complex IFPM location.
The IFPM program was established in 2016 to protect critical facilities, infrastructure, and low-lying areas in New York City from flooding caused by a hurricane.
"NYC Emergency Management is proud to have protection measures in low-lying, vulnerable areas that will receive added defense from potential storm surge," said NYC Emergency Management Commissioner Zach Iscol. "It is also important for New Yorkers to take steps in preparing their families for coastal storms; the best way to start is by finding out if you live in one of the city's six hurricane evacuation zones by visiting NYC.gov/knowyourzone."
IFPM was designed with the goal of protecting the area from the impacts of storm surge.
NYC Emergency Management led the project, with support from the New York City Mayor's Office of Climate Resiliency and the Department of Design and Construction.
The project team also includes the NYC Department of Transportation, Department of Environmental Protection, New York City Economic Development Corporation, and the Port Authority of New York and New Jersey.
IFPM design includes a combination of semi-permanent barriers with various openings that allow for normal site operations.
These storm openings are then closed when storm surge from a coastal storm is forecast using just-in-time, deployable protection measures.
Interim flood protection measures provide a short-term level of protection while permanent mitigation is constructed at the site.
City agencies worked with engineering consultants and agencies to evaluate flood risks, perform site visits and feasibility assessments, and determined what measures to install to reduce flood risk at each IFPM location.
The IFPM exercises were held just ahead of the official start of the hurricane season, which begins June 1. In New York City, peak hurricane season runs from August through October.
 NYC Emergency Management plans and prepares year-round for coastal storms and has a comprehensive Coastal Storm Plan that includes detailed procedures for evacuating and sheltering residents.
 Areas of the city subject to storm surge flooding are divided into six evacuation zones (1 through 6). During a coastal storm, an evacuation order may be issued for those living in hurricane evacuation zones.
 To find out if you are one of the 3.1 million New Yorkers living in a hurricane evacuation zone, visit NYC.gov/knowyourzone or call 311.
---