---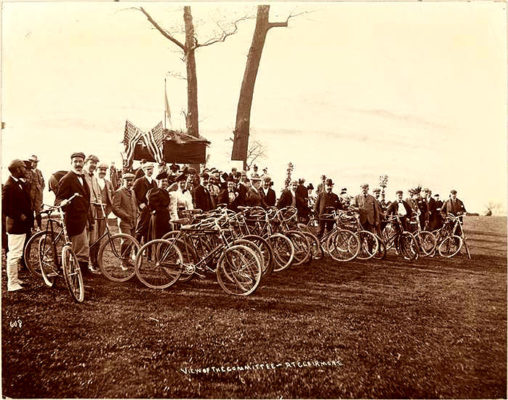 This Sunday, Transportation Alternatives will host its 28th annual NYC Century Bike Tour, the nation's only all-urban 100-mile bike tour. Beginning and ending in Central Park, nearly 6,000 cyclists will participate in this year's tour, which also includes four other route choices between 15 and 75 miles.
Since TransAlt's inaugural NYC Century Bike Tour in 1990, when the ride attracted 200 dedicated New York City bicycling advocates, bicycling has moved from the margins to the mainstream. This is due largely to the movement that was sparked and nurtured by those 200 early adopters. More than 500,000 New Yorkers are now regular bike riders. The city's bike lane network has expanded more than tenfold.
Transportation Alternatives has led the transformation of New York City's transportation network by continuing to develop sustainable, efficient ways of maneuvering around the city. All routes of the Century tour were designed to show the interconnectivity of the different neighborhoods in New York City, and to reveal how simple and safe it can be to commute by bike.
This year, the Century Ride will showcase a carefully curated section of the city's now 1,000+ miles of bike lane networks and greenways. Today's riders include New Yorkers, as well as visitors coming from across the states and even from around the world. Many bicyclists return year after year, because they know that the NYC Century Bike Tour is one of the best ways to experience the diversity and scope of New York City.
All riders have the option to choose which distance they wish to ride. The newest
route – the "family friendly" 15-mile ride – begins at Prospect Park and crosses into Manhattan via the Manhattan Bridge, traveling up Manhattan's east side into the NYC Century Festival at Central Park. The other options, which get underway in Central Park at Malcolm X Blvd and 110th St., include the 35, 55, 75, or 100-mile bike ride.
Sunday September 10th, 2017
Starting at either Central Park or Prospect Park
For more information, please visit: https://biketours.transalt.org/nyccentury
"What people love about this ride is the unexpected humanity and history they find at every turn. The riding is fun, but it is the reveal that makes this event special." Paul Steely White, Executive Director, Transportation Alternatives
Sunday, September 10th, 2017
100 Mile riders check in from: 6:00am
75 Miles riders check in from: 6:30am
55 Miles riders check in from: 7:00am
35 Miles riders check in from: 7:30am
Central Park, 110th Street and Malcolm X Blvd, Harlem, New York
Photo credit: The Michaux Club Bicycle Tea At The Claremont Inn Harlem New York 1895 source.
Related Articles
---