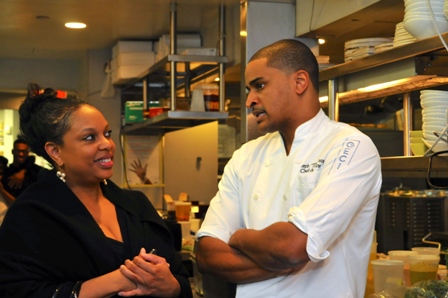 When it comes to Valentine's Day, it's not just about the symbolic heart but the physical heart too.  According to the American Heart Association, heart disease is the leading cause of death in both men and women and affects 1 in 4.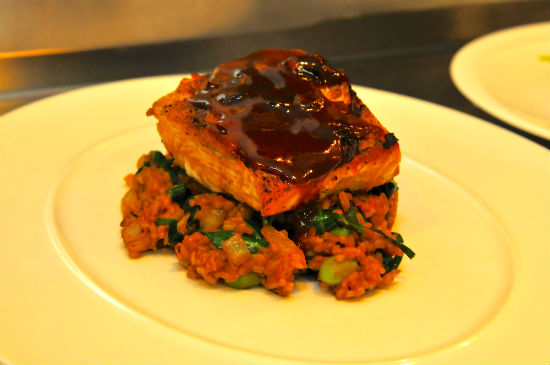 Knowing the statistics and impact it's had on the community. I decided to sit down with Chef "JJ" Johnson to find out about healthy food options on the menu at Minton's.  I sampled and learned about some of the most delectable and heart healthy foods from the menu. After sampling the delicious menu, my favorites are grilled salmon topped with mustard barbecue sauce and fried dirty rice.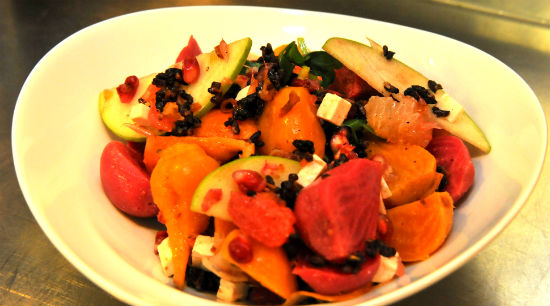 I enjoyed the taste and known health benefits that salmon has to offer like being good for the brain and improving cardiovascular health.  The omega-3 fats found in salmon can reduce inflammation and protect against heart attack, stroke, and high blood pressure.  When it came to veggies, beet and arugula salad topped the list.
Here is my conversation with Chef "JJ":
CC Minton: So tell me about your grandmother.  I know she has been an influence.  What about other family members?
Chef JJ: Yes, my grandmother was an influence when I was a really young kid.  My mom is Puerto Rican and her father is from Barbados.  My father is black American and my dad's dad is from Mississippi and his mother from North Carolina. I grew up in this really diverse food cultural household.  Not realizing that they both connected Diaspora.  I didn't realize it when I was a kid but realized it when I went to Ghana with Alexander two years ago.
CC Minton: Was there a healthy or favorite that your grandmother use to prepare?
Chef JJ: There were many.  She used to cook beets a lot.   Our beet salad is really nice and healthy.  We get our beets from Ohio. They're like the skittles of beets.  It's also made with parsley, talaggio cheese, and grapefruit and then we make a black rice granola.
CC Minton: I'm aware of some of the heart health benefits of beets but tell more about the black rice granola.  It sounds delicious.
Chef JJ: We start out by cooking the rice, then we bake the rice and then slightly flash fry it to get it crispy and in the same texture as you would make granola.
CC Minton: Ummh.  I'd love to taste the beet salad.
---
---
Chef JJ: I'll have them get some ready in the kitchen.
CC Minton: So you've been recognized for your talent and unique cuisine with accolades including being named as one of Forbes' 30 under 30 in the Food & Wine category (2014), Zagat's 30 and under 30 under 30 (2014), and an Eater Young Gun (2014).  How do you feel about that?
Chef JJ: I feel really good about it.  It feels even crazier that the makeup of the kitchen staff is not your typical of a New York City kitchen.  People who work here would not had the opportunity to get hired at a high end kitchen.  Now when they leave from here, they can say that they have the proper skills and techniques.  When people try and say you're not good enough, for everybody here, they're good. It's was an honor for The Cecil to be chosen in 2014 as Best New Restaurant in America by Esquire Magazine and we're all a part of that.
CC Minton: I know that you and your team have accomplished so much in a short amount of time.  I'd like to hear more about them.
Chef JJ: I graduated from the Culinary Institute of America and I live in Harlem and walk to work.  Most of the team is from Harlem and the Bronx.  The majority of them have been here since the beginning.  Mame Sow is our pastry chef.  Joe is Sous Chef at Minton's and Tiffany at Cecil's. Wendy is a kitchen extern.  We also use a program called the IRC.  What they do is bring people to the states who are claiming asylum.  They help people to survive and rebuild their lives.  We have hired through them.    There are about 13 different languages spoken in the kitchen. We're trying to pave a new way, young chef ….young chef.
CC Minton: You are Chef de Cuisine at the Cecil and now Minton's.  What can you tell me about what you've experienced so far and if there is anything historical you can share?
Chef JJ: I became Chef de cuisine at Minton's about 7 weeks ago and it's been great.  The Southern Revival Low Cooking of Alexander Smalls is a regional cuisine.  It's not something that a lot of people know about and it's still new for me.  For me, it will be about approaching things in a different way.  We prepare fried chicken with pomegranate, snap beans and fried leeks with this country ham vinaigrette.  It's a little different than your typical fried chicken.  When I took over the menu, I wanted to do fried quail but Mr. Parsons insisted that fried chicken stays on the menu. It's also an honor to cook in a historical building.  It has a lot of history in it.  We deliver to the elderly with city meals on wheels.  People tell us stories about the building we cook in.  They say things like, "I use to hang out here and the bar use to be this long versus the size now."  Just to hear the stories and to think we're creating new stories of Minton's is a very big honor.  One day we'll be in the story books saying that this is what it was.  It was a legendary place being revived by what we're doing now with Cecil's too.
CC Minton: So what's new at Minton's in terms of Jazz?
Chef JJ: Wednesday Night is a great night with a new feel.  It's with JC Hopkins' Biggish Band. They're a 13 piece band and you'll love with Wayne Tucker, who's on tour with Taylor Swift.  He plays the trumpet.  People say it's the old Minton's with a new feel.
CC Minton: Any recommendations for Valentine's Day?
Chef JJ: I recommend the Cecil and Minton's.  I love everything on the menu including the tofu.  There will be two different experiences.  At Cecil's there will be the Afro-Asian-American brasserie along with a little aphrodisiac menu.  We'll do a little party in the lounge at Cecil's around 10pm. Minton's will have four courses with wine and music by Sony recording artist, SOMI. Minton's is this magical room and once the lights go dim and the candles go on the table; it's a magical place.
Related Articles