---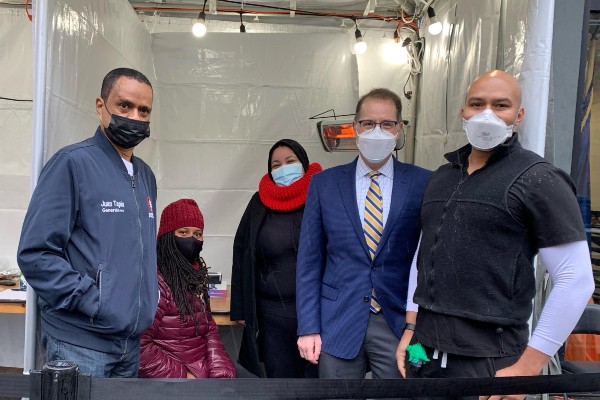 On Wednesday, Manhattan Borough President Mark Levine opened a COVID testing site in partnership with SOMOS Community Care at the Borough President's Northern Manhattan Office.
The office is at 431 W. 125th Street (between Morningside–Amsterdam Avenue), in Harlem, NY.
The site will be open Mondays–Fridays, from 9 am – 2 pm, offering drop-in PCR tests, masks, and sanitizer. IDs will be required.
"We're up and running with our free PCR testing site at my Northern Manhattan office in partnership with SOMOS Care for partnering. With ultra-contagious omicron surging, it's absolutely urgent that it becomes easier to get a test in New York City," said Manhattan Borough President Mark Levine. "It's infuriating that almost two years into this pandemic, it's still so hard to get a test. Long lines discourage people from getting tested, especially because most New Yorkers don't have hours to spare waiting in line. Increasing the number of testing sites is how we will begin to slow the unprecedented surge in cases we are experiencing right now in New York City."
"Amidst the latest wave of this pandemic, we must stick to what we know works: providing testing to our communities in the neighborhoods they know and by the people they trust," said SOMOS Community Care Founder and Chairman Dr. Ramon Tallaj. "But New Yorkers — especially our brothers and sisters in lower-income, communities of color — can't protect themselves if they don't have access to the resources they need and deserve. That's why we're partnering with Borough President Mark Levine to bring accessible COVID-19 testing directly to those that need it most. Delivering grassroots, culturally competent care to our most vulnerable neighbors is how we'll get New York back on the road to recovery — and we thank BP Levine for making this site and equitable access to testing one of his first initiatives in office."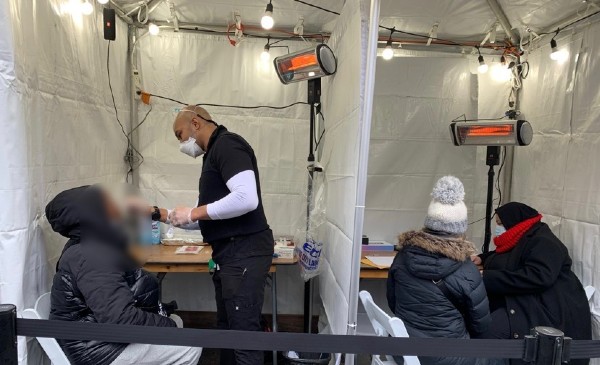 "Equity has always been at the heart of our collective efforts to stop the spread of COVID-19, and now more than ever, we can't lose sight of those that have been hardest hit by this pandemic," said Henry R. Munoz III, Co-Founder of SOMOS US. "Committed collaboration between local leaders — like Borough President Mark Levine — and trusted, community-based healthcare professionals, like the doctors of SOMOS, is the key to ensuring everyone has access to the preventative care they need. On behalf of our communities, I'd like to thank BP Levine for his partnership — together, we will work to make sure no New Yorker is left behind during this pandemic."
Photo credit: 1-2) MBP Levine opens up COVID Testing Site at 125th St. Northern Manhattan Office with  Dr. Juan Tapia-Mendoza of Somos, Somos staff members. 
---