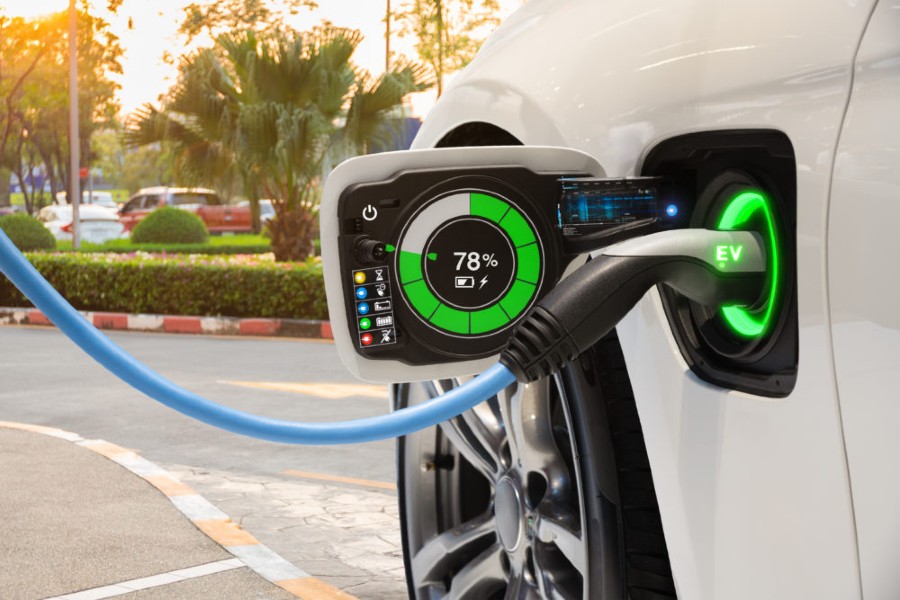 To cap off Climate Week, New York City Mayor Eric Adams today announced a series of major milestones in three critical efforts to facilitate the transition to electric vehicles across the city.
Through initiatives spearheaded by the New York City Department of Citywide Administrative Services (DCAS), the New York City Department of Transportation (DOT), and the New York City Taxi and Limousine Commission (TLC), the Adams administration is accelerating and facilitating the transition to electric vehicles among the city's vehicle fleet, private vehicles, and the for-hire vehicle industry. 
As of September 2022, DCAS has reached its 2025-goal of transitioning 4,000 vehicles in the city fleet to electric vehicles — three years ahead of schedule.
DOT has advanced projects to install publicly accessible electric vehicle charging stations in the Bronx and Brooklyn. And DOT, in partnership with the TLC, will offer discounts to TLC-licensed drivers for the use of fast charging hubs.
The transition to electric vehicles is helping to improve air quality, reduce greenhouse gas emissions, and offer cost savings on maintenance and fuel costs for city government and New York City taxpayers. 
"As we mark the end of Climate Week, we are proud to announce a suite of investments in electric vehicles and charging infrastructure that cement New York City's status as a global leader in fighting climate change," said Mayor Adams. "By delivering on our goals ahead of schedule, we are not only taking steps to make our city greener and more sustainable — we are increasing the public's faith that our city can 'Get Stuff Done.'" 
"I applaud DCAS for working with all of our agency partners to reach this milestone today ahead of schedule," said First Deputy Mayor Lorraine Grillo. "The transition to electric fleet is a major step forward in reducing pollution on our streets and shows this administration will continue to lead on addressing climate change."
 
"New Yorkers deserve clean, livable streets and neighborhoods," said Deputy Mayor for Operations Meera Joshi. "That starts with removing more polluting vehicles from the road and making it easier than ever to go electric. New York City is leading the way with this suite of investments in our electric city fleet and charging infrastructure." 
"We are committed to making our city government greener by accelerating our transition to an all-electric fleet," said DCAS Commissioner Dawn M. Pinnock. "At DCAS, we are elated to meet our goal of 4,000 electric vehicles three years early. That's three more years of emissions-free driving to protect the health of our planet for future generations." 
"Equity is a guiding principle as this administration works to expand access to electric vehicle charging," said DOT Commissioner Ydanis Rodriguez. "Facilitating the adoption of electric Vehicles among New Yorkers is a critical step in fighting climate change and reducing emissions — and that's why we're making conscious efforts to expand charging access across the five boroughs where the private sector hasn't invested."
"TLC is committed to transitioning all the vehicles we license to zero-emission electric vehicles," said TLC Chair and Commissioner David Do. "Ample and affordable charging is key to making that transition, and we're looking forward to building on the progress by our agency and our partner agencies to ensure the city has the infrastructure and programs to make electric vehicles the best option for TLC drivers."
City Electric Vehicle Fleet

This month, the city surpassed 4,050 electric vehicles in the citywide fleet managed by DCAS, all replacing fossil-fuel powered models. This milestone surpasses the New York City Clean Fleet Plan goal of adding 4,000 electric vehicles by 2025 — three years ahead of schedule.
The electric fleet includes a wide range of vehicle types and categories from over 200 Ford Mustang Mach Es (used mostly for law enforcement purposes) to nearly 850 GM Bolts. DCAS has also completed orders for almost 300 Ford E Transit cargo vans and submitted its first order for an all-electric Ford pickup truck. These units are expected to arrive this winter and will be the largest medium-duty purchase of electric vehicles for the fleet. DCAS expects to own and operate over 4,500 EVs as soon as June 2023.
DCAS has also ordered seven electric garbage trucks for the New York City Department of Sanitation (DSNY); marking the city's effort to transition these iconic trucks to an all-electric model. The agency plans to order seven all-electric sweepers and 30 plug-in hybrid electric sweepers for DSNY. The agency also plans to order all-electric buses for the New York City Department of Corrections, along with box trucks and pickup trucks, to carry out other critical services citywide.
In addition to increasing the electric vehicle fleet, DCAS also operates the largest electric vehicle charging network in New York State, with nearly 1,300 charging ports available to fleet units. DCAS will deploy another 600 charging ports in the next 18 months.
Electric Vehicle Charging Infrastructure
DOT is advancing two major electric-vehicle charging initiatives that will speed the transition to electric vehicles among privately-owned vehicles across the city. First, the agency issued a contract for the installation of fast charging stations at the White Plains Road Municipal Parking Field in the Bronx and the Bensonhurst #1 Municipal Parking Field in Brooklyn. Each site will be equipped for four direct-current (DC) fast chargers, which will allow drivers to quickly charge their electric vehicles.
Additionally, DOT is kicking off an effort with the New York Power Authority to procure over 150 Level 2 electric-vehicle chargers that will be installed across 12 municipal parking fields in the Bronx, Brooklyn, Queens, and Staten Island.
These efforts represent progress towards the goals of DOT's charging plan: "Electrifying New York," including growing the city-operated fast charging network to over 80 plugs and equipping 20 percent of all spaces in municipal public parking lots and garages with Level 2 chargers by 2025. These projects also build on the city's existing PlugNYC electric vehicle charging network, which provides affordable and convenient charging for New Yorkers at 100 curbside Level 2 chargers and fast charging stations at the Delancey-Essex and Court Square Municipal Parking Garages.
Electric Vehicle Charging Discounts
In an effort to support electric vehicle adoption, DOT is working in partnership with the TLC to offer discounted electric vehicle charging to TLC-licensed drivers at DOT's fast charging hubs in different boroughs. DOT currently has two fast charging hubs, at the Court Square Municipal Garage in Queens and the Delancey-Essex Municipal Garage in Manhattan.
Starting September 30, 2022, TLC-licensed drivers will be able sign to up for a 15-percent discount on charging at both locations via the TLC website. TLC-licensed drivers will have access to fast and affordable charging in convenient locations, with additional charging stations opening soon.
"Thirty percent of greenhouse gas emissions in New York City come from the transportation sector. It comes in second only to buildings," said New York City Chief Climate Officer and New York City Department of Environmental Protection Commissioner Rohit T. Aggarwala. "Reducing emissions from the transportation sector requires both shifting more trips to sustainable modes, like public transportation, walking, and cycling, and transitioning automobile trips to electric vehicles. I applaud our colleagues at DCAS, DOT, and TLC for implementing these bold steps to fight climate change by pursuing the transition to electric vehicles."  
"Electrifying transportation, and doing so equitably, is crucial to meeting our climate goals," said New York City Mayor's Office of Climate and Environmental Justice Executive Director Kizzy Charles-Guzman. "This investment in electric vehicles and charging infrastructure is critical to ensure that New Yorkers have access to more sustainable and reliable transportation options, which will improve air quality and health, especially in communities most impacted by pollution from traffic." 
"It's amazing to see New York City leading in such a big way when it comes to decreasing our carbon emissions by growing our city's electric vehicle fleet at an accelerated rate," said New York City Department of Parks and Recreation Commissioner Sue Donoghue. "We are proud to support with nearly 80 percent of our fleet being comprised of alternative fuel units, showcasing the largest electric vehicle fleet and charging station network in the city." 
"Zero-emission and electric vehicles are the future of transport," said DCAS Deputy Commissioner for Fleet Management Keith Kerman. "City agencies are leading the way, showing that electric vehicles are ready to support critical and demanding city services. DCAS is completing our largest rollout of electric light duty replacement vehicles ever, taking the fleet to more than 4,000 electric vehicles and accelerating efforts to electrify medium and heavy-duty units. You'll soon see DCAS powered electric vehicles in every neighborhood of the city."
"The expanding influx of electric vehicles into the NYPD fleet will continue the department's commitment to maintaining the greenest police fleet in the world as rated by the National Association of Fleet Administrators," said New York City Police Department (NYPD) Deputy Commissioner for Support Services Robert S. Martinez. "At the same time, our NYPD pilot program is ongoing to continue determining how electric vehicles can best be used to advance the NYPD's public safety mission." 
Related Articles
---
VIDEO
---
"We re-imagine, recreate, and redeem cultural omissions and misrepresentations of Blackness, for the culture. ...." This post is made in partnership with British Pathé.