---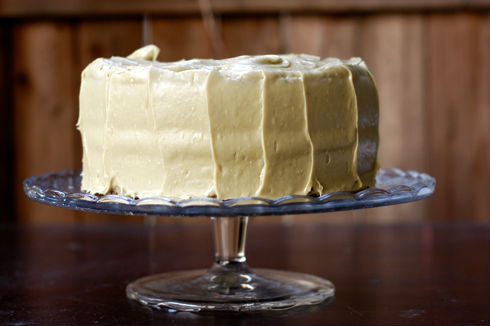 Recipe by Lindsay Hunt
Finally it's spring, and what better way to celebrate than with a brightly colored cake?When the trees are bursting with flowers, it challenges me to up the ante with my baking to match the beauty around me. And though I love to celebrate, it's a challenge to find a guilt-free cake that will still taste great. Not only does this cake taste fudgy and delicious with creamy frosting, it is vegan and whole-wheat!
I found the cake a year ago on the website JoyTheBaker.com. I have a good friend who's allergic to dairy, and for a book club event, I wanted to bring a cake, but it couldn't have dairy or soy. This meant I had to find a recipe that would be super delicious without butter or yogurt. Incidentally, the most delicious-looking recipe I found was not only dairy-free but vegan to boot!
Since then, I've baked this cake many times, each time substituting a new ingredient to boost the nutrition. You really won't believe how fantastic this cake tastes!
So, maybe you're prejudiced against vegan baked goods, or you don't want avocado in your cake. And that's not even to mention the frosting – it's green! Please, set all your preconceptions aside and wait until you hear about this cake. It has Omega-3s, plenty of dietary fiber, whole grains, and the healing benefits of raw honey.
And if you need convincing to eat a slice of cake, then check out the great benefits from the ingredients in this recipe:
* Flaxseed Meal: I wanted to pump up the nutrition of the cake while still enjoying a fudgy, delicious slice. Flaxseed meal is a great source of healthy Omega-3 fatty acids, and it also provides a great source of dietary fiber. I used Bob's Red Mill Organic Golden Flaxseed Meal, which you can buy online or at your local grocery store. Use extra flaxseed meal in smoothies or baked goods.
* Whole-Grain Flours: I substituted whole-wheat flour for white for increased nutrition. For an extra boost of whole grains and a diversified nutrient profile, I added 1/2-cup barley flour. I've baked with barley before and I love it's earthy flavor and the added tenderness it gives to a whole-wheat cake.
* Raw Honey: Raw honey is unheated, unpasteurized, pure honey. It contains the most nutritional benefits of any form of honey and can help to combat indigestion and contains amylase, an enzyme that helps digest starches.In my effort to decrease sugar consumption, especially after reading about potentially toxic side effects from eating it, I substituted 1 cup of raw honey for 1 cup of sugar.
Note: Honey is not traditionally considered vegan. If you wish to leave out the honey, simply replace the honey with an additional 1 cup sugar and reduce the baking soda by 1/2 teaspoon.
* Avocado: The frosting relies on avocado instead of butter for a rich, creamy topping. Like flaxseed meal, avocado is a great source of Omega-3s and dietary fiber. Additionally, avocados have 1/4 of the calories of an equivalent amount of butter. (Source) And while reduced calories is one great reason to make avocado frosting, it's hard to say no to the light green shade that mirrors the budding blooms right outside your window.
* Vegan Sugar: Check for vegan sugar in your supermarket. Some refined sugar is processed with animal bone char. If you'd rather avoid refined sugar all together, try beet sugar, turbinado sugar, or date sugar.
Adapted from Joy the Baker
Prep Details
Servings: Makes 1 (8-inch) Double Layer Cake
Ingredients:
For Cake:
2 1/4 cups whole-wheat flour
1/2 cup barley flour
1/2 cup flaxseed meal(I used Bob's Red Mill Organic Golden Flaxseed Meal)
6 tbsp Dutch-process unsweetened cocoa powder
2 1/2 tsp baking powder
2 tsp baking soda
1 cup raw honey
1/2 cup soft avocado, mashed
2 cups water
2 tbsp white vinegar
2 tsp vanilla
1 cup vegan sugar
Avocado Frosting
8 oz avocado meat, weight after removing brown spots
2 tbsp freshly squeezed lemon juice
11/2 lbs confectioner's sugar
1/2 tsp vanilla extract
Directions
For Make Cake:
1. Preheat the oven to 350 degrees F. Spray two 8-inch cake pans with cooking spray. Line with parchment paper rounds and spray again. Set aside.
2. In a medium-sized bowl, sift together the dry ingredients, and set aside.
3. In a large bowl, combine the honey and avocado and stir to combine with a whisk. Add the water, vinegar, and vanilla and stir to combine. Add the sugar and stir to combine.
4. Add the dry ingredients all at once, and beat with a whisk by hand until smooth.
5. Pour the batter into the pans and smooth with a small offset spatula. Rap the pans on the counter to release any air bubbles.
6. Bake for 35-45 minutes, or until a cake tester inserted in the center of the pan comes out clean. Halfway through baking, rotate the pans 180 degrees.
To Make Frosting:
1. Put the avocado in the bowl of a stand mixer fitted with the whisk attachment.
2. Beat on high until creamy and smooth, about 3 minutes.
3. Add the lemon juice and beat on medium speed until combined.
4. Scrape the sides of the bowl with a spatula and add the confectioner's sugar and vanilla extract.
5. Beat on low speed until combined and then beat on high speed until creamy and fluffy, about 4-5 minutes.
6. Frost the cake.
Related Articles
---