---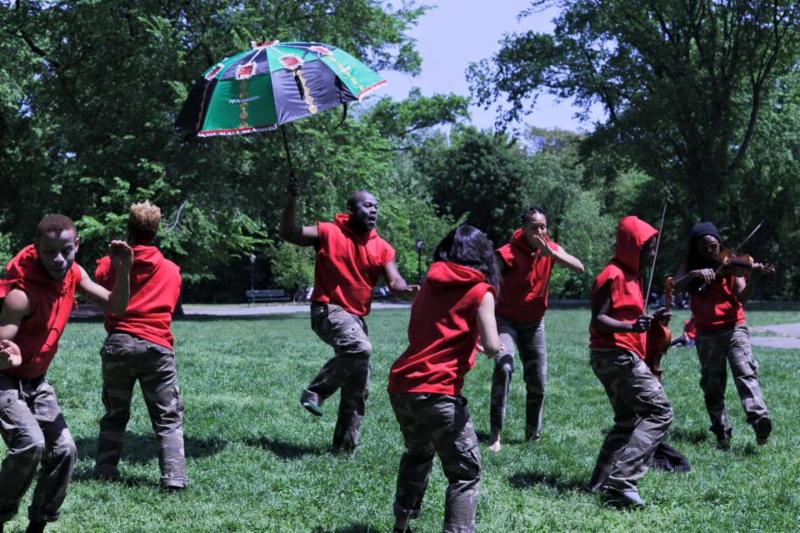 One of the highlights of this creative season has been Marc Bamuth Joseph's Black Joy In The Hour Of Chaos, currently installed as one of several projects in Central Park that make up Drifting in Daylight, a collaborative project of Creative Time and the Central Park Conservancy. 
Drifting in Daylight has been described as "a dreamy springtime pathway of art winding through the world's most iconic park."  (On view Friday, June 19 and Saturday, June 20, 12noon – 6:00pm)
Invoking the history of Central Park, the legacy of hip-hop, the Great Migration, New Orleans 'second line' parades and contemporary racial politics, Black Joy In The Hour Of Chaos is a vibrant and participatory performance of music, dance, and spoken word.
With the exception of the Civil Rights and Black Power Movements, at no other time in history has there been this level of focus on the plight of Black people in America. And as it was with those movements, the focus is on the abuse, mistreatment and stealing of Black life.
But Black Joy creator Marc Bamuth Joseph posits, "Black people are more than a collection of tragic stories.  Through this work he states he "wants to inspire conversation – and action – that is centered in the celebration of Black Life."
As a community partner, Creative Time has invited HAA to join them for a gathering on At the Great Hill in Central Park on Saturday, June 20TH.  HAA anticipates arriving at the site around 2:00PM to "hold court over lavender lemonade" on picnic blankets directly in front of the performance. Here we will engage in dialogue with the performers and other members of the public about the themes in the work.
Saturday, June 20th, 2pm
At the Great Hill, Enter the park at Central Park West and 106th Street, Harlem USA
Related Articles
---