---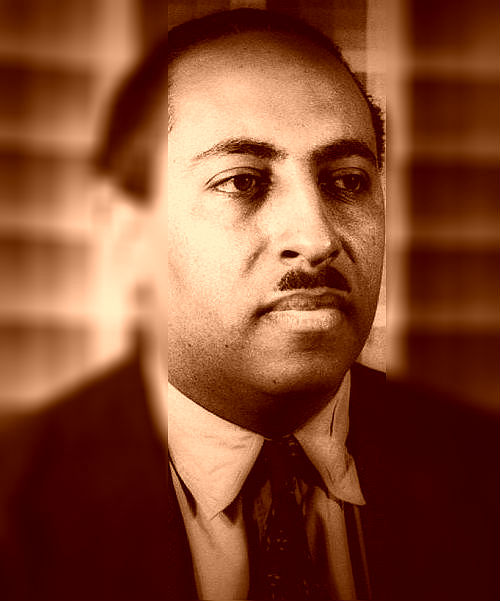 Arnaud "Arna" Wendell Bontemps October 13, 1902 – June 4, 1973 was a Harlem poet, novelist and librarian, and a noted member of the Harlem Renaissance.

Bontemps was born in Alexandria, Louisiana, into a Louisiana Creole family. His father, Paul Bismark Bontemps, worked as a bricklayer; his mother, Maria Carolina Pembroke, as a schoolteacher. When he was three years old, his family moved to Los Angeles, California in the Great Migration of blacks out of the South and into cities of the North, Midwest and West. They settled in Watts district with in South Central Los Angeles.
After attending public schools, Bontemps attended Pacific Union College in Angwin, California, where he graduated in 1923. He majored in English and minored in history, and he was also a member of the Omega Psi Phi fraternity.
… Bontemps was drawn to New York during the Harlem Renaissance. After graduation, he moved to New York to teach at the Harlem Academy in 1924.
Along with many other West Coast Intellectuals, Bontemps was drawn to New York during the Harlem Renaissance. After graduation, he moved to New York to teach at the Harlem Academy in 1924. While he was teaching, Bontemps began to publish poetry. In both 1926 and 1927, he received the Alexander Pushkin Prize of Opportunity, a National Urban League published journal. And in 1926 he won the Crisis Poetry Prize, which was an official journal of the NAACP.
Bontemps met many lifelong friends including Countee Cullen, Langston Hughes, W.E.B. Du Bois, Zora Neale Hurston, James Weldon Johnson, Claude McKay and Jean Toomer.
In New York, Bontemps met many lifelong friends including Countee Cullen, Langston Hughes, W.E.B. Du Bois, Zora Neale Hurston, James Weldon Johnson, Claude McKay and Jean Toomer. Hughes became a role model, collaborator, and dear friend to Bontemps.
Bontemps was married in 1926 to Alberta Johnson, with whom he had six children. In 1931, he left New York and his teaching position at the Harlem Academy as the Great Depression got severely worse. He and his family moved to Huntsville, Alabama, where he had a teaching position at the Oakwood Junior College for three years.
In the early 1930s, Bontemps expanded his writing as he began to publish fiction, in addition to more poetry. He received a considerable amount of attention for his first novel, God Sends Sunday (1931). This novel was a quintessential writing piece of the Harlem Renaissance movement. It followed the story of an African-American jockey named Little Augie who effortlessly earns money and then carelessly squanders it. Little Augie ends up wandering through the black sporting world when his luck as a jockey eventually runs out. Bontemps was praised for his poetic style, his re-creation of the black language and his distinguishing characters throughout this novel. However, despite the abundant amount of praise Bontemps received for this novel, W.E.B. Du Bois viewed it as "sordid" and equated it with other "decadent" novels of the Harlem Renaissance. Later in his career, Bontemps appreciated this basic story enough that he collaborated with Countee Cullen to create a dramatic adaption of the novel. Together in 1946 they published this adaption of the book titled "St. Louis Woman".
Bontemps also began to write several children's books. In 1932, he collaborated with Langston Hughes and wrote Popo and Fifina. This story followed the lives of siblings Popo and Fifina, in an easy to understand introduction to Haitian life for children. Bontemps continued writing children's novels and published You Can't Pet a Possum (1934), which followed a story of a boy and his pet dog living in a rural part of Alabama.
During the early 1930s, African-American writers and intellectuals were not welcomed in Northern Alabama. Just thirty miles from Huntsville in Decatur, the Scottsboro boys were being tried in court. During this time, Bontemps had many friends visit and stay with him while they came to Alabama to protest this trial. Bontemps' constant out-of-state visitors drew concerns with the school administration. In later years, Bontemps professed that the administration at the Oakwood Junior College demanded he burn many of his private books in order to indicate his relinquishing radical politics. Bontemps refused to do so. He resigned from his teaching position and move back to California with his family in 1934.
In 1936 Bontemps published what is known as some of his best work, Black Thunder. This novel recounts the tale of a rebellion that took place in 1800 near Richmond, Virginia led by Gabriel Prosser, an uneducated field worker and coachman. It shares Prosser's attempted plan to conduct a slave army to raid an armory in Richmond, and once armed with weapons, defend themselves against any assailants. A fellow slave betrayed Prosser causing the rebellion to be shut down, and Prosser to be lynched. However, in Bontemps version of the story, whites were compelled to admit that slaves were humans that had possibilities of a promising life.
Black Thunder received many extraordinary reviews by both African-American and conventional journals, for example, the Saturday Review of Literature. Despite these rave reviews of this literary piece, the earnings were unable to sufficiently support his family in Chicago, where they moved shortly before he published the novel. He briefly taught in Chicago at the Shiloh Academy but did not stay long because he took a job with the WPA Illinois Writers' Project. In 1938, following the publication of another children's book Sad-Faced Boy (1937), Bontemps acquired a Rosenwald fellowship to work on his novel, Drums at Dusk (1939), which was based on Toussaint L'Ouverture's Haitian rebellion. This book was more widely recognized than his other novels. Critics were split as some viewed the plot as overdramatic, while others commended its characterizations.
Bontemps struggled to make enough from his books to support his family. However, more importantly, he gained little acknowledgement for his work despite being a prolific writer. This caused him to quickly become discouraged as an African-American writer of this time. He started to believe that it was futile for him to attempt to address his writing to his own generation, so he chose to focus his serious writing on younger and more progressive audiences. Bontemps met Jack Conroy on the Illinois Writers' Project, and in collaboration they wrote The Fast Sooner Hound (1942). This was a children's story about a hound dog, Sooner, who races and outruns trains. Embarrassed about this, the roadmaster puts him against the fastest train, the Cannon Ball.
He returned to graduate school and earned a master's degree in library science from the University of Chicago in 1943. Bontemps was appointed as head librarian at Fisk University in Nashville, Tennessee. During his time there, he developed important collections and archives of African-American literature and culture, namely the Langston Hughes Renaissance Collection. He was initiated as a member of the Zeta Rho Chapter of Phi Mu Alpha Sinfonia Fraternity at Fisk in 1954. Bontemps stayed at Fisk until 1964 and would continue to return occasionally.
After retiring from Fisk University in 1966, Bontemps worked at the University of Illinois (Chicago Circle). He later moved to Yale University, where he served as curator of the James Weldon Johnson Collection.
During this time, Bontemps published numerous novels varying in genre. Slappy Hooper (1946), and Sam Patch (1951) were two children's books that he co wrote with Jack Conroy. Individually he published Lonesome Boy (1955) and Mr. Kelso's Lion (1970), two other children's books. Simultaneously he was writing pieces targeted for teenagers, including biographies on George Washington Carver, Frederick Douglassand Booker T. Washington. His other pieces of this time were Golden Slippers (1941), "Story of the Negro" (1948), Chariot in the Sky (1951) and Famous Negro Athletes (1964) (Fleming). Critics highly praised his Story of the Negro, which received the Jane Addams Children's Book Award and was a Newbery Honor Book.
Bontemps worked with Langston Hughes on pieces geared toward adults. They edited The Poetry of the Negro (1949) and The Book of Negro Folklore (1958). He collaborated with Conroy and wrote a history of the migration of African-Americans in the United States called They Seek a City (1945). They later revised and published it as Anyplace But Here (1966).
Here's a lecture of Arna Bontemps at UCLA on February 8th, 1966:
Bontemps also wrote 100 Years of Negro Freedom (1961) and edited Great Slave Narratives (1969) and The Harlem Renaissance Remembered (1972). In addition he was also able to edit American Negro Poetry (1963), which was a popular anthology. He compiled his poetry in Personals (1963) and also wrote an introduction for a previous novel, Black Thunder, when it was republished in 1968.
Bontemps died on June 4, 1973, at his home in Nashville, from a myocardial infarction (heart attack), while working on his collection of short fiction in The Old South (1973).
Through his librarianship and bibliographic work, Bontemps became a leading figure in establishing African-American literature as a legitimate object of study and preservation. His work as a poet, novelist, children's writer, editor, librarian and historian helped shape modern African-American literature, but it also had a tremendous influence on African-American culture.
In 2002, scholar Molefi Kete Asante included Arna Bontemps on his list of the 100 Greatest African Americans.
Illustration by Danny Tisdale.
Related Articles
---