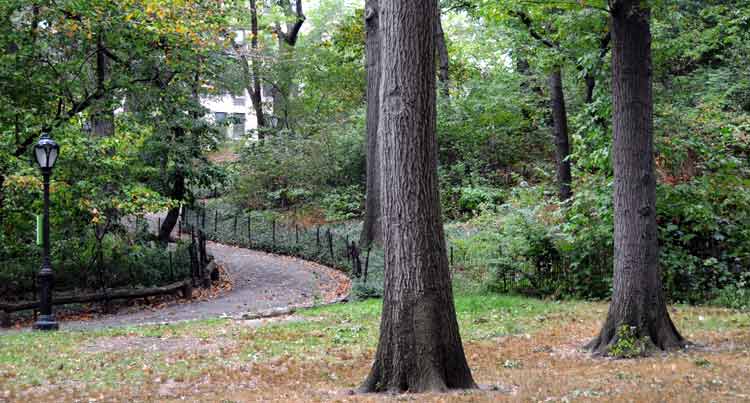 Though it may look like the rest of Central Park, the landscape along the Park's perimeter from West 82nd to West 85th Streets holds some of Central Park's most important history.
Before Central Park was created, this land was home to Seneca Village; the largest community of free African-American property owners in antebellum New York. This community existed from 1825-1857 and was home to over 250 African American, German, and Irish residents. African Americans comprised two-thirds of Seneca Village's residents and 50% of the village's African-American residents owned their own land. At a time when African-American men were required to possess $250 in property holdings to be eligible to vote, Seneca Village provided an important gateway into democracy for many residents.
In an ongoing effort to learn more about life in Seneca Village, Columbia University and CUNY professors conducted a 2011 archeological dig of the site. The recovered artifacts, including an iron tea kettle, a roasting pan, a stoneware beer bottle, fragments of Chinese export porcelain, and a small shoe with a leather sole and fabric upper, help form our understanding of what life was like in Seneca Village. Despite its short history of only thirty-two years, Seneca Village is remembered as a strong community that served as a stabilizing and empowering force in uncertain times.
In honor of Black History Month, Central Park Conservancy is offering two unique ways to learn more. Join Sara Cedar Miller, Official Conservancy Historian and Photographer, and Marie Warsh, Conservancy Director of Preservation Planning, in the Park for special ticketed tour of the Seneca Village site on February 28th, 2016.
Inside the Park at 85th Street and Central Park West.
Moderate inclines, and a few stairs
Approximately 75 minutes
Get Your Tickets HERE $15 (Members $10)
(Tickets available on-site with a credit card)
Related Articles
---