---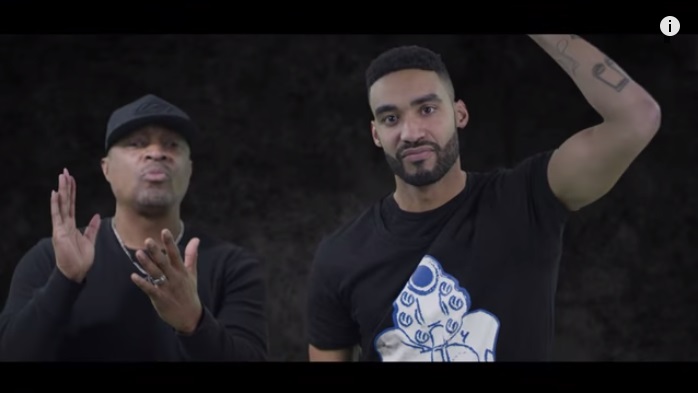 Pop legend and longtime political activist Harry Belafonte (whose 1956 Calypso album was the first to sell a million copies) introduced the three musicians several years ago via his organization Sankofa, which encourages artists and performers of color to actively create art that may serve as a catalyst for positive cultural evolution.
Here's the video:
Though it remains to be seen whether "Blackness" will stand the test of time like 1986's "We Are the World," which Belafonte also put in motion, it's encouraging to see black artists from multiple generations and backgrounds coming together to help guide what America alone calls "black culture" and the urgent national response to its needs and desires.
The trio behind the track spoke with PAPER magazine about how the project came together — and what steps artists and human beings can take to mend a fractured cultural climate at one of the most racially complex times in American history. Give the video, which we're excited to be premiering exclusively, a watch above.
How did the three of you come together to work on the track?

Zeke Thomas: We had originally met through Mr. Belafonte at Sankofa meetings. The concept was solidified before my conversation with Chuck but I reached out to him shortly after a dinner meeting later on. He was receptive from the beginning. Working with him has been nothing but a dream — I have so much respect for him not only as an artist but as a man, too.
Chuck D: Seeing a young artist wanting to align with that human concern gets my services without much asking. Plus his base in House Electronica is an area that could use this message in its music for a refreshing change.
Zeke, aside from the lamentable situations going on in this country with young black men being killed by police, was there any personal experience that served as a catalyst to write this track?
Zeke: I have always wanted there to be a storytelling aspect to my music and videos. My debut single "Regret" touched on the subject of party culture and excess that too frequently leads to tragedy. For "Regret" I pulled from my real life experience of party culture, substance abuse, and the unfortunate day when I woke up to find my friend had passed away because of partying irresponsibly.
With "Blackness," yes the subject matter is deep too, but it's real. The images in the video that were taken in the '60s don't look so different from today. When I came up with the theme for the record — "Blackness" — and I first shared it with Jasiri X, we talked at length about what it means to grow up black in America. I still have had more encounters with the law than one would like. I've been arrested. I've been told I couldn't go places because of the color of my skin. I've been called a n*****. I still was told that I could not date my high school sweetheart because I was black. I was still told my cousin couldn't come over to my best friend's house because he was black with braids. When I asked how he's different from me, I was told that "I'm a different kind of black." At the time, I took that to mean I had money and therefore I had more privileges.
At the end of the day when you turn on the news and see innocent life after innocent life taken without just cause it makes you wonder, have we made it or do we just have more privileges now?
What do you think we should do to come together, regardless of race, in solidarity for human rights and civil rights?
Chuck D: We must be human beyond our borders. Citizens should aim to be Earthizens and being "netizens" is halfway there. And [in terms of civil rights] the further we move away from 1963, it requires elders electrifying younger adults to stand up and maintain a certain principle and value to make [MLK's] dream a collective reality for this 21st century.
Jasiri X: We have to start with honest and open dialogue about the real divisions that separate us, particularly race, class and gender. What we can't do is pretend we treat everyone the same and don't see color [or gender] while women are being paid less for the same jobs, Black people are being killed everyday by the police and the richest 1% get even wealthier while the rest of us suffer. It's our generation to make this a world where everyone is free, justified and equal.
What do you think?
Related Articles
---