---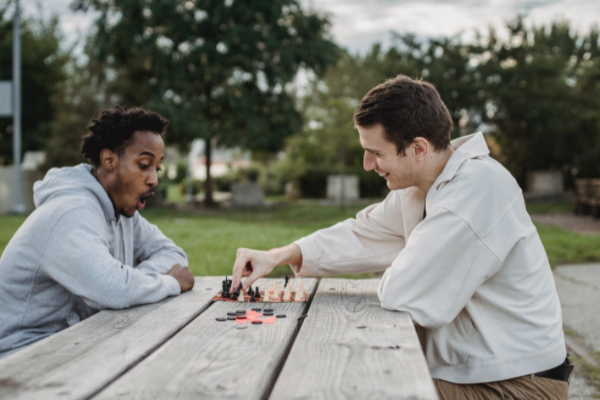 The benefit of puzzles, chess, or riddles is that they show our minds at work. They make us think, which boosts your brainpower. 
Try jumble solver and see for yourself. Two types of puzzles are jigsaw and crossword puzzles. A jigsaw puzzle is a flat piece made into a picture by putting many pieces together. It's usually given as a gift or entertainment, with popular topics ranging from sports to television shows or even nature scenes. A crossword puzzle is where the goal is to fill in words vertically and horizontally across and down inside partially outlined squares. Both are fun ways to test problem-solving and analytical skills and improve decision-making.
Your Move
A chess game starts with each player having 16 pieces: one king, one queen, two rooks (aka towers), two knights (aka horses), two bishops, and eight pawns. Each piece has its strengths and weaknesses; for example, the queen can move in any direction while the rook only moves up, down, or side to side. Each player takes turns moving one of their pieces to try to trap or kill the other's king.
Chess is considered an art form as well as a science because it involves creativity and critical thinking. It also involves physical technique once you've made your decision. When playing chess, you practice tactics like forks (when one piece attacks more than one opponent piece at once), pins (where you attack a piece that's blocking another), and skewers (when you pin an enemy piece on the same line). You also practice endgame (the last part of the game when there are few pieces on the board) and opening (the first ten moves you make).
Riddle Me This
Riddles often come in different forms like riddle poems, songs, or even jokes. When solving them, you need to think creatively. 
Some examples might be:
I am zero at my core but infinite in my existence. What am I? The letter 'O'

What has a mouth but cannot eat? A river

The more food you put in front of it, the bigger it gets. Yet you can still carry it around with ease. What is it? A bag.
You might think that riddles are just for fun and games, but they are good at developing our thinking skills which help to boost brainpower. They help us solve problems quickly and efficiently by using logic instead of trial and error (which takes time). With enough practice, this ability can help us succeed in the real world!
Daily Improvement
So remember, puzzles, chess, and riddles are great for improving your brainpower. If you're interested in trying them out, then there's plenty of websites that offer jigsaw or crossword puzzles to solve. There are also many valuable lessons and tutorials available online and in books to learn how to play chess and even provide advice on building a strategy. Riddle workshops can be fun too, so why not give them a go?
Give it a try. You might discover that you have an incredible talent for solving these kinds of problems or even invent new ones!
---