---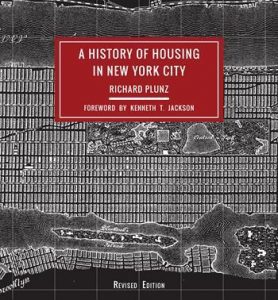 The French architect Le Corbusier once described New York as "a magnificent catastrophe." Since its emergence in the mid-nineteenth century as the nation's "metropolis"' New York has faced the most challenging housing problems of any American city, but it has also led the nation in innovation and reform. The horrors of the tenement were perfected in New York at the same time that the very rich were building palaces along Fifth Avenue; yet public housing for the poor also originated in New York, as did government subsidies for middle-class housing. A History of Housing in New York City traces New York's housing development from 1850 to the present in text and profuse illustrations. Richard Plunz explores the housing of all classes, with comparative discussion of the development of types ranging from the single-family house to the high-rise apartment tower. His analysis is placed within the context of the broader political and cultural development of New York, a city which in many ways summarizes in microcosm the evolution of urban housing in the United States.
Plunz examines the multiple tensions among builders, government planners, housing reformers, and architects which have affected the course of housing development. He explains how the first high-rise apartments were built for the wealthy who preferred the security of living "above it all," and he looks at the technology which made them possible. The author examines the effect of the urban economy on development. He describes how the rising cost of Manhattan real estate and the growth of transportation networks have contributed to the departure of the middle class from the inner city, leaving it with little except luxury housing and slums. He offers fresh material on the creation of "garden apartments" which proliferated throughout the outer boroughs and remain among the finest models of urban housing. Plunz also offers insight into how and why modernist "tower in the park" designs of architects such as Le Corbusier and Walter Gropius were adapted into the design of much of New York's public housing, and the recent return to low-rise publicly subsidized housing, such as new "suburban cottages" set amidst the abandoned buildings and rubble strewn lots of the South Bronx.
More than 300 illustrations are integrated throughout the text, depicting housing plans, neighborhood changes, and city architecture over the last 130 years. A History of Housing In New York City is a pioneering study of a largely unexplored realm of United States urban development, as well researched as it is well written.
Price: $ 36.11
Related Articles
---