---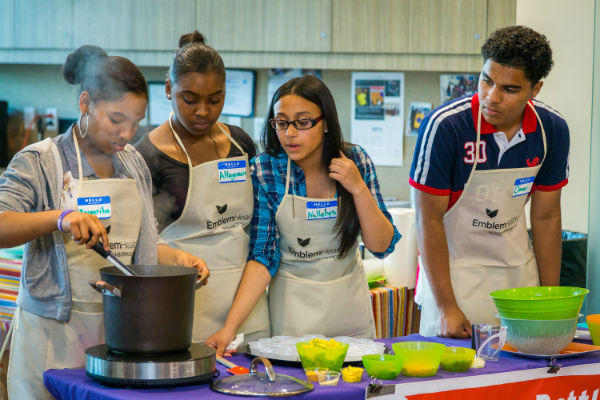 Twelve New York students who have mastered an eight-week culinary program will put their cooking skills to the test when they face off in Teen Battle Chef Live.
Teen Battle Chef Live is the culmination of an intensive program aimed at preventing obesity and diabetes. Students from The Brooklyn Lab School, Edward A. Reynolds West Side High School and George Washington Education Campus competed in an eight-week culinary program and a series of mini cook-offs to decide the final two teams of six students each. Finalists will complete a designated recipe that reflects the healthy, delicious multi-ethnic meals and sophisticated culinary techniques they learned during the program.
The event is sponsored by EmblemHealth, The Links, Incorporated and HealthCorps. The event is open to the public and free to attend.
Michelle Paige, EmblemHealth Dir. of Community Relations, Programs and Events /Former First Lady of New York State – Opening Remarks
Chuck Nice, Comedian – Master of Ceremonies
Richard Grausman, Founder and Chairman of Careers through Culinary Arts Program – Judge
Dan Jackson, Executive Chef of Café 2 and Terrace 5 at New York's Museum of Modern Art – Judge Teen Battle Chef Contestants
Tuesday, June 16, 2015, 5:30 p.m., Reception, 7:00 p.m., Competition
Mist Harlem, 46 West 116th Street (between Lenox Avenue and Fifth Avenue), New York, NY 10026
Photo credit: Taken from the semi-final cook-off battle between teen teams Tuesday, May 19 at EmblemHealth Neighborhood Care in Cambria Heights, Queens.
Related Articles
---