---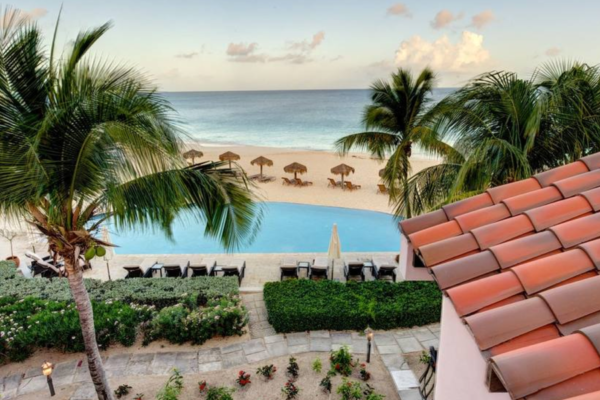 This Memorial Day weekend, the Health Department reminds beachgoers to sign up for "Know Before You Go," a free text service in English and Spanish that informs New Yorkers if public beaches are open or closed due to water quality issues. New Yorkers can text "BEACH" or "PLAYA" to 877877 to get the status of any of the City's eight public beaches. Beachgoers can also receive text alerts on weather conditions or warnings. New York City has more than 15 miles of beach access at eight public and 15 private beaches. The Health Department is responsible for beach surveillance and routine water quality monitoring for all public and private beaches. The agency also regularly tests the water quality near the City's beaches to make sure it is safe for swimming. When water is polluted from excessive rain runoff, sewage or other pollution, it can pose health risks to swimmers and beachgoers. Public and private beaches will post easy-to-read water quality advisory and closure signs to ensure that all beachgoers are aware of any health or safety risks.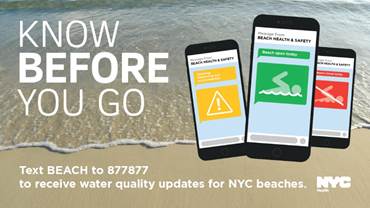 "For millions of New Yorkers and tourists each year, summertime includes enjoying and exploring New York City's beaches," said Health Commissioner Dr. Mary T. Bassett. "Our 'Know Before You Go' texting service is a useful planning tool that allows subscribers to know if water conditions are safe before heading to the beach."
"Beach season in New York City is here, and water conditions can vary day-to-day. NYC Parks encourages beachgoers to 'Know Before You Go,' to ensure a happy, healthy summer of fun in the sun," said NYC Parks Commissioner Mitchell J. Silver, FAICP.
"The city's public beaches provide a wonderful opportunity to enjoy the summer right here in New York City," said New York City Council Member Barry S. Grodenchik, Chair of the Committee on Parks and Recreation. "By using the Health Department's text messaging system to get updates on which beaches are open on a given day, New Yorkers can avoid visiting beaches that are temporarily closed and make sure that their beach trips are safe and enjoyable."
"Traveling to the beach is one of the most popular traditions Bronxites take part in to cool down during the summer months," said State Senator Gustavo Rivera. "The NYC Department of Health and Mental Hygiene wants to keep this tradition fun and above all else, safe, for all New Yorkers with the 'Know Before You Go' text service, which instantaneously informs beachgoers about health hazards, like water pollution, before they make their trip. I applaud Commissioner Bassett for informing our residents about these risks and taking the initiative to engage our Spanish-speaking community through the text service as well."
"Our city has miles of beautiful public waterfront," said Assembly Member Richard N. Gottfried, Chair of the Assembly Health Committee. "Before they hit the beach this summer, New Yorkers can rest assured that weather and water conditions are safe by first checking the Health Department's free 'Know Before You Go' text service."
Before entering the water, the Health Department encourages New Yorkers to learn if the water is safe for swimming, check that a lifeguard is present, and always supervise children when near the water's edge. Also, know the water environment and its potential hazards, such as deep and shallow areas, currents, changes in water depth, and rip tides. Remember to protect your skin and use sunscreen to avoid burns. Additionally, all of the City's beaches are smoke-free.
"Know Before You Go" currently has over 10,000 subscribers and last year beachgoers texted the service more than 7,500 times. The number of Spanish language subscribers also more than doubled in the last year. Message and data rates may apply to the "Know Before You Go" texting service. Text STOP to quit and HELP for more information. For Terms of Use and Privacy Policy, visit nyc.gov/health. In addition to the texting service, the public can also call 311 to find out if there are any warnings or closures before heading to the beach.
For more information on beaches and water quality information, please visit nyc.gov/health/beach.
Related Articles
---