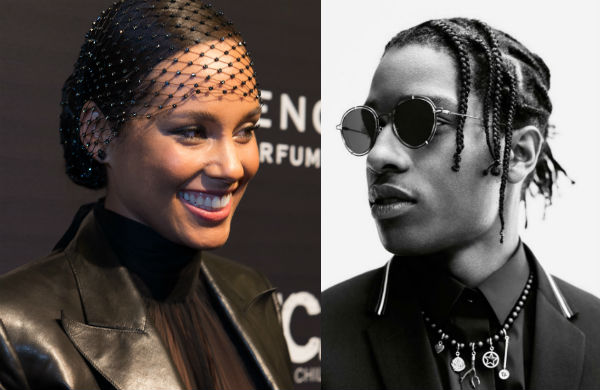 Keep a Child Alive (KCA) announced that Clive Davis will receive its Humanitarian Award at the 13th annual Black Ball held on Wednesday, October 19, 2016 at the Manhattan Center/Hammerstein Ballroom in New York City. This year's event aims to reignite the spirit of 80's activism to end AIDS and will be headlined by KCA's co-founder and Grammy award-winner, Harlemite Alicia Keys with additional performances by Harlem man A$AP Rocky and Patti Smith with more artists to be announced.
"I'm so proud to be honoring my friend and mentor Clive Davis at this year's Black Ball for his long-standing commitment in the fight against AIDS," said Alicia Keys, co-founder of KCA. "He's been such an inspiration in so many ways – not only in my career, but also in the work we're doing at Keep a Child Alive. His activism in the early days of the AIDS epidemic when few were speaking out was crucial in the fight to bring awareness to the disease."
Clive Davis released "That's What Friends Are For" in 1985, which helped draw attention to the cause and educated people about the disease. His commitment has helped increase awareness and raise millions for the cause.
"I've attended every Black Ball since its inception and have greatly respected the mission of Keep a Child Alive and its extraordinary achievements. I am deeply touched to be the honoree this year" says Clive Davis. "Alicia has reached ever so high to make a huge difference and what's so heartwarming is that Keep a Child Alive totally fulfills and keeps accomplishing her dream."
This year's Black Ball will evoke the spirit of activism from the 80's, a time when brave activists spoke out and did something before it was fashionable or safe to do so. The event will pay respect to those who acted during that time, and this theme will be reflected through the décor, messaging and musical performances throughout the evening. Guests will feel the passion and creativity from the past and be inspired to join us in the ongoing fight against to end AIDS.
"Since the discovery of HIV in the early 80's, we have seen tremendous progress in the AIDS response, but the struggle is not over," says Peter Twyman, Chief Executive Officer of Keep a Child Alive. "There are still 20 million people around the world who don't have access to HIV treatment, and 1.6 million of them are children. That's unacceptable – it is matter of life or death. We need to reignite the radical AIDS activism of the 80's and inspire people to join us in the ongoing fight against AIDS."
To date, Keep a Child Alive's Black Ball has raised over $28.7 million for children and families affected by HIV. Past performers at the event have included Jay Z, Bono, Adele, Pharrell Williams, Chris Martin, NAS, Gwen Stefani, Lenny Kravitz, David Byrne, John Mayer, Justin Timberlake, David Bowie and many more incredible artists. This year marks the 9th year that the Black Ball was held at the Manhattan Center's iconic Hammerstein Ballroom, which is known for its extraordinary performances and unforgettable special events. Sherry-Lehmann Wine & Spirits will also be returning as a wine and spirits partner for the 8th year.
To purchase tickets or a table, contact Danielle Spitzer at Danielle@keepachildalive.org or 646.762.8200 x.1015
For more information, please visit keepachildalive.org and visit www.Sherry-Lehmann.com for more information.
Related Articles