---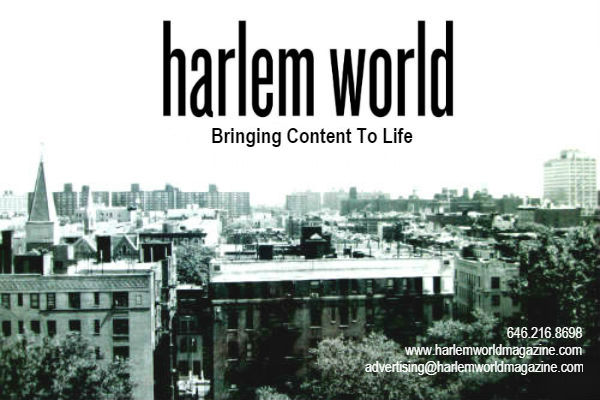 Proceeds Benefit Harlem Youth Publishing Empowerment (H.Y.P.E.)
Harlem World Magazine (www.harlemworldmagazine.com) relaunches with new Concierge Services that broaden advertising options for those eager to reach Harlem's thriving market.Once a paperboy, he went on to working at Andy Warhol's Interview Magazine. Longtime Harlem resident Danny Tisdale took his knowledge and passion for creating Harlem content and founded Harlem World Magazine in 2003. "Preserving Harlem's history was vital to me. My family's legacy in publishing began with my uncle Charles Tisdale, owner of the Jackson Advocate, the publication that actively fought the KKK in the 1970s. Through Harlem World, we document Harlem's growth and transitions and Harlem World Magazine recently celebrated its 15th Anniversary last year," says Danny Tisdale.
"We offer something no one else does. Our contributors are local experts. Harlem World contributors live here, breathe here, dine here, and socialize here. Outside of Harlem, New York, the national brands do not have that. We're more committed than ever to bring our readers the content that matters most, and with some of the best writers, designers, developers, photographers and videographers in Harlem, our site's voice, vision and coverage in Harlem will remain the same." He adds, "Some of our best-curated options from banners to video advertising, to email blasts and social media promotion will now be combined with Native Advertising solutions."
These offerings will encompass the Harlem World Magazine Content Studio in partnership with his Tisdale Studio and others, the extensive catalog of photography, visual art, and vintage photography created by Harlem World's founder, Danny Tisdale, who is also an acclaimed visual artist. He adds, "Our Content Studio includes writers, photographers, and videographers with over 60 years of combined experience that will take a concierge approach in the creative process of crafting Harlem content, much like a DJ, spinning your content, so it seamlessly combines with our platform and your company."
"With over 90% percent of all banner ads across all platforms being ignored, we understand that Directories, listings, e-mail blasts, and banners are not enough. We've identified that Native Advertising enhances brand and company awareness by 82%. Going forward, we will be aligning both our Banner and Native Advertising with the brands and companies that matter most to our readers," says Tisdale. "Native Advertising creates a more organic, positive, emotional "call-to-action" experiences for our visitors: 60% Harlem, 20% USA, 20% world, 60% women, 24 to 56 years of age, the majority are executives, who earn $60,000-110,000+ annually), which leads to more shares on Social Media, likes, and links that project a cohesive brand identity."
"This is our first step in a shift from selling advertising only to a more Concierge approach to our services." Tisdale continued, "…our goal is to raise awareness and give advertisers the tools they need to solve their problems with our concierge 24/7 Studio services that become the gateway for Harlem storytelling creating, curating and deepening the connection with brands and companies across our platforms from Mobile to Desktop, to Tablets, to Video fit for multiple device types."
Our goal is for our readers to have long-term emotional connections. We can tell them where the popular spots are in Harlem, where they should rent retail space, what events they should be associated with, who the influencers are. Our goals it to create a one-stop shop for national brands that want to enter the Harlem market. We connect global businesses with local Harlem business owners in a way that national brands do not, and [at a price] that most local businesses can afford."
As part of Harlem World's mission, 5% of the proceeds from the opening day will be donated to Harlem Youth Publishing Empowerment (H. Y. P. E.). Since 2010, H.Y.P.E. has recruited and trained the next generation of publishers in Harlem. Qualified Non-Profits, Social Enterprises, and Social Entrepreneurs clients receive a discount that translates into 50/50 in-kind sponsorships for events, services and/or products.
Space is limited, the launch (January 21, 2019, www.harlemworldmagazine.com), will showcase our full editorial calendar for 2019-2020 to a line with your business calendar. Contact Danny Tisdale for a complimentary appointment to assist you at 646-216-8698).
Harlem World Magazine has remained the #1 source in the world for living your best life and style in Harlem since 2003. Now with over 4.8 million unique visitors globally, Harlem World continues to attract a discerning audience with a shared affinity for style, elegance, fine cuisine, artisanship, and Harlem's rich cultural heritage. Visit www.harlemworldmagazine.com to learn more. Follow us on Facebook, Twitter, Linkedin, Google+, Youtube and Instagram.
---