---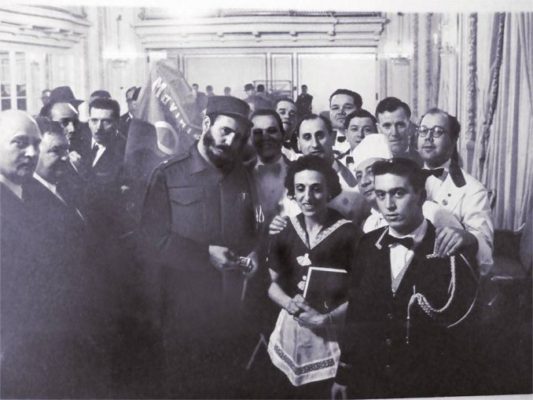 When Cuba's delegation arrived in New York City in September 1960 to attend the United Nations General Assembly, the Eisenhower administration had already stopped Cuba's sugar exports to the U.S. This big economic blow was the real beginning of the U.S. blockade — which remains in effect as of this writing — against the Caribbean country.
The Cuban delegation was even confined to Manhattan during its stay, an extremely hostile act.
Fidel Castro and other Cubans initially stayed at the swanky Shelburne Hotel located near the United Nations. But after the Cubans arrived, the hotel manager demanded a $20,000 security deposit, ostensibly because of threats from counterrevolutionaries. Capitalist newspapers were filled with racist anti-Cuban stories claiming delegation members had chickens in their rooms and had damaged hotel property.
Fidel decided to leave the Shelburne immediately. He told U.N. Secretary-General Dag Hammarskjold that the Cubans were going to set up tents on the grounds of the U.N.
Instead, the Cubans went to Harlem. Raúl Roa Kouri, whose father Raúl Roa was Cuban foreign minister, told Fidel, "I have a hotel."
"Which hotel?" asked Fidel.
"The Hotel Theresa," said Roa Kouri.
"Where is this hotel?" asked Fidel.
"It's in Harlem."
Fidel asked Raúl how he was sure he could book the hotel. "Through Malcolm X," replied Raúl.
"Go get Taber" [Ron Taber of the Fair Play for Cuba Committee], said Fidel, "and then go see Malcolm X. And book the Theresa Hotel."
The Cuban delegation arrived at the Hotel Theresa on 125th Street and Seventh Avenue (now Adam Clayton Powell Jr. Boulevard) after midnight on Sept. 20.
People had already gathered to greet Fidel. "When he stepped out of the car and was whisked quickly into the unpretentious, aging Theresa, smack in the middle of Harlem, a roar of welcome went up. 'We want Castro!' chanted the crowd." (New York Citizen-Call, Sept. 24, 1960)
Black people knew that the Cuban Revolution was committed to fighting racism. The revolution's first act was to desegregate the tourist beaches from which Black Cubans had been barred. The famous Black radical writer and poet Langston Hughes visited Fidel Castro.
Thousands of people lined the streets every night to greet the Cubans, who included Juan Almeida, a Black Cuban who had been a commander of the guerrilla army. Vince Copeland, editor of Workers World newspaper at the time, went there too.
The Cuban delegation organized a dinner to thank the workers at the Hotel Theresa. That's something U.S. imperialist diplomats would never think of doing.
Fidel meets with Malcolm X
Soviet leader Nikita Khrushchev came to Harlem to meet with Fidel Castro. So did Egypt's President Gamal Abdel Nasser.
But it was the important meeting Fidel Castro had with Mosque No. 7 Minister Malcolm X that symbolized the alliance between the Cuban Revolution and the Black Liberation Movement in the U.S.
Malcolm later wrote in his autobiography that Fidel "achieved a psychological coup over the U.S. State Department when it confined him to Manhattan, never dreaming he'd stay uptown in Harlem."
Via Workers
Related Articles
---