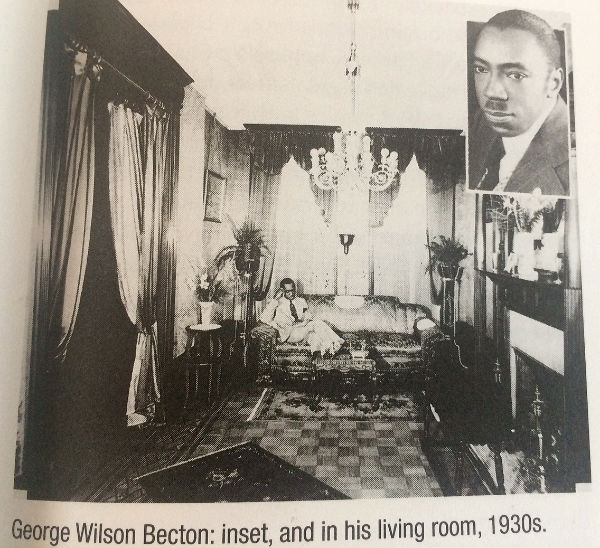 George Wilson Becton was born in Clarksville, Texas, and died in 1933. He was also known as The "dancing evangelist" of Harlem was considered the "first of the colorful cult leaders in Harlem" in the 1930's.
He earned degrees from Payne Theological Seminary at Wilberforce University in Ohio.
Becton moved to 62 West 120th Street in Harlem in 1925, where he worked for the Salem Methodist Episcopal Church (at Adam Clayton Powell Blvd., and 129th Street). F.A. Cullen (father of poet Countee Cullen) was its pastor. There Becton became known for his upbeat services. He would swagger onto the stage wearing a pearl gray suit, a top-hat and white silk gloves and carrying a Malacca cane, followed by his "twelve disciples" and accompanied by a jazz band with seven to fifteen players, Becton was gentle-looking, baby-faced, fleet of foot, poetic, quick-witted and charismatic. How congregation, swooned, shouted, danced, and most important contention to the collection basket. Becton was the founder of the World's Gospel Feast Party, Inc, and founded the magazine The Menu. and the primary tenet oft he organization was the "consecrated dime." Every member of this working class congregation was to put a dime a day into an envelope and one Sunday Becton would collect the envelopes, each containing seventy cents of hard earned money. Becton would consecrate the dimes to God during worship service but then into his own pocket afterward, He lives in an extravagant apartment wrote the finest clothes, and bought real estate. When asked about his wealth Becton delivered the familiar refrains "If Jesus were alive, he would dress like me," and "God ain't broke." At the height of his popularity as Harlem's favorite evangelist, he founded a magazine The Menu, and took his World's Goals Fest Party on the road.
Langston Hughes poem "Goodbye Christ" talks about religious hypocrisy specifically calling out the "Big black Saint Becton/Of the Consecrated Dime…" Claude McKay wrote about Becton in his book Harlem, Negro Metropolis.
He was kidnapped and shot to death by mobsters on May 21, 1933. He died without describing his attackers or explaining why anybody might have wanted him killed.
Many working class members in Harlem loved Becton as evidenced by his funeral attended by 3,000 along with another 5,000 mourners outside.
Via Pinterest and the Encyclopedia of the Harlem Renaissance
Related Articles
VIDEO
---
Harlem Cultural Archives is a donor and foundation-supported Historical Society, Its mission is to create, maintain and grow a remotely accessible, online, interactive repository of audio-visual materials documenting Harlem's remarkable and varied multicultural legacies, including its storied past as well as its continuing contributions to the City and State of New York, the nation, and the world.
Support Harlem Cultural Archives
and
click here to get more Harlem History
, Thank you.