---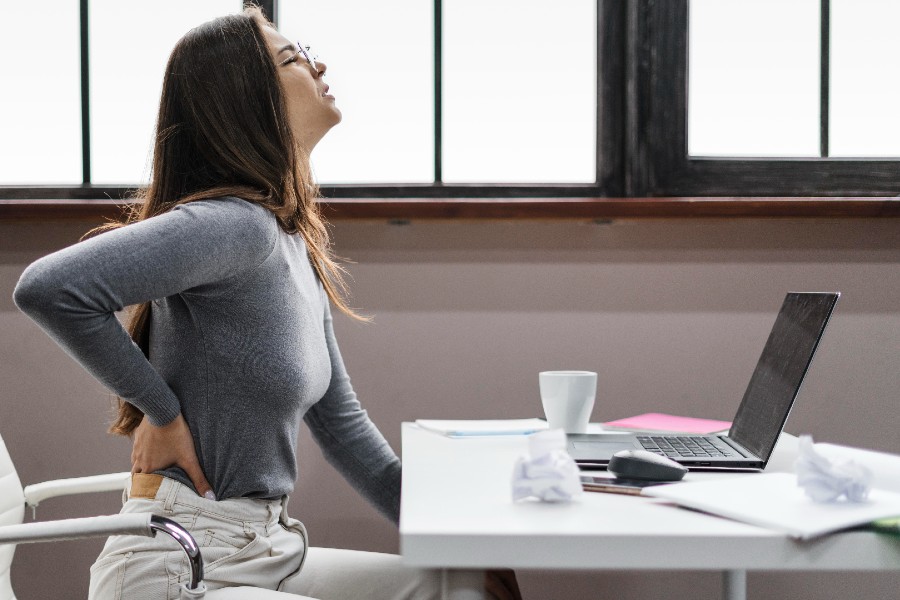 Have you ever felt a sudden sharp pain in your lower back when you're just reaching for a book up on your shelf?
It may come as a surprise, but you could still feel lower back pain even if you've never fallen on your back before. You see, lower back pain isn't just some symptom of the old — it could hit people of any age.
Back pain might naturally come as you get older, but a sedentary lifestyle could also get you there much faster. Of course, you can always visit a chiropractor or clinics that offer physical therapy near Waterford. Still, prevention is better than cure, as they always say.
Now, here's the tricky part: how can you pinpoint the causes of your lower back pain? It might be difficult for you to come up with a reason, especially if you just feel pain at random moments. However, there might be a chance that the pain will gradually build up if you continue to ignore it.
According to the World Health Organization (WHO), lower back pain is the single leading cause of disability in 160 countries. These facts will make you think twice about ignoring the back pain you've been randomly experiencing. We're not here to discourage you or make you feel worried, though; instead, our goal is to inform you of the intricacies of lower back pain.
Of course, experiencing back pain when you suddenly lift a heavy object is different. The weight of that object may be too much for you, which is why it was very strenuous for your back. You may feel some kind of soreness on your back later on, but cases like this don't usually lead to chronic pain.
Signs of Chronic Lower Back Pain
A muscle strain may be common, but it does not always lead to chronic lower back pain. Even a pinched nerve on your lower back can get better on its own, that is, if you treat it correctly and take enough rest.
However, there may be times when you should not ignore the signs. If you're experiencing the types of back pain below, it might be time to consult a doctor or physical therapist.
Lumbar strain
Located in your lower back, your lumbar spine supports your weight and protects your spinal cord. Since it includes five lower back bones, any pain in your lumbar spine could be challenging to handle. Your range of motion will be restricted, and even your regular movements could be challenging.
If you continually feel pain in your lower back, there's a chance that you might have accrued lumbar strain. Typically, the lumbar strain does not lead to significant injuries, and it can get better without any operations or surgery.
However, it could be such a hassle to your daily routines if you just ignore it. Even some positions while sitting could be painful for you, and that could hinder your productivity and comfort. So if you're experiencing continuous pain in your lower back, it's best to seek medical attention to know if it's already a lumbar strain.
Pain extending down to your legs
Another lower back pain that you should not ignore is the one that extends down to your legs. There may be a more severe ailment if your lower back pain comes with some kind of numbness that you feel on your thighs and legs.
One of the common causes of leg pain is compression in a spinal nerve. If there is inflammation, irritation, or compression within your lumbar spine, there's a chance that these are symptoms of sciatica. For the most part, sciatica is an inflammation of your lower back that extends down to your thighs.
Along with lumbar strain, sciatica could also come from a herniated lumbar disc. Disc herniation may happen if you put too much pressure or stress on your spine. When that happens, it could affect a nerve and start up some kind of pain in your lower back.
Muscle spasm is another cause of sciatica. Most lower back spasms are not severe, but you can't play the numbers when it comes to your health. If you feel that a muscle on your lower back is tightening or contracting, immediately treat it with ice or a warm pack. Should the pain persist, it might be better to consult a doctor right away.
How to Avoid Lower Back Pain?
As we said before, why do you have to find a cure if you can avoid it in the first place? We should not take for granted the condition of our lower back, as any kind of pain in it will alter our daily routines. If you're working, studying, or playing a sport, incurring even the slightest lower back pain could be a dealbreaker.
So before you forge on with your daily activities, it won't hurt to remember these tips for avoiding lower back pain.
Don't undervalue the importance of proper posture
There's a reason why office chairs and gaming chairs are named differently than ordinary ones. These chairs are specifically designed for prolonged sitting and to help people maintain a correct posture while using them.
Even if you're not sitting, a proper posture while walking or standing would go a long way in protecting your lower back. Don't slouch your shoulders too much, as this could put too much stress on your lower back.
Don't forget to stretch before you exercise
Working out is always a good thing; your body releases happy hormones, and your health obviously takes a much-needed boost. However, things could go south if you don't do the proper stretching and warm-up routines first.
If you immediately plunge into a high-intensity workout, your muscles might not be ready for the action. One thing you should remember is that our muscles become tight when they are rested, so you need to do some stretching to make them more flexible. Proper stretching will surely help you avoid any kind of muscle strain injury.
This content is part of the HWM Partnership.
---