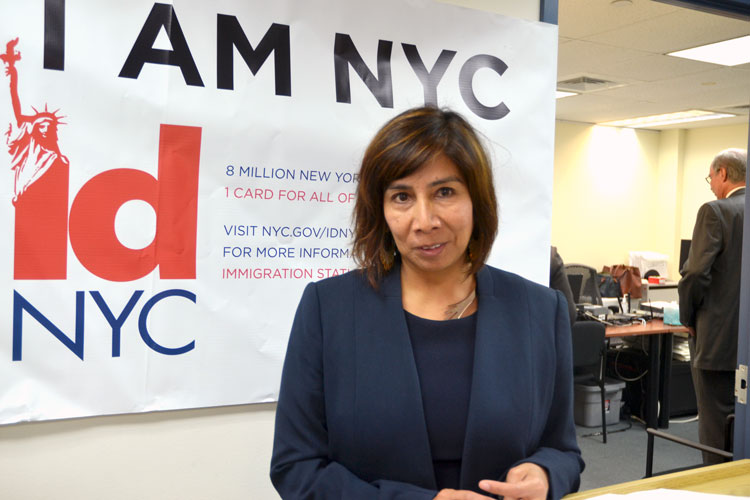 The Department of Consumer Affairs (DCA) Commissioner Lorelei Salas (pictured above) today announced that the application period for Electronic Cigarette Retail Dealer licenses is now open. DCA will accept applications until April 25, 2018, when DCA will, as required by law, set limits on the number of Electronic Cigarette Retail Dealer licenses by community district. The caps will be set at 50 percent of the number of licenses issued during the 90 day application period. After the application period closes, no new licenses will be issued until after the number of licenses falls below the cap in a given community district. This licensing announcement is part of Mayor Bill de Blasio's initiative to reduce the number of smokers in New York City by 160,000 over the next three years.
Starting August 23, 2018, an Electronic Cigarette Retail Dealer license will be required to sell electronic cigarettes directly to consumers. Electronic cigarettes are battery-operated devices that deliver vapor for inhaling by heating a liquid, gel, herb, or other substance, regardless of whether it contains nicotine. Any component part, such as a cartridge or refill, is considered to be an electronic cigarette. To obtain an Electronic Cigarette Retail Dealer license, businesses must certify that they were selling electronic cigarettes as of August 28, 2017.
Starting today, businesses can apply online or in-person at DCA's Licensing Center (42 Broadway, First Floor in Manhattan) or the Small Business Support Center (90-27 Sutphin Boulevard, Fourth Floor in Jamaica, Queens). The DCA Licensing Center and Small Business Center are open Monday through Friday from 9 a.m. to 5 p.m. and the Licensing Center opens early at 8:30 a.m. on Wednesdays. Applications, including all requirements, can be found online. The license fee is $200 and the initial license will be valid until November 30, 2019 when all licensees in good standing will be able to renew their two-year license. Starting August 23, 2018, businesses that sell electronic cigarettes without a DCA license will be subject to a fine of $100 per day of unlicensed activity, and businesses that sell electronic cigarettes to anyone under 21 on more than one occasion will have their Electronic Cigarette Retail Dealer licenses revoked. Starting January 25, 2018, it is illegal for businesses to deliver e-cigarettes to their customers; they can only sell e-cigarettes in their stores.
"Starting in August, you must have an Electronic Cigarette Retail Dealer license to sell electronic cigarettes directly to consumers – it's the law," said DCA Commissioner Lorelei Salas. "This 90-day open enrollment period gives retailers who have been selling electronic cigarettes the opportunity to continue to do so legally – beginning on April 26 no new applications will be accepted until a district has fewer licenses than the cap allows. DCA is proud to support the Mayor's initiative to curb smoking rates and will continue to enforce existing tobacco laws, as well as the new laws that expand our licensing and regulatory authority over the industry to better protect New Yorkers."
"A new report by the National Academies found substantial evidence that youth and young adults who use e-cigarettes are more likely to smoke cigarettes," said Health Commissioner Dr. Mary T. Bassett. "In New York City, almost 16 percent of high school students use e-cigarettes. This underscores the importance of regulating e-cigarettes and keeping them out of the hands of our youth."
"With electronic cigarette use on the rise, it's imperative consumers purchase these products from a verified seller," said Speaker Corey Johnson. "As former Health Committee Chair, I am proud to have ushered this pertinent bill to hold businesses accountable in the sales of e-cigarettes. Consumers across the five boroughs should be able to buy their e-cigarettes with confidence knowing that a business has gone through the application and vetting process. I want to thank Commissioner Salas for her commitment to good business practices and I urge businesses to take advantage to become an Electronic Cigarette Retail Dealer."
"We are taking an important first step in protecting the health of New Yorkers, especially our youth," said Council Member Fernando Cabrera. "Requiring a license to sell e-cigarettes and limiting the number of licenses granted is a sensible response to the increasing availability of non-combustible tobacco products, especially in low income neighborhoods. The World Health Organization and American Heart Association have recommended stricter laws and regulations for e-cigarettes and the CDC and the Surgeon General have found that local licensing programs help prevent e-cigarette use by youths. I'm proud to have sponsored the legislation that made this possible."
DCA is committed to educating businesses in order to ensure they know how to comply with the law. In December 2017, DCA mailed information about the new Tobacco Retail Dealer and Electronic Cigarette Dealer licenses to nearly 13,000 businesses, and hosted two open houses to discuss upcoming changes to the tobacco and e-cigarette licensing. DCA's Tobacco Laws Overview is available in multiple languages (English, Spanish, Arabic, Bengali, Chinese – Simplified, Chinese – Traditional, Haitian Creole, Hindi, Korean, Russian, and Urdu). DCA encourages consumers who witness any violations by cigarette retail dealers to file a complaint by visiting nyc.gov/dcaor contacting 311.
New York City has high tobacco retail density, with about 7,540 licensed cigarette retailers citywide. Easy access to tobacco retailers makes it harder for smokers to quit. In August 2017, Mayor de Blasio signed a package of legislation aimed at decreasing smoking rates by
(1) raising the minimum prices for all tobacco products, including cigarettes, and imposing a new 10 percent local tax on tobacco products other than cigarettes;
(2) capping and reducing through attrition the number of tobacco retailers citywide;
(3) creating a retail license for e-cigarettes and capping the number of e-cigarette retailers;
---
---
(4) increasing the fee for a cigarette retail dealer license;
(5) requiring all residential buildings to create a smoking policy and disclosing it to both current and prospective tenants;
(6) prohibiting smoking and the use of e-cigarettes in common areas in multiple dwellings with fewer than ten units; and
(7) banning the sale of tobacco products at pharmacies. These bills were introduced by Council Members Corey Johnson, Brad Lander, Fernando Cabrera and Ritchie Torres.
As of August 28, 2017, DCA no longer accepts applications from pharmacies for new Cigarette Retail Dealer licenses. Pharmacies are not eligible to apply for Tobacco Retail Dealer or Electronic Cigarette Retail Dealer licenses. DCA will deny applications from businesses that are determined to be pharmacies or businesses that contain pharmacies. If DCA discovers that a pharmacy has unlawfully obtained a license, DCA will revoke the license.
For more information about DCA and its work, call 311 or visit DCA at nyc.gov/dca or on its social media sites, Twitter, Facebook, Instagram and YouTube.
Related Articles
---