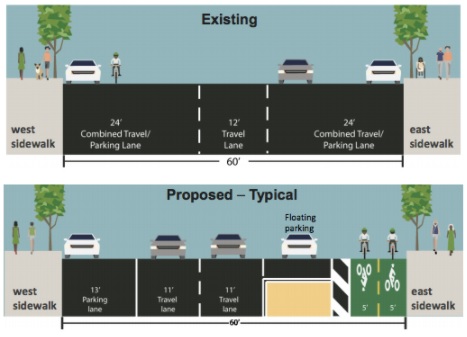 City officials revealed an expanded project to install bike lanes on several high-traffic streets of Central Harlem.
Representatives from the city Department of Transportation presented the plan — which proposes building bike lanes on Fifth Avenue, West 110th and 111th streets and West 126th and 128th streets — in front of Community Board 10 this week.
Despite an 80 percent increase in citywide daily bike rides between 2010-2015, Harlem has a limited bike lane infrastructure with few spaces dedicated to cyclists, according to the DOT presentation. The bike lanes being proposed by the DOT would link popular biking areas such as Marcus Garvey Park and Central Park as well as offer neighborhood cyclists crosstown routes.
The DOT proposed creating a protected, two-way bike lane on Fifth Avenue connecting Central Park's northeast entrance with Marcus Garvey Park last year. The project would feature a complete street redesign of Fifth Avenue between East 110th and 120th streets.
The proposed crosstown bike lanes on West 110th, 111th, 126th and 128th streets were identified as priority project during community outreach, according to the DOT. These lanes would provide cyclists a safe way to travel crosstown and provide access to a number of greenways, bridges and parks. The plan would also include safety upgrades in the traffic circle at Central Park West and West 110th Street.
No related posts found...