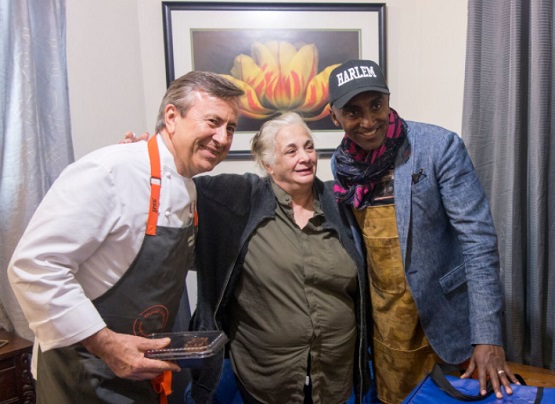 Earlier today April 25, 2018, Chef Daniel Boulud (Restaurant DANIEL and Citymeals Board of Directors Co-President), Chef Marcus Samuelsson (Red Rooster Harlem and Marcus B&P) and Beth Shapiro (Executive Director, Citymeals on Wheels)…
…delivered specially prepared meals to the homebound elderly in Harlem, as a part of  Citymeals on Wheels' Chefs Deliver initiative, which was conceived by Chef Boulud.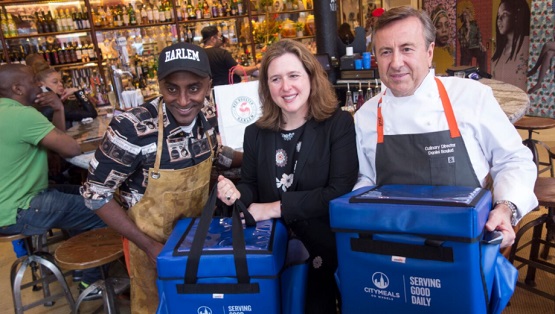 Citymeals delivered 100 special meals to meal recipients in Harlem, like Barbara (age 71). The chefs cooked the following meals:
Marcus Samuelsson prepared 50 meals of boneless fried chicken with mac and cheese, spring salad and cornbread
Melba Wilson of Melba's prepared 50 meals of grilled salmon with corn salad and mesclun salad.
To accompany the meal, Daniel Boulud prepared 100 desserts of a chocolate flourless cake with caramel crèmeux, panna cotta with fresh fruit, and almond and orange blossom financier.
This delivery also celebrated the upcoming Harlem EatUp! Festival, co-founded by Chef Samuelsson, for which Citymeals is a charity beneficiary. Prior to the delivery, Chef Samuelsson presented Director Beth Shapiro and Daniel Boulud a donation to Citymeals on Wheels from the Harlem EatUp! Foundation.
Each year, Citymeals on Wheels prepares and delivers over 2 million weekend, holiday and emergency meals for more than 18,000 frail aged New Yorkers – including nearly 200,000 meals in Harlem.
Photo Credit: 1) Daniel Boulud, Barbara, Marcus Samuelsson. 2) Marcus Samuelsson, Beth Shapiro, Daniel Boulud Via Citymeals on Wheels
Related Articles
---
VIDEO
---
"We re-imagine, recreate, and redeem cultural omissions and misrepresentations of Blackness, for the culture. ...." This post is made in partnership with British Pathé.