---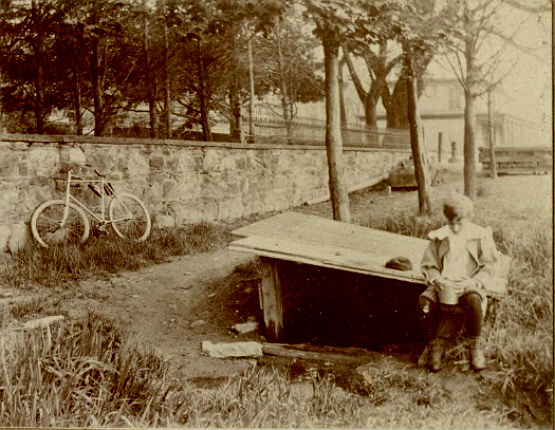 Unidentified boy with water container photographed by James Reuel Smith at an old rough Well on the Hudson River shore (to the right) looking southeast from West 158th Street, in Harlem, NY, May 13, 1898.
There were a community of Wells and Springs that ran throughout the uptown area, from Harlem to the Bronx, connected to the historic "Indian Springs" of the Wecksquaesgeek Indians. From 1897 to 1901, Smith bicycled throughout Harlem documenting the transformation of Harlem from the pre-history of the "Indian Springs," to farmland Harlem, to the industrial revolution, to the subway – that dictated the closing and the end of the wells and springs being open and accessible to Harlemites.
James Reuel Smith was born in 1852 in Skaneateles, NY. Smith loved photographing and investigating springs and wells throughout Northern Manhattan. In 1922, he published Springs and Wells in Greek and Roman Literature, Their Legends and Locations. He spent much of the years from 1897 to 1901 bicycling around Northern Manhattan.
James Reuel Smith died in 1935.  Via source.
Check out more articles regarding Harlem Wells and Springs here.
---