---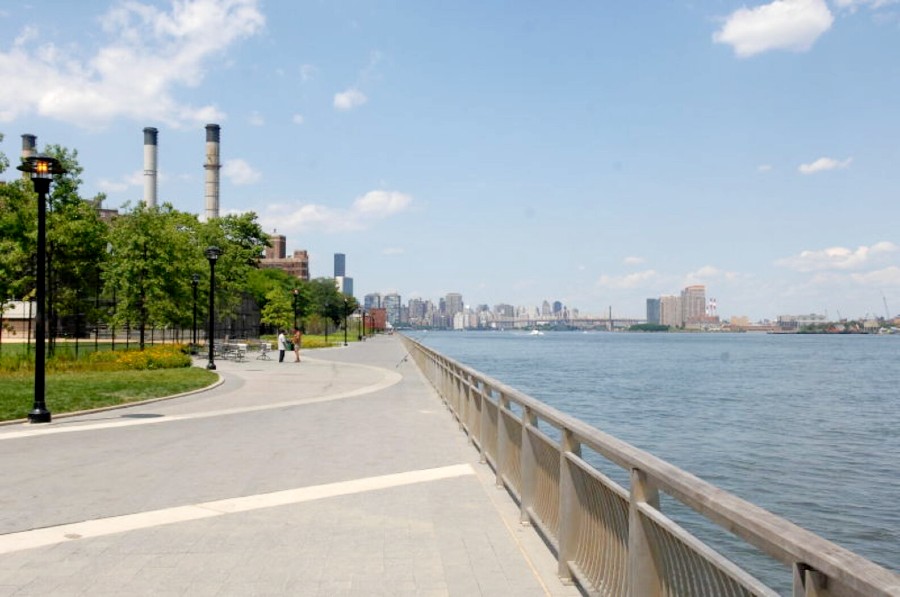 From coastal park infrastructure upgrades to monumental boardwalk renovations, to the replacement of 10,000 trees lost in the storm from Harlem to Hollis.
In addition to the restoration of close to 100 of acres of wetlands, salt marshes and stream corridors.
NYC Parks shares progress on more than $1 billion dollars in Federal and City funded resiliency projects designed to strengthen parkland after Superstorm Sandy.  
"Our City parkland is vital infrastructure, and we actively plan for the long-term resiliency of all of our parks and open spaces against the growing threat of climate change," said Commissioner Sue Donoghue. "Our 160 miles of waterfront property is often the first defense against climate change impacts, and we're proud of our continued work on these resiliency projects, with more upgrades on the way across the city."    
Since Sandy, Parks and its partners have completed 100 projects to repair the damage caused by the storm and increase our city's resilience against climate change. Parks has established a suite of guidelines for resilient design, which ensure that future parks can withstand the stresses and shocks of climate events.  
Rockaway, Queens
In addition to rebuilding the boardwalk (completed under budget and incorporating novel techniques serving both public recreation and resiliency needs), and the U.S. Army Corps of Engineers (USACE) armored dune and groins work, USACE is partnering with Parks to rebuild and fortify the Rockaway Atlantic shoreline, as well as to create additional flood protection and mitigation along Jamaica Bay.
Already completed projects in Rockaway as part of Sandy reconstruction include:
Reconstructing the 5.5-mile Rockaway boardwalk ($341M FEMA funded, completed in 2017,)    
Elevated comfort stations (Completed 2015)    
Recreational projects along the shorefront and the bay side, including:     

Rockaway Skate Park (Completed October 2022)    
Handball Courts (Completed March 2020)    
Sandpiper Playground (Completed October 2019)    
Adventure Course (Completed April 2022)    
Rockaway Dog Park (Completed May 2022)    
Coney Island, Brooklyn
In 2021, Parks received $114.5M in City funding to reconstruct a portion of the boardwalk, which will fund the first of several phases of work to reconstruct the entirety of the boardwalk.
As a first step, Parks will be undertaking a technical study to define the exact extent and scope of work for a Phase 1 boardwalk reconstruction project.    
Already completed projects as part of Sandy reconstruction in Coney Island include:
Modular Comfort Stations (Completed 2015)
Steeplechase Pier (Completed March 2013)
Nautilus Playground (Completed December 2016)
Pat Parlato Playground (Completed December 2014)
Kaiser Park (Completed December 2016)
Luna Park (Completed December 2016)
Poseidon Playground (Completed December 2016)
Surf Playground (Completed December 2016)
Abe Stark Skating Rink (Completed August 2014)
Shoreline Natural and Nature-Based Features Citywide    
In the aftermath of Sandy, Parks implemented more than a dozen projects and programs to remediate and fortify natural areas to protect against storms, including salt marsh restoration, construction of living shorelines, coastal forest and grassland restoration, marine debris removal, and ecological assessment representing a $25M investment across more than 100 acres.
This work increased the extent and improved the condition and function of wetlands that help buffer storms, and included:
Sunset Cove salt marsh restoration, Jamaica Bay
Living Shoreline construction and rebuilding salt marsh, Little Neck Bay, Queens
Coastal forest restoration around Jamaica Bay, NE Queens and Staten Island
Spring Creek North berm, Jamaica Bay tributary
Seed collection, production, and dune planting of hundreds of thousands of beach grasses in the Rockaways, Coney Island, and South Shore Staten Island
Bayswater Park Salt marsh restoration, Rockaways
Abandoned house demolition and restoration, Jamaica Bay Community Park
Seagirt Ave Wetlands Enhancement, Rockaways
Resiliency Assessments, Plans, and Guidelines / Stormwater Green Infrastructure Citywide    
Since Sandy, Parks has prepared a dozen plans to strategically identify and prioritize resiliency and restoration opportunities. These studies cover over 2,000 acres of the city's natural areas, including under-invested communities.
Many of the projects identified in these plans have been funded and are under construction.   
Several of the plans and resiliency studies include:
Vision Plan for a Resilient East Harlem   
Alley Creek Watershed and Habitat Restoration Plan   
Harlem River Watershed and Natural Resources Management Plan   
North Shore Staten Island Habitat Restoration and Green Infrastructure Plan   
Additionally, more than $130M has been invested in stormwater green infrastructure in NYC Parks through:   
The Community Parks Initiative, a Parks program with the goal of redesigning and rebuilding underinvested community parks in high-density, low-income, and growth areas.   
Green Infrastructure projects in collaboration with the Department of Environmental Protection at 41 Parks capital construction sites.
Find out more about Harlem Parks here.
---